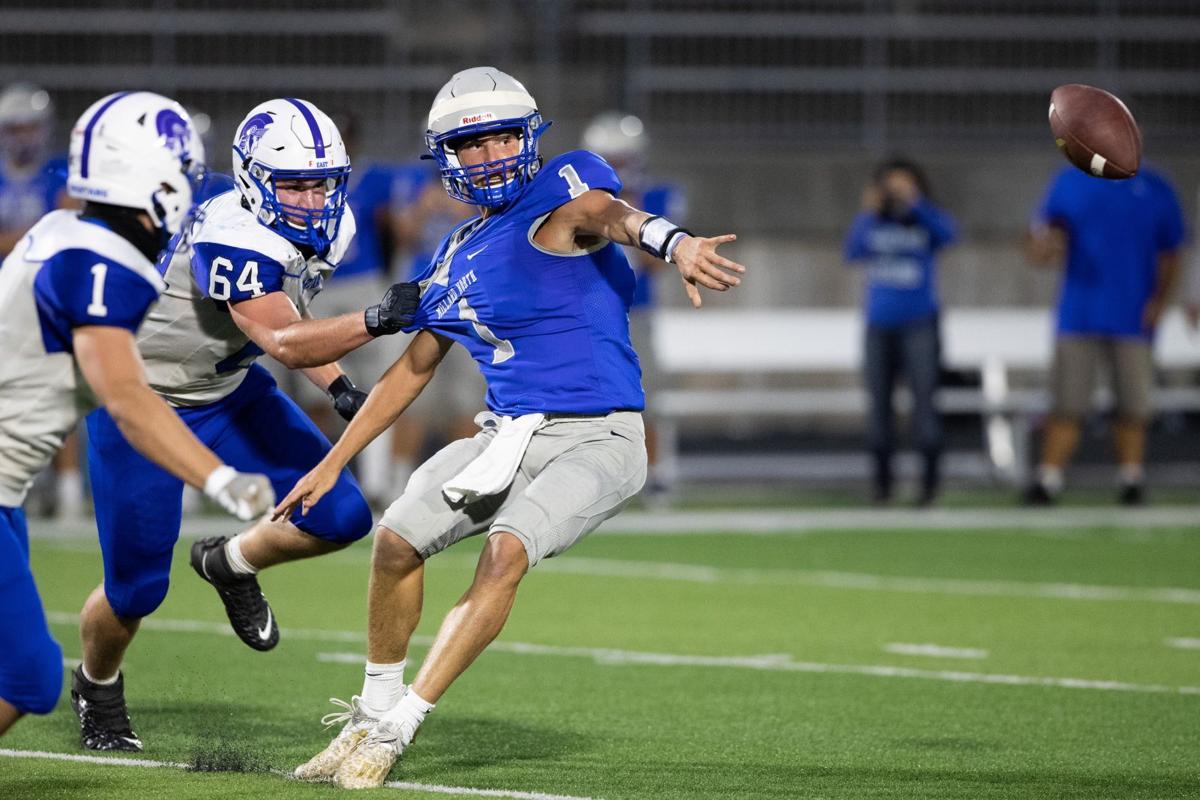 Jimmy Quaintance was sitting with his left leg on the goal line, ball resting on his ankle.
The Millard North quarterback was trying to sell that he had pushed to the white stripe on the game's final play while the five officials were huddled in conference.
"Game over," came the shouts from the Lincoln East sideline. "Touchdown,'' yelled Quaintance's teammates.
And then from the referee: "Call on the field is touchdown."
With that, Millard North had a 46-41 decision that ended its three-game losing streak and East's three-game winning streak to start the season.
"I scrambled for it and ended up getting into the end zone,'' Quaintance said. "The boys up front pushed me in."
Neither coach liked how long it took for the call to be made.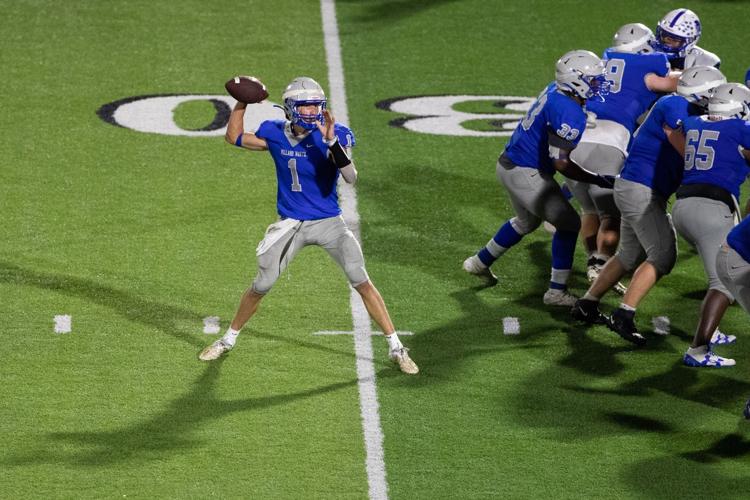 "I can feel for East,'' Millard North's Fred Petito said.
His team pounded East for 559 rushing yards, with Quaintance getting 274 yards on 43 carries, bullish fullback Jason Cox 115 on 18 totes and Tyson Johnk 117 yards on 12 carries. The Mustangs ran 87 plays.
Needed them all, too, to offset a career-high 450 yards passing from East junior Noah Walters. He threw five touchdown passes and ran for one.
Walters had three touchdown aerials in the game's first 4:15, to Carter Glenn, Brayan Van Meter and Quinton Adams as the Spartans' Billie Stephenson on the Mustangs' first snap and Konner Keeshan on their fourth snap recovered fumbles.
Glenn caught a second touchdown pass, 71 yards, for a 28-7 lead but left the game shortly thereafter with an apparent separated left shoulder. Stephenson, who East coach John Gingery said is his team's top running back, also was injured.
Millard North clawed back to 28-20 at halftime and then scored twice in 13 seconds for a 40-28 lead in the third quarter. Quaintance had the third of his five short-yardage touchdowns to finish a 12-play drive to start the period, and Blake Closman had a 32-yard pick six on East's first play after the kickoff.
Walters scored from the 1 early in the final quarter to make it 40-35 and gave the Spartans a 41-40 lead when his pump fake led to broken coverage by the Mustangs' secondary and Luke Griesen was alone for a 50-yard touchdown with 3:45 left.
Millard North's final drive was 64 yards.
Lincoln East (3-1)..............21     7   0  13—41
At Millard North (1-3)..........7  13  20    6—46
LE: Carter Glenn 22 pass from Noah Walters (Guor Choul kick)
LE: Brayan Van Meter 32 pass from Walters (Choul kick)
LE: Quinton Adams 34 pass from Walters (Choul kick)
MN: Jimmy Quaintance 3 run (Noah Boyd kick)
LE: Glenn 71 pass from Walters (Choul kick)
MN: Quaintance 3 run (PAT failed)
MN: Tyson Johnk 10 pass from Quaintance (Boyd kick)
MN: Quaintance 2 run (Boyd kick)
MN: Blake Closman 32 interception return (run failed)
MN: Quaintance 5 run (Boyd kick)
LE: Walters 1 run (Choul kick)
LE: Luke Griesen 50 pass from Walters (pass failed)
MN: Quaintance 1 run (no attempt)
Friday's five games to follow
Top 10 No. 3 Bellevue West (1-0) at No. 2 Millard South (3-0), 7 p.m.: After losing games with Omaha Burke and Kearney, Bellevue West needs the test the Patriots will provide. Millard South's offense must stay on the field to keep the Thunderbirds' receivers out of the game. TV: Cox 13. Radio: KOTK (94.5, 1420, Omaha).
No. 9 Omaha Creighton Prep (1-1) at No. 5 Lincoln Southeast (3-0), 8:15 p.m. at Seacrest Field: Prep had an unwanted off week because of COVID-19 exposure. Southeast may have found its needed workhorse running back in Nigel Bridger, a senior running back who transferred from Crete. Radio: KNTK (93.7, Lincoln), KLMS (1480, 101.5, Lincoln).
Class B No. 2 Bennington (3-0) at No. 6 Omaha Skutt (2-1), 7 p.m.: The highest ranking in Class B ever for the Badgers comes in time to play the two-time defending Class B champion.
Class C-1 No. 3 Ashland-Greenwood (3-0) at No. 1 Wayne (3-0), 7 p.m.: Two close calls in three weeks could have steeled the host Blue Devils — or made them vulnerable to a Blue Jay attack.
Class C-1 No. 4 Adams Central (3-0) at No. 6 Cozad (3-0), 7 p.m.: Cozad goes against a strong Patriots defense.
Money returned
A Grand Island school official acknowledged this week that an error was made when fans from Norfolk at a Labor Day junior varsity game were charged for watching it from outside the fence at Memorial Stadium.
"We investigated and found out it was true,'' Jennifer Worthington said. "A staff member made that decision on their own and the district did not support that decision. The staff person has apologized and returned the money collected, about $40."
As for relaxing of restrictions on visiting fans entering school facilities for games, Worthington said, "GIPS is maintaining our decision of allowing tickets for GIPS families only."
The next home game for Grand Island's varsity football team is Sept. 25 against No. 1 Omaha Westside. Parents from Westside have indicated on Twitter that they intend to watch the game from outside the fence.
Replacement games
A flurry of COVID-19 exposure reports this week caused four more replacement games to be added to Friday's schedule.
Class C-2 No.1 Oakland-Craig will host Iowa undefeated Logan-Magnolia. Central City will head to Class B Lexington. Class C-2 Yutan travels to Class B South Sioux City, and Hartington/Newcastle will visit Woodbine, Iowa.
Games canceled during the week were Norfolk Catholic at Oakland-Craig, Boone Central-Central City, Yutan-BRLD, Crete-Lexington and Plainview vs. Hartington-Newcastle. Crete's game next week with Plattsmouth also is called off.
Photos: Millard North football ekes out win over Lincoln East
---
All-Nebraska football teams through the years
Omaha World-Herald: Nebraska Prep Zone
All the latest updates for Nebraska High School sports