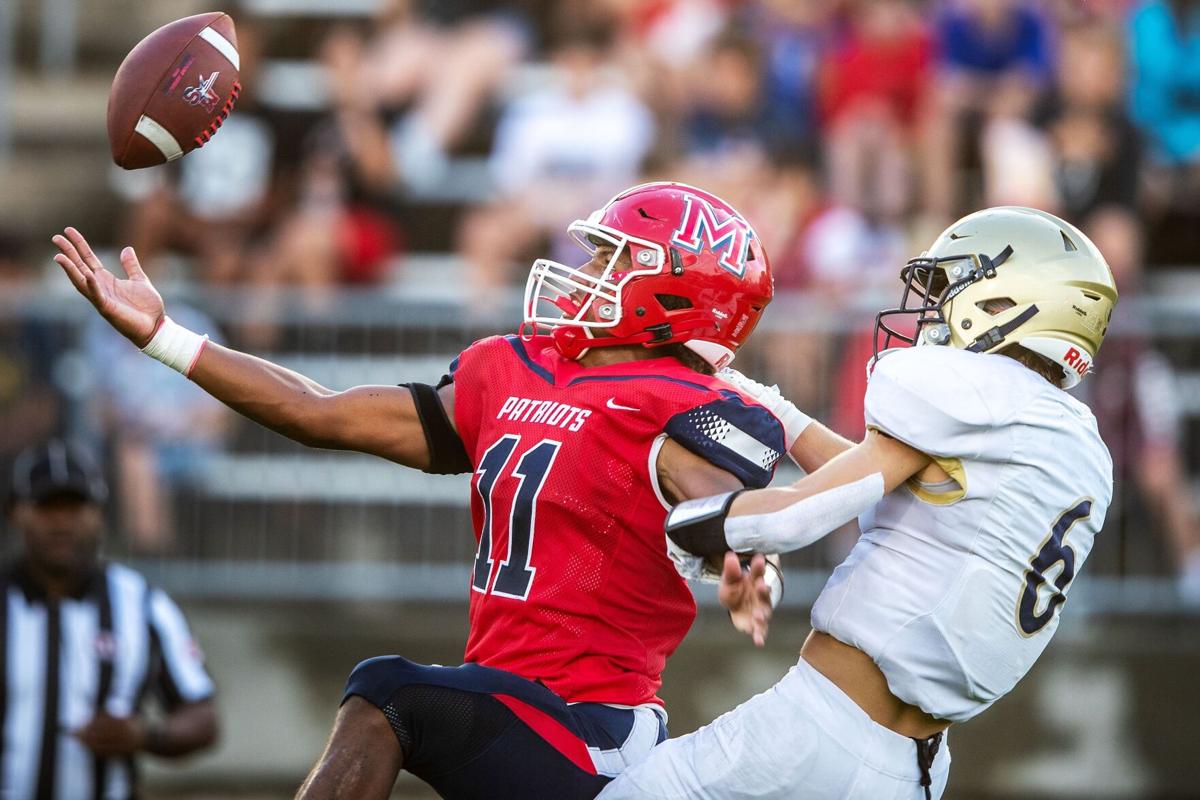 The rater's temptation was to take Millard South all the way up to No. 1.
But since the Patriots have current occupant Bellevue West as their Thursday opponent, they can earn it themselves in the season's first 1-vs.-2 matchup.
Coach Andy Means' team came out of the gate the fastest in Class A, romping to victories against Millard North 55-14, No. 5 Elkhorn South 33-7 and Millard West 46-7. The only score by Millard West was a 99-yard kickoff return.
Kansas State-bound Gage Stenger has thrived in his only season as the starter at quarterback, getting the ball to Antrell Taylor, Christian Nash, Brock Murtaugh and Northern Illinois-bound Jake Gassaway, notably while getting better protection than expected from a line that returned zero starters.
Up front is where to pay particular attention Thursday night.
Bellevue West went up against Omaha Creighton Prep's line strength in a 28-22 win last week with diminishing results. After early success on both sides of the ball, West wasn't blocking or containing the Junior Jays as well by the fourth quarter.
Both teams should be curious as to how their lines stack up. Millard South hasn't faced a line as good as Prep's. Bellevue West got that test already.
The Patriots also will be pushed on the back end of their defense, as Prep was, with covering West's fleet of receivers that include Oklahoma-bound Kaden Helms and Auburn pledge Micah Riley. Each had four grabs against the Junior Jays as quarterbacks Luke Johannsen and Daniel Kaelin combined to throw for 327 yards.
Like Nebraska on Saturday against Buffalo, Thursday night's combatants are relying on quick strikes. Bellevue West's scoring possessions against Prep required four, two, two and five plays. Millard South had two one-play scores against Millard West and its longest touchdown march was eight plays.
It could be a track meet, or a series of stalled drives.
Millard South's vault to No. 2 over Omaha Westside was in part owed to the Warriors' struggle at 1-2 Papillion-La Vista. After losing 30-7 to Prep, the Monarchs shocked Westside by scoring the first 14 points and took the defending Class A champion to the gun before falling 31-28.
Westside extended its winning streak to 15 games. A 9-0 regular season seems possible for the Warriors. If they are 6-0 after Oct. 1's game against Millard North, that probability should increase significantly.
There are five Class A unbeaten teams after three weeks — Bellevue West, Millard South, Westside, No. 4 Lincoln Southeast and No. 6 Gretna — but at most three can get to the playoffs 9-0. Millard South-Bellevue West and Lincoln Southeast-Gretna on Oct. 14 ensure that.
Class B has six 3-0 teams — Omaha Skutt, Elkhorn, Plattsmouth and Bennington as the top four in the rankings, with Beatrice and Seward ninth and 10th. The eliminations begin Friday with Skutt's visit to Bennington, the latter seeking its first win over the SkyHawks.
Here again, line play will tell so much.
Skutt's defensive wall especially will be under stress trying to shut holes for Bennington senior running back Dylan Mostek, whose first three games have been 355 yards and five touchdowns, 353 yards and five touchdowns and 176 yards and three touchdowns.
Ratings changes
Class A: Kearney's 42-14 bounce-back win over North Platte cost the Bulldogs their No. 6 ranking. Prep returns at No. 9 for how it made Bellevue West perspire in the fourth quarter.
Class B: Waverly (1-2) couldn't pull off the win on its first game on its new turf field, falling 14-13 to Elkhorn for its second heartbreaking loss in as many weeks. Its No. 5 rating, along with that for fellow 1-2 teams Aurora and Norris in the next two spots, reflect strength of schedules.
Class C-1: Wayne began the meat of its schedule — six of its final seven opponents were ranked last week or now — with a 30-17 win at then-No. 3 Columbus Lakeview that dropped the Vikings to 1-2 and out of the ratings. Next up for the new No. 10 Blue Devils is No. 2 Ashland-Greenwood at home.
Class C-2: Norfolk Catholic (2-1) returns at No. 8 after ending Ord's 14-game winning streak. The 30-7 loss drops the Chanticleers from third to ninth. Room for Norfolk Catholic opened with top-ranked Fremont Bergan's 45-25 win over then-No. 10 Lincoln Lutheran.
Eight Man-1: Howells-Dodge rises from fifth to third on a 40-38 win over Cross County, which caused the Cougars to slide from second to fourth. Neligh-Oakdale tumbled from fourth to eighth for a 58-12 loss to No. 1 Burwell.
Eight Man-2: Pender and Bloomfield enter at No. 7 and 8 in time for Pender to host the Bees this week. Osceola returns at No. 10.
Six Man: The early sorting out continues with Pawnee City, Spalding Academy and Wilcox-Hildreth taking the last three spots after losses by McCool Junction, Hay Springs and Sumner-Eddyville-Miller cause their departures. Pawnee City's 72-44 win ended McCool's 12-game winning streak.
---