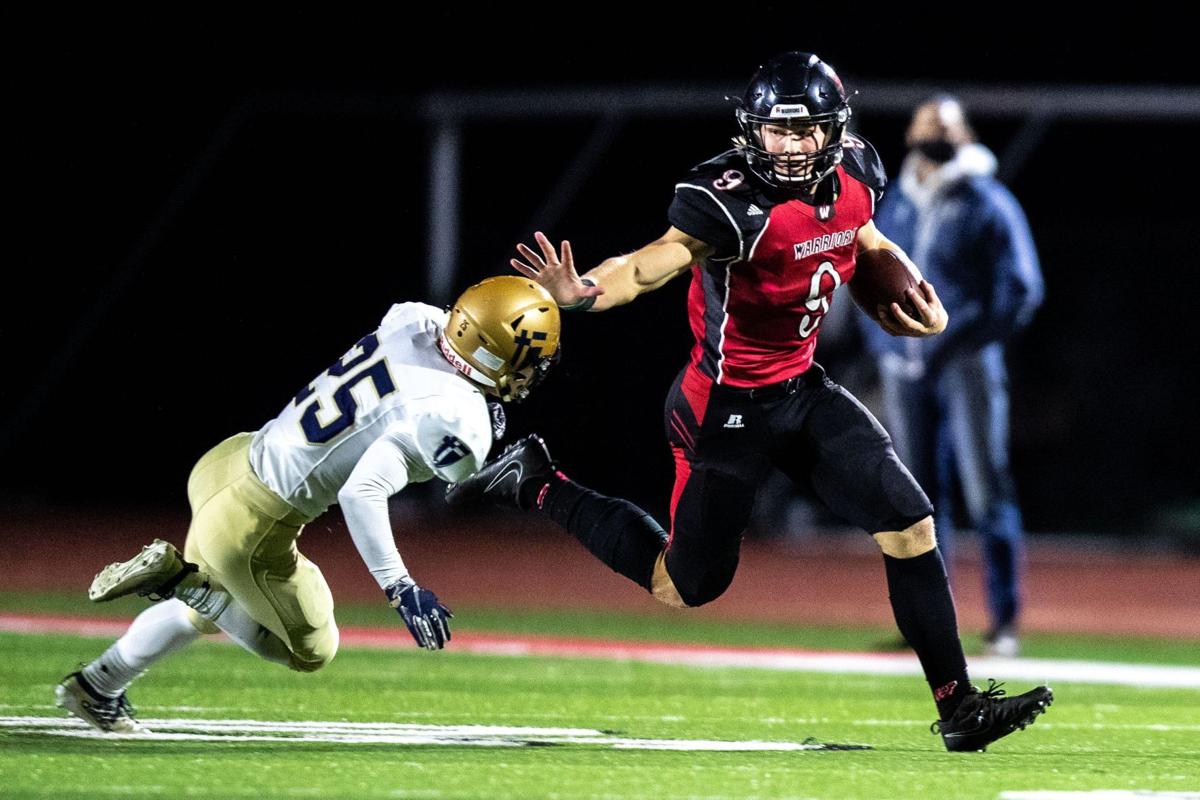 When it was No. 1 in Kansas' Class 5-A, Overland Park Aquinas beat the No. 1 team in Class 4-A and last week lost to the top team in 6-A by 12.
"But we didn't come up here for this," Aquinas coach Randy Dreiling said.
Nebraska's No. 1 team, Omaha Westside, overwhelmed the Saints in Friday night's 49-6 victory at Phelps Field.
North Dakota State pledge Cole Payton had breakaway runs of 59 and 60 yards in the first quarter and threw a touchdown pass for a 21-0 lead.
The Warriors got their first 35-point lead in the third quarter and lost the resulting running-clock timing for all of 12 seconds before Dominic Rezac popped a 58-yard run through the middle of the now-demoralized Saints' defense.
"They're very physical. The fastest secondary I've ever seen," said Dreiling, who's coached eight teams to state titles in Kansas. "They just suffocate you."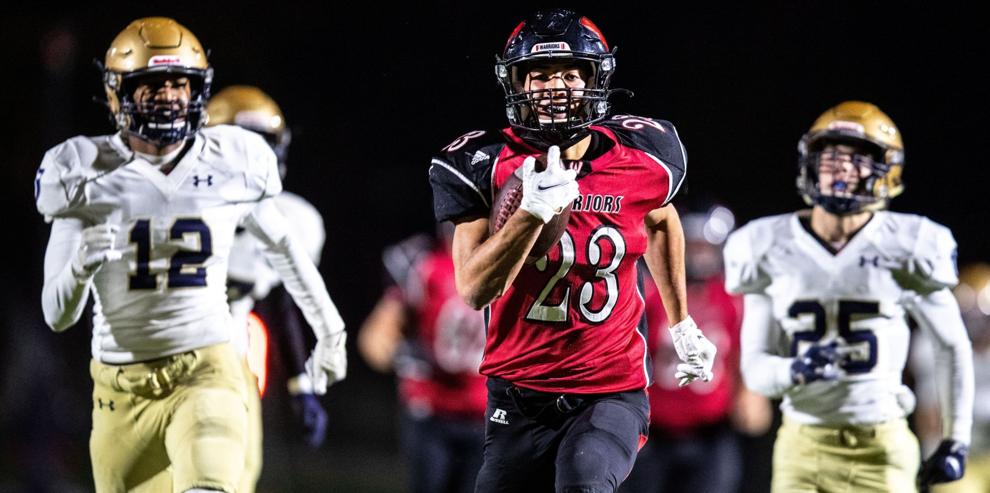 How would Westside fare against the best in Kansas, Lawrence, which beat Aquinas 39-27 last week?
"They're pretty close," Dreiling said. "It's hard to say. It would be a better game than we gave them tonight."
Northern Illinois pledge Cade Haberman said Westside's linemen were on a mission in their final regular-season game.
"Our linemen really put it on ourselves and we said this game was going to be won or lost by us," he said. "Our coaches put down our heads and we came out with a chip on our shoulder.
"We feel disrespected around the state. Other teams get this whole 'best line in the state' because they have all these kids with offers. We're a whole bunch of dogs up there, and I couldn't be any more proud of my group."
Payton broke a couple of quarterback counters for the long first-quarter scores.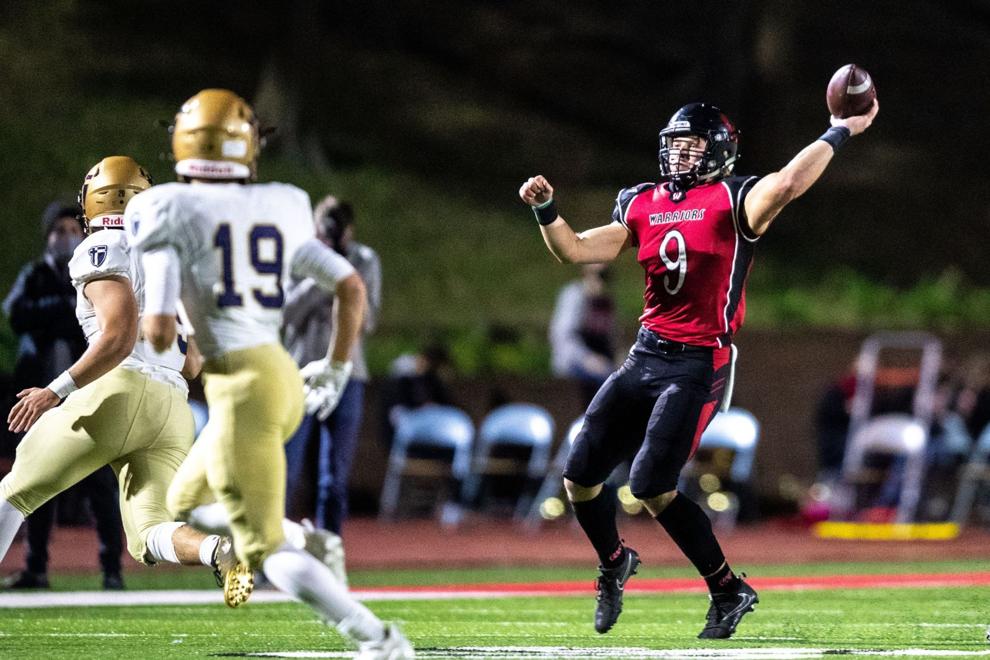 "We knew they go with the flow pretty hard," Westside coach Brett Froendt said. "The counters worked well and Cole made it happen."
Payton's third touchdown started the second half after a scoreless second quarter. He stiff-armed an Aquinas defender in the helmet going around left end on the 7-yard run.
Westside's defense gave up 149 yards to Tank Young, a 5-foot-7, 181-pound senior, and 233 yards overall, but had two fumble recoveries and a fourth-down stop. Tommy Connelly, a junior linebacker, caused both fumbles; the second was a strip of Young that popped to Avante Dickerson. The Minnesota pledge returned it 22 yards for a touchdown.
"That's not an easy offense to defend, and they're really tough kids," Froendt said. "Our secondary came up and supported well, but to be honest with you, our linebackers did a great job on the edge. Connelly had a fantastic game. Raoul Kolani held down the other side and that was huge for us. The safety just had to clean a couple plays up."
To be fair, Westside didn't see Aquinas at full strength. The Saints lost their starting quarterback in their third game, and at times were using an all-sophomore backfield Friday.
Nonetheless, state pride was at stake in this rare interstate game and Westside came through.
Overland Park Aquinas (4-2)......0  0    6  0—  6
At Omaha Westside (8-0).........21  0  21  7—49
OW: Cole Payton 59 run (William Bauerly kick)
OW: Grant Guyett 8 pass from Payton (Bauerly kick)
OW: Payton 60 run (Bauerly kick)
OW: Payton 4 run (Bauerly kick)
OW: Avante Dickerson 22 fumble return (Bauerly kick)
OPA: Tank Young 7 run (kick blocked)
OW: Dominic Rezac 58 run (Bauerly kick)
OW: Koby Bretz 24 pass from Kolby Brown (Bauerly kick)
Rushing: OPA, Young 29-149, Nick Cowlee 8-35, Brad Poletis 2-17, Gianni Rizzi 6-7, Nick Hill 1-4, Maxwell Ford 8-1, Thomas Manske 1-0. OW, Payton 5-118, Rezac 9-81, Dickerson 3-13, Curt Cubrich 3-10, Jackson McIntyre 1-5, Thomas Mann 2-4, team 4-(minus 4).
Passing: OPA, Ford 3-8-0 20. OW, Payton 5-10-0 68, Brown 1-1-0 24.
Receiving: OPA, Horn 1-9, Poletis 1-8, AJ Marozas 1-3. WS, Guyett 2-45, Bretz 2-29, Cedrian Haywood 1-10, Anthony White 1-8.
Playoff update
The first NSAA seeding committee for the state football playoffs meets at 8 a.m. Saturday to set up the all-inclusive bracket for the 24 eligible Class A teams.
Committee members are Athletic Directors Jason Ryan of Papillion-La Vista, JJ Toczek of Lincoln Southeast, Jordan Cudney of North Platte, Dan Schinzel of Omaha Creighton Prep and Ben Ries of Norfolk.
Among other factors, they are to consider the NSAA points standings, coaches and media rankings of the 24 teams, common opponents, head-to-head results and replacement games to seed the playoffs.
A seeding committee was deemed necessary when the pandemic played havoc with Class A schedules, especially wiping out more than 40 games with the seven Omaha Public Schools teams not playing this fall.
The top eight seeds get byes while the others have games Oct. 23. The teams seeded Nos. 9 to 16 get home games.
The playoffs continue Oct. 30 with the Round of 16. Quarterfinals are Nov. 6, semifinals Nov. 13 and the final at Memorial Stadium at 7:15 p.m. Nov. 23.
Also to be released Saturday are the first-round geographical-based brackets for the two eight-man classes. Thursday's winners then will be put on a 16-team statewide bracket, seeded by their regular-season NSAA point averages, that begins Oct. 30.
Classes B, C-1, C-2 and Six Man have one more week of regular season play before their 16-team statewide brackets are made for the Oct. 30 first round.
My rankings submitted to the NSAA:
1, Omaha Westside. 2, Bellevue West. 3, Millard South. 4, Elkhorn South. 5, Lincoln Southeast. 6, Creighton Prep. 7, Gretna. 8, Lincoln East. 9, Millard North. 10, North Platte. 11, Kearney. 12, Grand Island. 13, Columbus. 14, Fremont. 15, Millard West. 16, Lincoln Pius X. 17, Lincoln North Star. 18, Papillion-La Vista South. 19, Lincoln Southwest. 20, Bellevue East. 21, Papillion-La Vista. 22, Norfolk. 23, Lincoln High. 24, Lincoln Northeast.
---
All-Nebraska football teams through the years