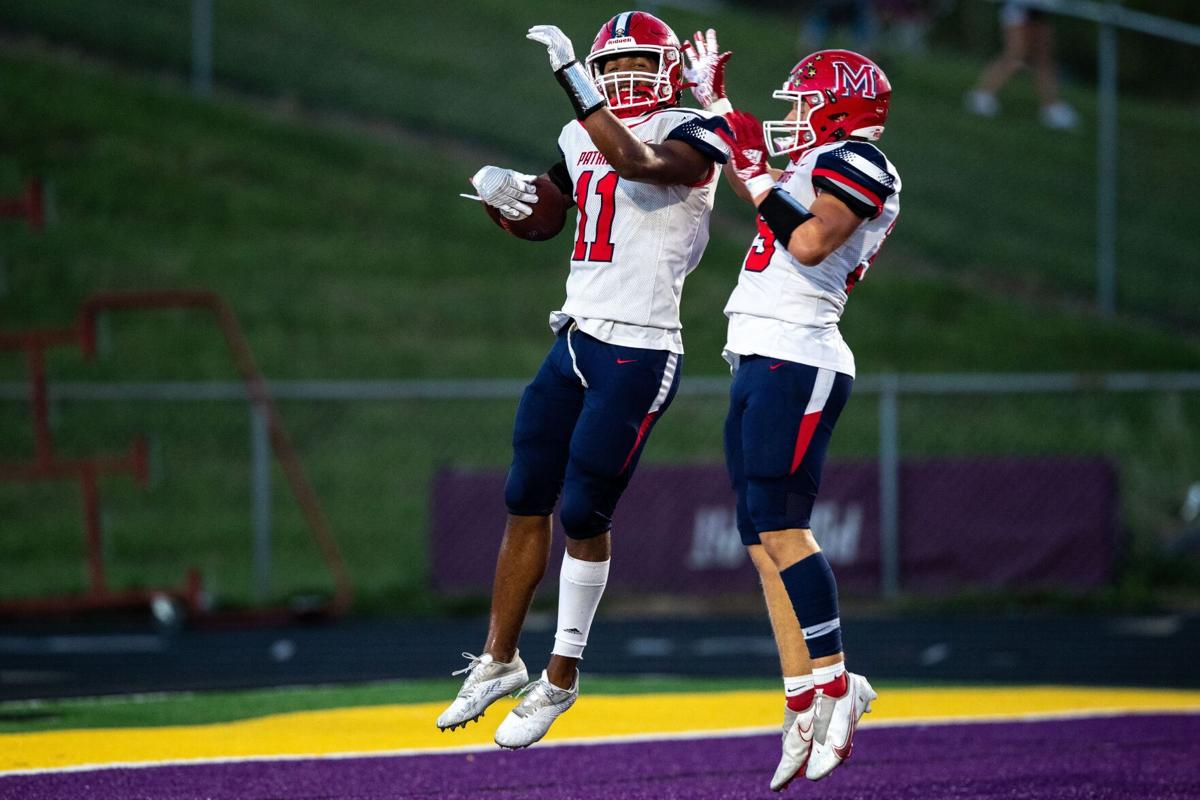 No doubt now. Millard South is the state's best team.
Whatever the halftime speech was by the Patriot defensive coaches, it worked.
No. 2 Millard South held No. 1 Bellevue West scoreless in the second half until the final four minutes for a 42-28 win.
Ahead 28-21 after a first half when teams combining for 761 yards, the Patriots scored with 14 seconds left in the third quarter on a 2-yard keeper by Gage Stenger and gained their only three-touchdown lead on Christian Nash's third long touchdown of the game.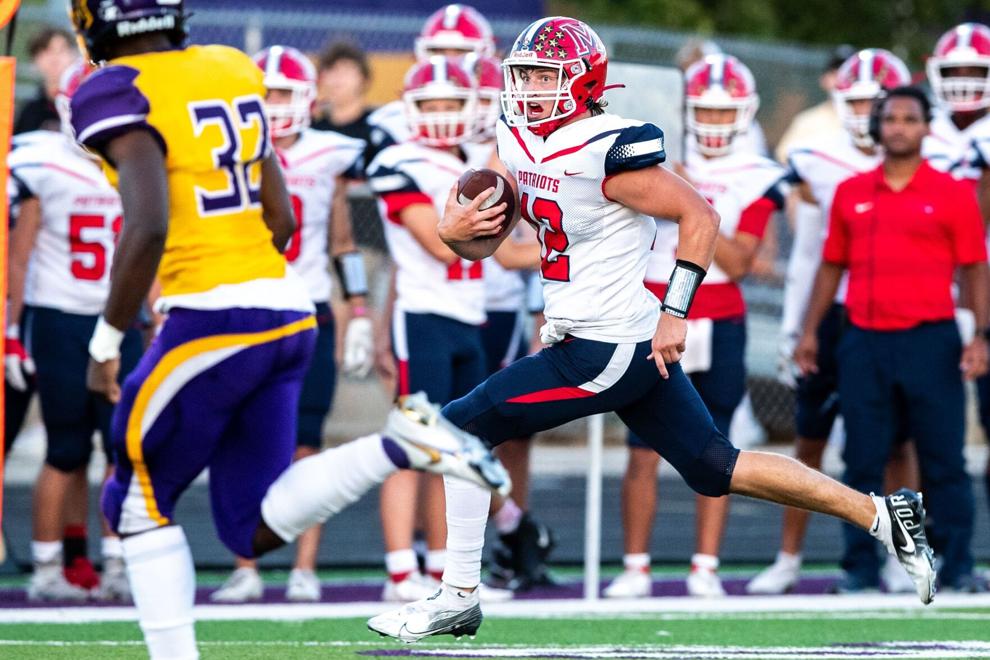 The second half was not as explosive as the first, which was an outstanding fireworks displays in a top-tier game. Millard South had 392 yards (282 rush, 110 pass), Bellevue West 369 (287 pass, 82 rush).
Millard South's touchdowns were 16- and 65-yard runs by Nash, who had 120 yards in the first 24 minutes; a 70-yard pass play from Stenger to Jake Gassaway; and a 60-yard breakaway by Stenger, the Kansas State pledge, who made an across-the-field cutback and dived past the last man across the goal line.
Bellevue West, which never led, did its scoring through the air. LJ Richardson went 76 yards with a shovel pass from Daniel Kaelin that the all-state running back had to control before taking off. The Thunderbirds also scored on a 67-yarder to Oklahoma pledge Kaden Helms from Luke Johannsen and a 53-yard sprint-option pass to sophomore Dae'Vonn Hall, also from Johannsen.
Millard South opened the game by stopping the Thunderbirds on downs at the Patriots 25.
The Patriots punted once and missed field goals of 31 and 29 yards by power-legged Simon McClannon, the latter an untimed down at the end of the first half after Bellevue West was flagged for roughing the passer on a 36-yard catch by junior Brock Murtaugh.
Millard South (4-0)...........14  14  7  7—42
At Bellevue West (3-1).......7  14  0  7—28
MS: Christian Nash 16 run (Simon McClannon kick)
BW: LJ Richardson 76 pass from Daniel Kaelin (Hunter Brown kick)
MS: Jake Gassaway 70 pass from Gage Stenger (McClannon kick)
BW: Kaden Helms 67 pass from Luke Johannsen (Brown kick)
MS: Stenger 60 run (McClannon kick)
BW: Dae'Vonn Hall 53 pass from Johannsen (Brown kick)
MS: Nash 65 run (McClannon kick)
MS: Stenger 2 run (McClannon kick)
MS: Nash 21 run (McClannon kick)
BW: Hall 21 pass from Johannsen (Brown kick)
Friday's top games
Class B No. 1 Omaha Skutt (3-0) at No. 4 Bennington (3-0), 7 p.m.: Dylan Mostek of Bennington is the nation's No. 2 rusher (294.7 yards/game) but Skutt's defense ranks as the best the Badgers have faced to date. Even so, the SkyHawks gave up yards to Omaha Gross last week. Can they keep the scoring down? TV: NCN South/Radio: 102.7
Papillion-La Vista South (1-2) at Class A No. 2 Omaha Westside (3-0), 7 p.m.: Westside better not go asleep on the Titans, not after Papillion-La Vista got the jump on the Warriors last week before they settled down for a 31-28 win. The Titans staged an 18-point comeback on then-No. 6 Lincoln East.
Omaha North (0-3) at No. 7 Omaha Burke (2-1), 7 p.m.: North is still intact after the meat-grinder start of playing No. 4 Lincoln Southeast, Westside and Lincoln Southwest coming off not having a 2020 season. Burke's win over Kearney in Week 2 looks even better after Kearney's blowout of North Platte. TV: Cox 13
Class C-1 No. 10 Wayne (3-0) at No. 2 Ashland-Greenwood (3-0), 7 p.m.: This was a thriller in Wayne last year, with Ashland winning 28-20 when both teams were undefeated. Just like this year. Wayne's 30-17 win over Columbus Lakeview put the Blue Devils into the ratings. Radio: 104.9, Wayne
Class C-1 No. 5 Columbus Scotus (3-0) at No. 4 Battle Creek (3-0), 7 p.m.: The host Braves squeezed past Scotus 27-26 last year. Scotus has beaten ranked teams Wahoo and David City Aquinas. Battle Creek has taken care of Central City and Hartington Cedar Catholic.
Gross player healing
Omaha Gross junior Ben Rice is recovering from surgery after suffering a broken leg in last Thursday's televised game with Skutt.
Gross coach Tom Van Haute said four screws and a rod were put into the leg.
Halls of fame
Omaha Westside recently honored two classes of Sports Hall of Fame inductees. For 2000, Kristin Whitted Fasbender (1993), Brett Seger (2002), Nate Wurth (2002) and Haley Fries Cameron (2003) were selected. For 2021, it was Carol Berger (1978), Tim Lindquist (1985), Tom Oldham (2000) and Josh Leuck (2005). The 1975 boys track team also was inducted.
Grand Island's Football Hall of Fame, which has its induction luncheon Saturday, will honor Oscar Bredthauer, Robert and Royal Kahler, Gary Pedersen, Scott Siegel, Troy Tesmer, Bill Wheeler, former coach Tex Harvey, the Class A runner-up 1987 team and contributor Barry Sandstrom.
---