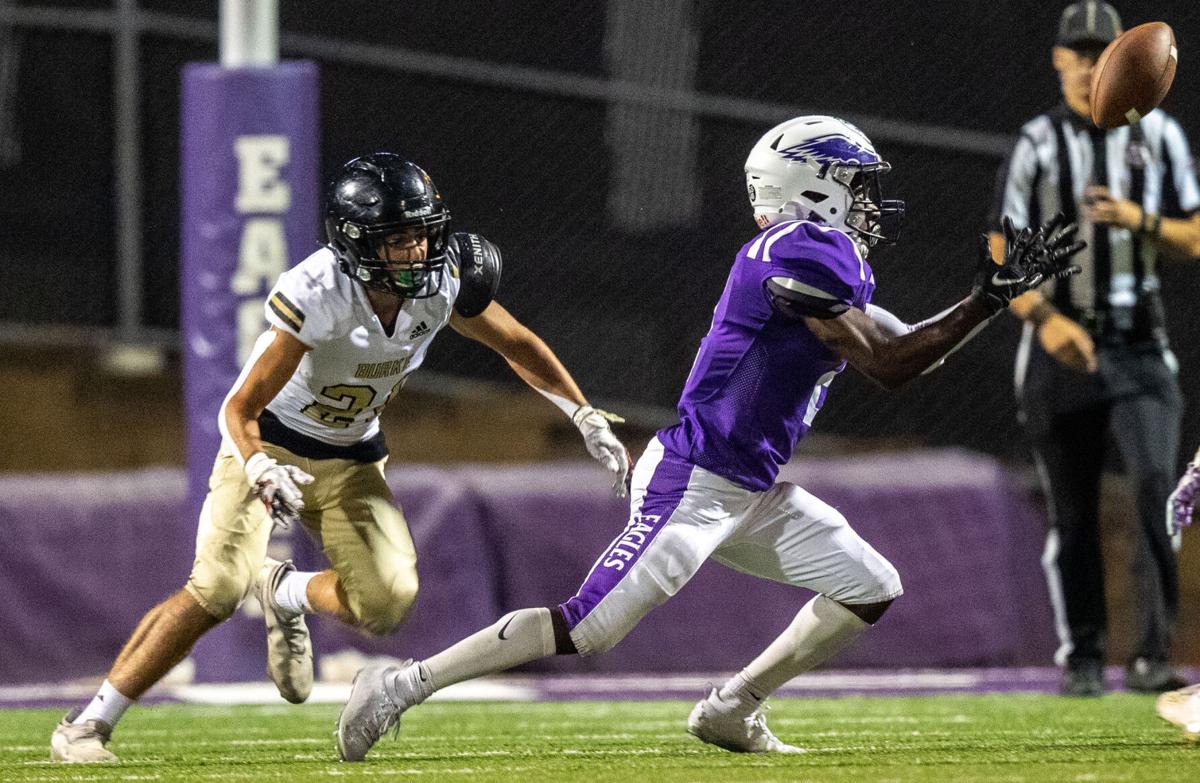 This could be an unusual year for the Class A playoffs.
Maybe only one Omaha Public Schools team makes it. Maybe only one from the Millard Public Schools. Maybe two from the Lincoln Public Schools. Maybe every team outside the Omaha and Lincoln areas but one.
With two weeks left in the regular season, it looks like few teams have a chance to move into the top 16 in points that determine the playoff fields beyond the district winners.
If the playoffs were to begin this week, the first-round matchups would be Millard South as the No. 1 seed against Papillion-La Vista South, Omaha Westside as the No. 2 seed against Papillion-La Vista, Bellevue West against Fremont, Elkhorn South against Grand Island, Omaha Creighton Prep against Kearney, Gretna against Lincoln East, Omaha Burke against Lincoln Southeast and North Platte against Columbus.
Millard West, Omaha Central and Omaha North — all 2-5 — seem to have the best hopes of bumping out lower seeds. Each would have to win out. Millard West and North draw the toughest assignments. West hosts North Platte — which upset Noah Walters and Lincoln East 41-38 at home — on Friday. North hosts Fremont on Friday.
Since the Class A playoffs expanded to 16 teams in 1995, Millard always has had multiple qualifiers. OPS last had only one qualifier in 1993 (and was shut out the previous two years), when the playoffs included eight teams. Lincoln qualified two in 2017 and hasn't been shut out since 1994, the last year for eight qualifiers.
Playoff primer
Lest we forget that each season brings newcomers to high school sports, here's a primer for how the playoffs work.
Teams play a combination of nondistrict games and district games. Head-to-head standings in district-only games determine district champions — six in Class A, five in Class B, eight in C-1, six in C-2, 11 in Eight Man-1 and 10 in Eight Man-2.
The remaining berths in each class (and all 16 in Six Man) are determined by the point system. Every game has a point value, based on the result and the opponent's record and enrollment classification.
In 11-man, an opponent that has won more than 77% of its games is in the first division and is worth the maximum point value. The other divisions are 55% to 76%, 33% to 54% and below 33%. The point scale for wins, based on the opponent's division, is 50-47-44-41. For losses, it's 36-33-30-27.
In eight- and six-man, which have eight-game regular seasons, there are three divisions: more than 66%, 34% to 66% and less than 34%. Point scales are 50-45-40 for wins, 38-33-28 for losses.
It's the last week in the eight-man regular season. The eight-man playoffs take 32 teams, and the field is divided geographically for first-round games. The winners then are seeded statewide.
In Classes A and B, the higher seed hosts in each round before the final. That's a change this year for Class B.
It had been like the classes below it, which cling to a system that bases the host after the first round on the results of the previous round. At least in eight man, the host teams for the statewide bracket in the second round now are based on the higher seed before reverting to the system that rewards upsets. That wasn't the case last year.
Ratings review
Top 10/Class A: North Platte returns at No. 8 after beating visiting Lincoln East 41-38. Millard West (2-5) drops out but can regain its spot by beating North Platte on Friday. No. 6 Gretna doesn't drop for its 28-20 loss at Elkhorn South.
Class B: Elkhorn tumbles from second to fifth for its 49-14 home loss to No. 1 Bennington. New No. 2 Plattsmouth scored with 22 seconds left to beat No. 4 Waverly 21-14. Aurora rises to third, its best ranking since the preseason favorites started 0-2. Seward ousted Beatrice and reenters at No. 10 after edging the Orangemen 28-26.
Class C-1: No. 2 Kearney Catholic's 41-12 win over then-No. 6 Adams Central was the week's most impressive in C-1. Wahoo and Wayne stay ranked despite losses to ranked teams that were much closer than the Patriots' fate. Auburn (5-2) is inserted at No. 8 based on score comparisons and its one-point losses to No. 1 Ashland-Greenwood and No. 7 Milford.
Class C-2: Coming in are Lincoln Lutheran and Centennial. Lutheran beat then-No. 10 Wahoo Neumann 30-17. Then-No. 7 Oakland-Craig lost for the third time in four games.
Eight Man-1: It's a rare middle-of-the-ratings pack insertion, but Anselmo-Merna (6-1) warrants the No. 5 spot for leading most of the way against No. 1 Burwell before falling 34-28. We were waiting for the Coyotes to play a top-shelf team, and they acquitted themselves very well. Arcadia-Loup City had to cede its spot, but guess what? It visits Anselmo-Merna this week.
Eight Man-2: Mullen gets the call to fill the vacancy caused by then-No. 3 O'Neill St. Mary's losing 28-22 to then-No. 10 Bloomfield.
Top games Friday
Class A: Lincoln Southeast at Gretna , Bellevue West at Columbus, North Platte-Millard West at Buell (6 p.m.).
Class B: Aurora at Grand Island Northwest, Plattsmouth at Beatrice, York at Seward.
Class C-1: Columbus Scotus at Boone Central, Adams Central at St. Paul, Cozad at Broken Bow, Pierce at Battle Creek.
Class C-2: Centura at Ord, Norfolk Catholic at Crofton, Oakland-Craig at Fremont Bergan, Yutan at Wahoo Neumann.
Eight Man-1: Palmyra at Weeping Water (Thursday), Arcadia-Loup City at Anselmo-Merna, Norfolk Lutheran at Laurel-Concord-Coleridge, Neligh-Oakdale at Nebraska Christian.
Eight Man-2: Pleasanton at Sandhills/Thedford (Thursday), Leyton at Garden County (Thursday).
Six Man: Pawnee City at Red Cloud (Thursday).
---