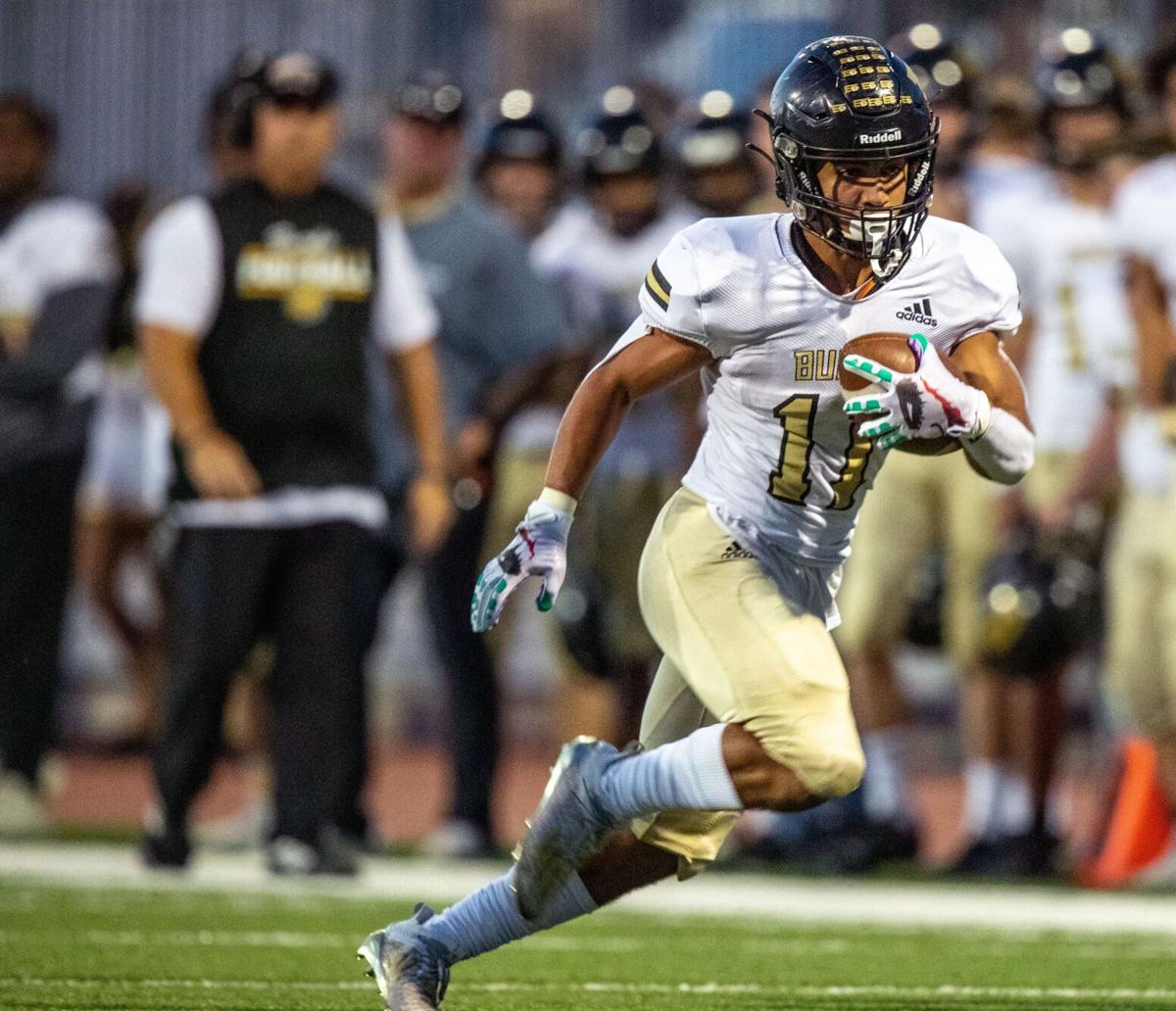 Three plays into the game, Devon Jackson started in with the highlights.
The Super Six wide receiver from Omaha Burke came back for a pass from Cooper Katskee, spun to his left to break a shirt tackle and Class A's 100- and 200-meter champion breezed for the 69-yard score.
Then at a linebacker, Jackson blew up Central the first time it crossed midfield, hitting quarterback Jaylen Davis on the blind side. Fullback Ke'Ron Simmons recovered the fumble, but it brought up third-and-long.
Jackson and Top 10 No. 7 Burke (4-1) spoiled the Eagles' homecoming festivities Thursday night with a 32-6 victory at Seemann Stadium.
Jackson, who had three catches for 93 yards, will take advantage of his Friday night off for an official visit this weekend to Oregon.
Donovan Moody ran for 95 yards, just shy of his fourth consecutive 100-yard game, with two touchdowns and ended the first half with an end-zone interception. Katskee was 11 of 17 for 182 yards.
The Bulldogs have won four straight since losing their opener 58-13 at preseason favorite Bellevue West — their first game since 2019. Thursday was the first district game for both teams. They have the same three district opponents remaining — Omaha South, Papillion-La Vista South and Lincoln Southwest, all 1-3 — with Central getting Omaha North, the best 0-4 team in the state, next week and Burke finishes the regular season at current No. 1 Millard South.
Central (2-3) had 20 yards and lost the ball on a muffed kickoff reception before finally getting some offense on the last drive of the first half. Aided by a crushing block by Missouri-bound offensive tackle Deshwan Woods, another Super Six pick, Davis was freed for a 29-yard gain to the Burke 25.
The Eagles reached the 14 before a penalty and a sack by Nick Garrett forced a fourth-and-21 that resulted in Moody's first pick of the season.
Burke's second-half scores were a safety on the first play from scrimmage, a 9-yard Moody run and a 9-yard pass from Katskee for a 32-0 lead after three quarters.
Central averted the shutout on J'Dyn Bullion's 1-yard run in the final period.
Omaha Burke (4-1)............7  10  15  0—32
At Omaha Central (2-3).....0     0    0  6—6
OB: Devon Jackson 69 pass from Cooper Katskee (John Worden kick)
OB: Donovan Moody 1 run (Worden kick)
OB: Moody 9 run (kick blocked)
OB: Trae Starks 9 pass from Katskee (Worden kick)
OC: J'Dyn Bullion 1 run (kick failed)
Friday's top games
No. 2 Bellevue West (3-1) at No. 10 Kearney (2-2), 7 p.m. at UNK: Kearney has no fear of the Thunderbirds after leaving Bellevue last year with a 41-40 overtime playoff victory. Will there be an end-zone pylon in play again? The Bearcats have won five straight home games. Both are coming off double-digit losses.
Grand Island (2-2) at No. 3 Omaha Westside (3-1), 7 p.m.: The host Warriors are on a 16-game winning streak. They won 42-0 at Grand Island last year.
Class B No. 7 Norris (2-2) at No. 8 Beatrice (4-0), 7 p.m.: The host Orangemen's first four foes are a combined 3-13, but the winless team, Elkhorn North, took them to overtime last week. The Titans begin the meat of the Beatrice schedule. The Norris losses are to new No. 1 Bennington and No. 2 Elkhorn.
Class C-1 No. 1 Pierce (4-0) at No. 8 Boone Central (4-0), 7 p.m. at Albion: The last time Pierce lost in the regular season was October 2017. Boone had a COVID-19 outbreak last year and didn't play the Jays. Pierce is averaging 52 points a game, Boone 41. That could be the final score.
Eight Man-2 No. 5 Humphrey St. Francis (4-0) at No. 6 Riverside (4-0), 2:30 p.m. in Cedar Rapids: It would be a shocker if St. Francis beats the Chargers again by 60-6. But the Flyers have allowed only six points in three of their first four games. Riverside has impressive wins over now-No. 9 Osceola and once-ranked Osmond and Central Valley.
COVID call-offs
The first two football games to be forfeited this season because of COVID-19 outbreaks are this week. Gibbon is forfeiting to Grand Island Central Catholic in Class C-2 and Twin Loup to Ansley-Litchfield in Eight Man-2.
Because of low numbers, Hemingford is forfeiting to Sutherland. Kimball has forfeited all eight games this season because only nine boys were out for the team.
---