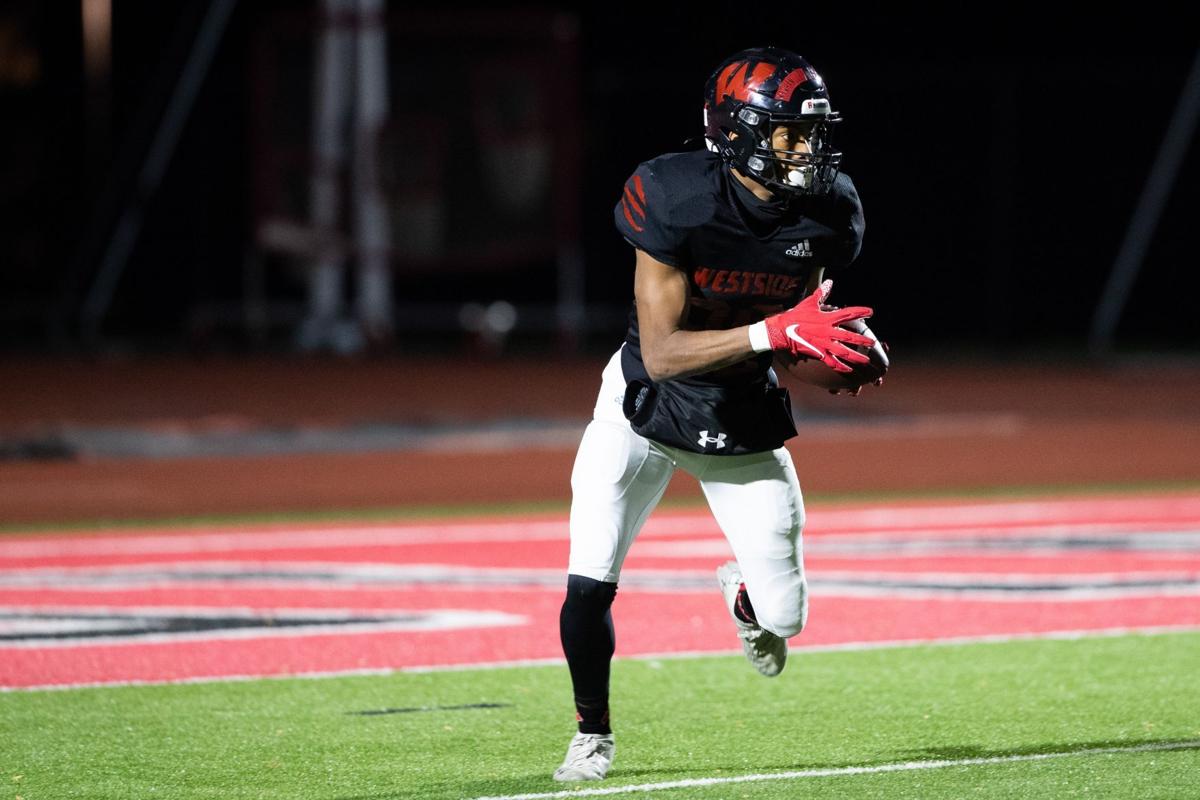 On to the state finals for Omaha Westside at … wait, its home field.
The top-ranked Warriors won their Class A semifinal Friday night 35-33 over Millard South on Dom Rezac's 34-yard touchdown with 3:36 left at Phelps Field.
They thought a return trip to Memorial Stadium was in store. But they were unaware, even after the win, that those plans had been scuttled.
The Nebraska School Activities Association, which has navigated fall sports through the pandemic as well as it could, decided late Friday that it would not be feasible for financial reasons and travel concerns to use the home of the Huskers for the Nov. 23 and 24 state finals.
Instead, the higher-seeded team in each class gets to host its championship game next Friday. Those would be Westside (playing Elkhorn South) in Class A, Elkhorn (Aurora) in B, Pierce (Adams Central) in C-1, Fremont Bergan (Ord) in C-2, Burwell (Dundy County-Stratton) in Eight Man-1 and Bruning-Davenport-Shickley (Sandhills/Thedford) at Shickley in Eight Man-2.
Unaffected is the Six-Man final already set for Friday in Kearney, which matches McCool Junction and Sterling.
Westside coach Brett Froendt said he found out about the NSAA's Plan B while the teams were warming up. He didn't tell the team then and was waiting until players were back in the locker room after celebrating a comeback win over gutty Millard South quarterback TJ Urban and his team.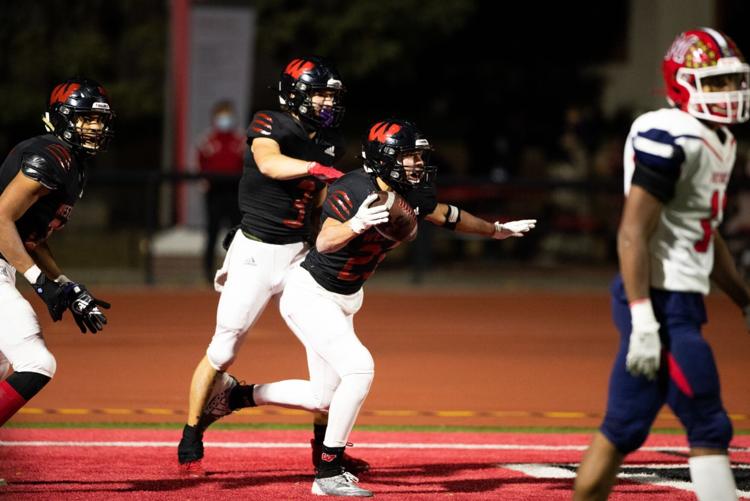 "The bottom line is we're playing for a state championship. We'll play here, we'll play at a park, wherever we got to play," Froendt said. "We just like playing in the big game, and that's what it's about. It's not necessarily where we play but just that we're in it. And we're going to go to win it. That's what we're here for."
Westside went 75 yards for its go-ahead touchdown that answered Urban's third score of the game. Actually, the Warriors picked up 95 yards on the drive because they overcame two 10-yard holding penalties. They converted two fourth downs, then got flagged on the next play each time.
Rezac's touchdown was around left end on a second-and-19.
"I got to the edge and the wide receivers blocked really well," said the senior, who ran for a team-high 134 yards on 13 carries. "On that last drive we talked about getting through adversity. We hadn't had a whole lot this year."
By far, No. 3 Millard South played the Warriors tougher than their first 10 opponents. Urban ran for 222 yards on 32 carries. On fourth-and-short twice, the Air Force commit broke through the bunched-up defense for touchdown runs of 39 and 53 yards.
"He's a great football player," Froendt said. "He's tough. We knew he was their offense. Everything went through him and we knew we had to slow him down. You can't stop him."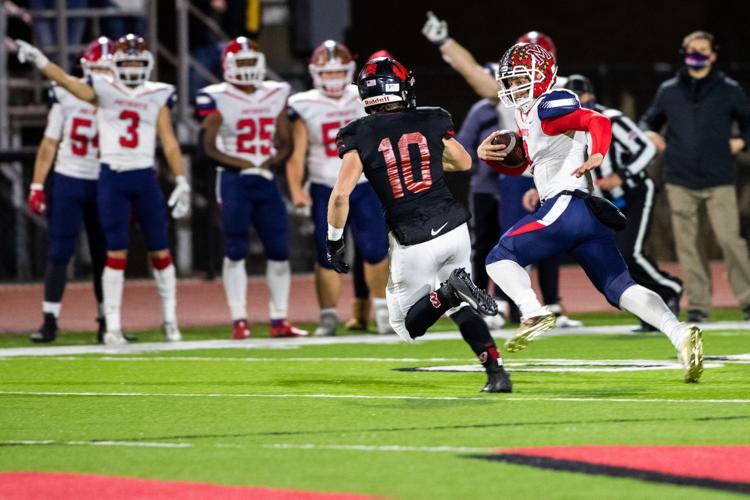 Millard South was without coach Andy Means. Assistant Jim Cooney said Means has been away from the team since midweek for family reasons.
"We gave up too many big plays the first half, and that made it tough on us," Cooney said. "They're a great team. They have so much speed."
Westside's big plays were a Class A playoff record-tying 97-yard kickoff return by Minnesota commit Avante Dickerson after Millard South had taken its second nine-point lead of the opening half and a 50-yard pick-six by Husker commit Koby Bretz for Westside's first lead. Bretz made it 22-16 after catching a 2-point conversion pass from North Dakota State pledge Cole Payton.
Rezac said the narrow win should prepare Westside for Elkhorn South.
"It's good to get that now before we go to the state finals," he said. "We've been working for state ever since last year when we lost to Bellevue West."
The Warriors can't get a revenge win over Bellevue West, which lost last week. They can't get the experience of another game in Memorial Stadium. But they can get the school's first state title since 1982 — if they can stop Storm clouds from forming at Phelps Field.
Millard South (8-2)................9  10  7  7—33
At Omaha Westside (11-0)....7  15  7  6—35
MS: Christian Nash 29 run (Cole Lammel kick)
OW: Avante Dickerson 10 run (William Bauerly kick)
MS: TJ Urban 39 run (Lammel kick)
OW: Dickerson 97 kickoff return (Bauerly kick)
OW: Koby Bretz 50 interception return (Bretz pass from Cole Payton)
MS: Urban 53 run (Lammel kick)
OW: Payton 1 run (Bauerly kick)
MS: Urban 1 run (Lammel kick)
OW: Dom Rezac 34 run (PAT failed)
Rushing: MS, Urban 32-222, Nash 8-77, Gage Mack 2-13, Antrell Taylor 1-3, Reggie Harris 1-4, Gage Stenger 1-10. OW, Rezac 13-134, Payton 15-89, Dickerson 6-30, Ben Radicia 2-5, team 4-minus 4-minus 27.
Passing: MS, Urban 3-11-1 42, Stenger 2-3-0 10. OW, Payton 7-16-1 100, Kolby Brown 1-2-0 (minus 2).
Receiving: MS, Taylor 2-29, Jake Gassaway 1-13, Deiondre Rice 1-7, Urban 1-3. OW, Dickerson 4-74, Bretz 1-11, Grant Guyett 1-6, Rezac 2-7.
---
Omaha Westside football comes out on top over Millard South in Class A semifinals