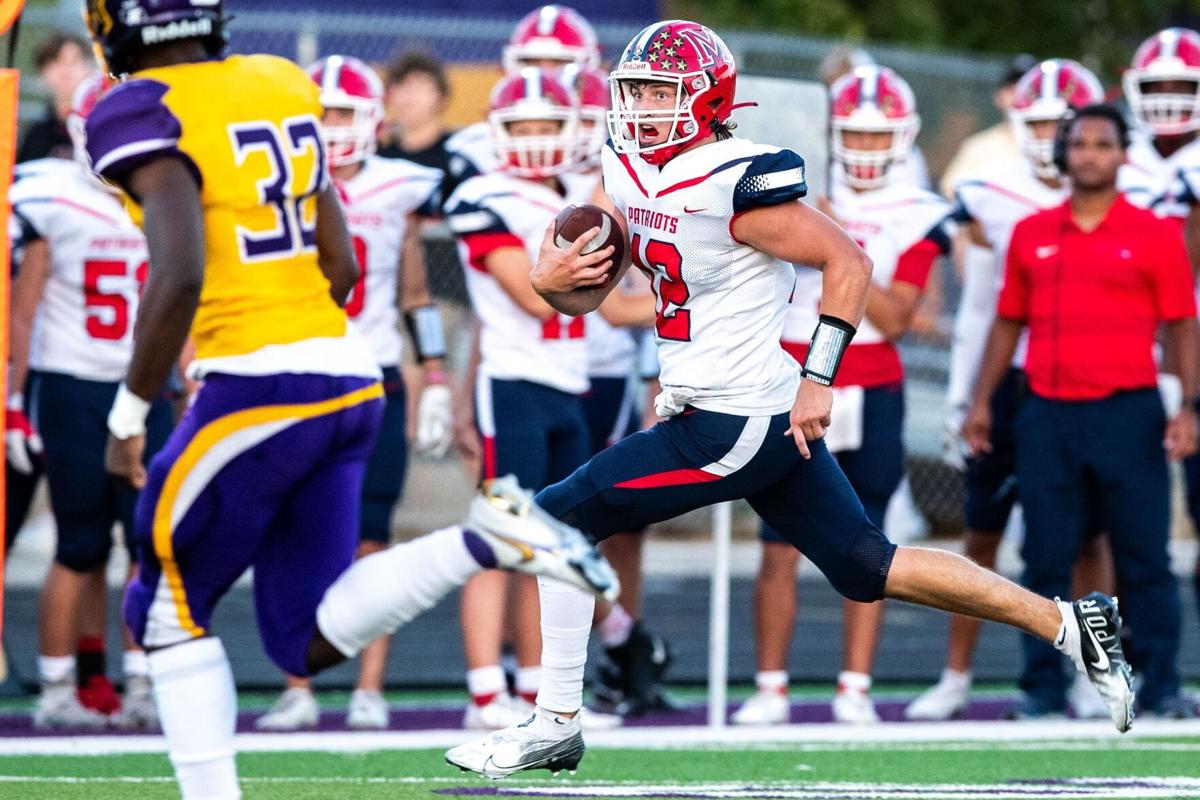 I'd never witnessed anything like it.
On back-to-back nights, Millard South and Bennington gouged No. 1 teams in their class with 600 yards of offense from their starters and, at times, domination on defense.
Millard South 42, Bellevue West 28. Bennington 42, Omaha Skutt 7.
As a result, both rise to No. 1 in their classes. Millard South already was No. 2, but Bennington vaults over Elkhorn and Plattsmouth from last week's No. 4 position.
Bellevue West's defense had been partially exposed by Omaha Creighton Prep the previous week in the fourth quarter. But the Junior Jays lack the speed of Millard South, especially with quarterback Gage Stenger, running back Christian Nash and a receiving corps with Antrell Taylor its fastest.
"We saw what Prep did, we felt our receivers were a little bigger than they have with the cornerbacks and we felt we could take advantage of it," Millard South coach Andy Means said after the game.
Stenger, heading to Kansas State, ran for 199 yards and threw for 220. He and Nash, with 185 yards, repeatedly got to the edge against the Thunderbirds.
Of all the teams I've watched in the early going, only Prep may rival Millard South's offensive line. Prep dominated Lincoln Southeast's front line, with at least two college-bound starters, in a 41-7 win on Thursday night.
Up front for the Patriots, in an all-new starting six, are juniors Cole Rucker (tight end) and Zach Flegel and seniors Cole Renken, Phil Meckna, Cole Wortman and center Keegan Trudell.
"They played last year when we were ahead on teams, but they've really come together," Means said. "But when you have playmakers and you believe they can score at any time, it makes you better."
Millard South's defense gave up 369 yards to Bellevue West in the first half but clamped down and allowed only 76 more — and a touchdown in the final five minutes.
"We knew that in the second half, we were going to have to toughen up and be the better team on defense," Stenger said.
Something to watch: Millard South had nine two-way starters against the Thunderbirds. West is almost all one-way starters.
What system holds up better through the final nine weeks of the season? Can the Patriots stay injury-free? Will West need to use more of its players two ways?
Like Millard South, Bennington burned Skutt with speed.
The Badgers earned their first No. 1 ranking in Class B after 189 and 101 yards from running backs Dylan Mostek and Nick Colvert, respectively, and 226 yards passing by Trey Byrd. His chief target was Cayden Bluhm, who had seven catches for 156 yards and two of Byrd's three touchdown strikes.
Bennington lost its first 10 games against the SkyHawks dating to 2010. Skutt scored four or more touchdowns every time.
But not Friday. After an early 86-yard pass play, with receiver Maccoy Holtam breaking three arm tackles, led to Skutt's only score, Bennington held the SkyHawks to 78 passing yards and 65 rushing the rest of the way.
"The defense had the momentum shifts," Mostek said. "Just getting stops, three-and-outs, making them punt right away and getting good field position for the offense, it really kept us going. We just weren't intimidated by (Skutt)."
The key for Bennington — and Millard South — is not to be satisfied with one memorable night.
"What they've accomplished right now is fantastic, and I just think there's going to be more yet to come," Bennington coach Kam Lenhart said. "(Saturday) is right back to work because this is not our goal. We don't want to win Week 4; we want to win on Nov. 22 or whatever that date is in Lincoln. That's what their mindset is. I'm glad that they got this victory tonight and the fact that they're still hungry and they want to keep going on. I think good things are coming."
Millard South has only one ranked team left, hosting No. 7 Omaha Burke on Oct. 22. Bennington is in the same situation, its only remaining ranked foe being Elkhorn on the road Oct. 8.
Ratings comments
Top 10/Class A: Prep moves past three teams that won last week into fourth after pasting Southeast. Millard West takes over for Kearney at No. 8 after beating the now-No. 10 Bearcats 37-19. Southeast falls from fourth to ninth in what is a true flip-flop with Prep and must protect its spot Thursday against Lincoln East in a matchup of the capital city's two best teams.
Class B: Why wasn't Elkhorn, the defending champ and sitting No. 2, promoted to No. 1? The Antlers have been living right — or living on the edge — as three of their four wins have been by a total of five points. They have Bennington and Skutt to play in districts in October. As for No. 3 Plattsmouth, its first four opponents are a combined 2-14. More will be learned about the Blue Devils starting with Friday's home game against Crete.
Class C-1: The ratings reflect Ashland-Greenwood's 21-11 win over Wayne and Columbus Scotus' 28-21 win at Battle Creek. Chadron at No. 8 replaces Wahoo, a 28-27 loser to Milford (3-1).
Class C-2: Norfolk Catholic's 20-14 overtime win over Oakland-Craig drops OC from second to eighth. Norfolk Catholic moves up to seventh.
Eight Man-1, Eight Man-2: Eight Man-1 stays intact. Eight Man-2 sees Bloomfield slip from eighth to 10th after a 70-44 loss at No. 7 Pender.
Six Man: Wallace at No. 9 and Lincoln Parkview at No. 10 enter after beating ranked teams.
TOP GAMES
Class A — Thursday: Lincoln East vs. Lincoln Southwest (at Seacrest), Creighton Prep vs. Millard West (at Buell). Friday: Bellevue West at Kearney, Grand Island at Westside, Omaha North at Millard South (7:30), Papillion La Vista vs. Elkhorn South (at Elkhorn).
Class B — Friday: Aurora at York, Bennington at Blair, Crete at Plattsmouth, Norris at Beatrice, Scottsbluff at Grand Island Northwest.
Class C-1 — Friday: Pierce at Boone Central, Battle Creek at Wayne, Boys Town at Fort Calhoun, Chadron at Mitchell, Columbus LV at Central City, Minden at Kearney Catholic, Nebraska City at Milford, Raymond Central at Ashland-Greenwood, Wahoo at Platteview.
Class C-2 — Thursday: Oakland-Craig at David City Aquinas. Friday: Hastings St. Cecilia at Sutton, Wahoo Neumann at Wilber-Clatonia, Yutan vs. Lincoln Lutheran (at Lincoln Pius X).
Eight Man-1 — Friday: Hi-Line at Bertrand, Hitchcock County at Cambridge, Freeman at Palmyra, Burwell at North Central.
Eight Man-2 — Friday: Humphrey St. Francis at Riverside, Falls City Sacred Heart at Johnson-Brock.
Six Man — Friday: Potter-Dix at Arthur County, Wilcox-Hildreth at Franklin.
---