So much has happened off the field since the state successfully launched high school football a week ago. Consider these four developments:
Omaha Public Schools athletes and parents, with Johnny Rodgers in support, held a pep rally to urge the administration to open fall activities after the release of an OPS statement less than hopeful to their cause.
Wichita's school board, leading the largest district in Kansas that almost mirrors OPS for size and enrollment diversity, voted to reopen sports while keeping high schools in remote learning.
Grand Island High School stuck with its policy of no visiting fans, including players' parents, at any event while allowing 100 of its senior class to attend football games.
The National Federation of State High School Associations reported that there have been no recorded cases of COVID-19 from transmission between opposing players during football games.
Let's dive deeper into each one.
OPS: The pep rally came a day after three school board members were asking for a special meeting that would include sports as one of the topics. That request apparently has been granted as a special meeting has been announced for next Tuesday. Expect another long public comment period in the OPS board room.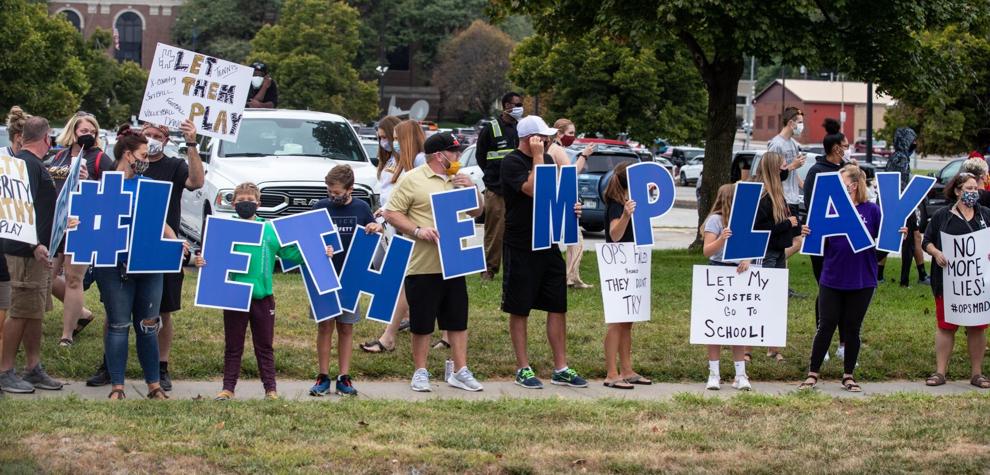 As of Tuesday, COVID-19 cases in Douglas County were down 24% overall over 14 days compared to the previous 14-day period and down 10% in the 0-19 age bracket. That 14-day average continues to fluctuate, but what it is when the OPS board meets twice next week — its regularly scheduled meeting is Thursday — could have an effect. Four days later, Douglas County will be one of the last 66 in the state that will enter Phase 4 — the directed health measure with the fewest restrictions.
Wichita: The school board reversed its August vote canceling fall activities. Among the provisions for reopening are that fall competition will be among the seven WPS high schools only — that's the same number in OPS — and without spectators.
Also, football and volleyball players must remain in remote learning until two weeks after the season ends even if the district returns to in-person classes. Based on COVID-19 risk dials, that could apply to basketball and wrestling in the winter.
Wrote the Wichita Eagle: "(The board's) reversal illustrates just how much political power is held by voices within the community. Since rendering their initial decision, (board) members had been flooded with emails and phone calls pleading and demanding that sports be allowed to continue. The outcry included a massive demonstration (an estimated 750 people) at Wichita Northwest High School, and before each subsequent (board) meeting, (Wichita) athletes — and some from surrounding areas — had stood outside the meeting space holding signs and chanting to show their resolve."
Grand Island: While the school district is vigorously defending its stance, the Nebraska State Fair across town is encouraging out-of-town visitors.
One rationale school officials have given for the ban is that additional staffing would be needed and would increase the potential for exposure to the virus. I'd say one person would be sufficient if the visiting school were given the tickets to sell in advance to parents only and a dropbox at the gate provided for touchless interaction with the staffer.
After all, the two sets of fans are separated by at least 75 yards across the field. That should be ample social distancing, and it is for the other 11 schools in the Heartland Conference. A final thought: While parents sign waivers allowing the school to seek medical treatment when needed, they don't want to be two hours away — or be relegated to the parking lot or a restaurant — if the situation arises if they can help it. For Lincoln Pius X on Friday, and Omaha Westside, Papillion-La Vista South and Norfolk later in the season, that's what they are facing.
No COVID-19 transmission: It doesn't mean it can't happen between opposing players, but hundreds of games without a reported case have been played in 17 states since Utah kicked off the season on Aug. 13. Last week on opening weekend, Nebraska had 122 of 127 games played, Iowa 158 of 161.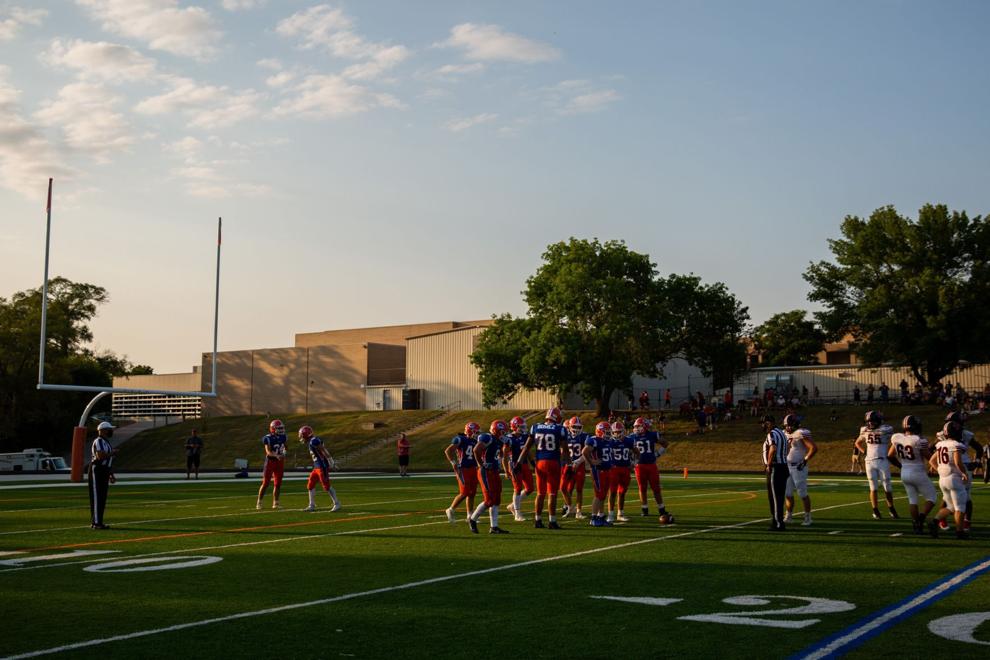 Something that can get overlooked is the actual amount of playing time in a football game. In a 60-minute NFL game, studies have shown it's about 11 minutes. Prep games are 48 minutes — so it could be another minute or two less of action. If there is an asymptomatic player in the game, CDC guidance indicates it would take close contact — less than 6 feet of social distance — for 15 minutes to be considered prolonged exposure.
What I've seen from watching three games last week is teams need to improve social distancing on the sidelines. Rules have been relaxed to extend the players' box from 50 yards to 80 — between the 10-yard lines — and what is happening? Players still stand shoulder to shoulder. Far from the intent of the rule. Teams have had their "get-back" coaches who keep players from encroaching the sideline. Now those need to also say, "Spread out."
A final note. Of the large school districts in neighboring states with football (Colorado is playing in 2021), St. Louis and Kansas City, Kansas, are the only ones that have canceled or suspended fall sports. Des Moines; Kansas City, Missouri; Topeka, Kansas; Sioux Falls, South Dakota; and now Wichita all are underway.
Friday's five
Five games to follow on Friday:
Class B No. 2 Omaha Skutt (1-0) at No. 1 Waverly (1-0), 7 p.m.: The first three times playing the SkyHawks at home weren't the charm for Waverly. Will the fourth put an end to Skutt's winning streak, now at 27 games?
Top 10 No. 2 Millard South (1-0) vs. No. 4 Elkhorn South (1-0), 7 p.m. at Elkhorn Stadium: Millard South won last year's game 26-21. Elkhorn South is starting the year with the three Millard schools. TV: Cox 13.
Top 10 No. 1 Omaha Westside (1-0) at No. 8 Kearney (0-1), 7 p.m. at UNK: This is considered a replacement game and will not count in the NSAA point standings, but it will for the ratings. A goal-line interception stopped Kearney as it was driving for the go-ahead score in a 14-10 loss to Lincoln Southeast. Radio: KGFW (1340, Kearney).
Top 10 No. 9 Omaha Creighton Prep (0-1) vs. Papillion-La Vista (1-0), 7 p.m. at PLV Stadium: Did Westside make Prep look that bad in a 42-0 game? Is Papio better than expected? Some answers should appear here.
Class C-1 No. 6 Adams Central (1-0) at No. 1 Wahoo (1-0), 7 p.m.: Wahoo bulldozed its 14th consecutive opponent, beating Columbus Scotus 40-0. Adams Central opened with a shutout. Radio: KHAS (1230, Hastings).