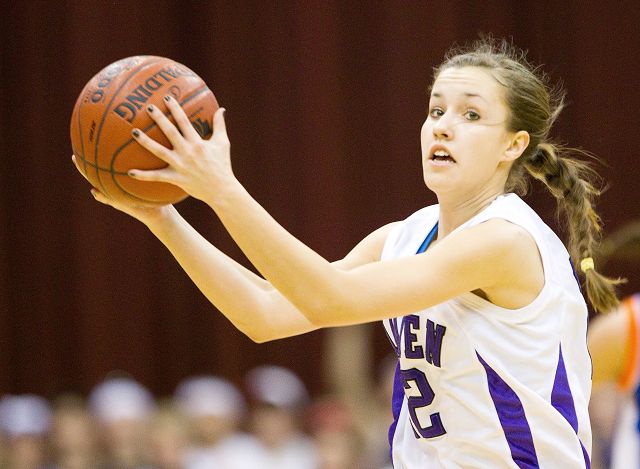 Minden guard Brooke Kissinger has committed to Illinois, her club coach said Tuesday.
The 5-foot-8 junior averaged 19.5 points a game for the Whippets en route to being named to the All-Nebraska second team and Class C-1 first team. She made 83 3-point shots last season after setting the state record with 110 as a freshman in 2010-11.
"She can really shoot the ball, she can shoot the 3," Cornhusker Shooting Stars coach Dan Lesoing said. "She's one of the better shooters I've ever coached. She has unbelievable range."
Kissinger chose between Creighton and the Illini. Colorado and Oklahoma State were interested, but they wanted to watch her play a little more this summer. Kissinger also had several offers from lower-level Division I schools.
Illini coaches told Lesoing that Kissinger would likely redshirt as a freshman to build some strength.
She'll be joined on the team by former Council Bluffs Lewis Central star Kylee Simmons, who will transfer from Missouri.
Kissinger's sister Jamie, who averaged 15.8 points, has not picked a school yet. Lesoing said the junior is looking mainly at Denver, San Diego and Princeton. Academics are a big priority.
"They are interested, but they just need to watch her play a little more," Lesoing said.
Shelby-Rising City junior Chatrice White, meanwhile, has narrowed her choices to Illinois, Nebraska, Oklahoma State and Purdue.
Her father, Bob, said the 6-3 All-Nebraska third-teamer, who was also Class C-2 all-state, hopes to announce her decision April 30 at her school's activities banquet.
Bob White said those programs offer the best opportunity for Chatrice White to play as a freshman.
"She doesn't want to sit on the bench," he said. "She wants to get out on the court."
Lesoing said White has turned down Iowa, Iowa State and Notre Dame. Around 60 to 70 schools have been interested in White, who averaged 23.4 points this past season. She's received offers from 25.
The Shooting Stars will start competition this weekend at the USJN Windy City Classic in Chicago.
"We'll have our hands full," Lesoing said.