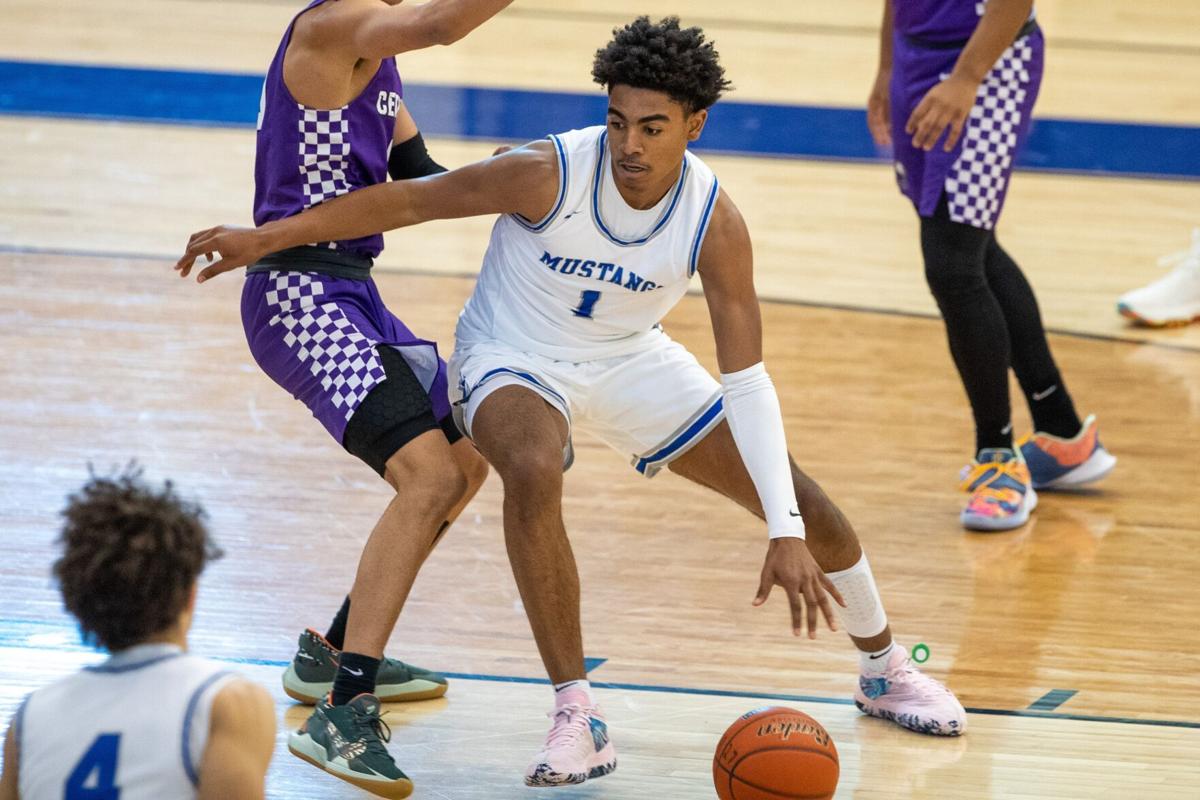 Colleges are renewing their basketball recruiting interest in Saint Thomas, the Metro Conference's leading scorer from Millard North.
Mustangs coach Tim Cannon said Texas Christian and Bradley offered Thomas in the wake of his 48-point game in the Metro Conference final, a 94-91 double-overtime win over Bellevue West. Cincinnati and Loyola of Chicago, coached by former Creighton player Porter Moser, also have been calling since then.
TCU was among the multiple Division I offers Thomas had coming out of the summer. But when he couldn't visit schools because of the coronavirus pandemic and didn't commit, many of the offers came off the table.
Bradley since last March has been talking to the 6-foot-7 Thomas, who's had a breakout season by averaging 24.3 points, 8.1 rebounds and 4.9 assists while shooting 64.5% from the field and a Class A-best 55.1% on 3-pointers.
"He really thinks a lot about where he would fit in playing well, and what's the right educational school for him," Cannon said.
As for the three instate Division I teams, only UNO has offered.
"On the radio one night they asked him where would you really like somebody to offer that hasn't, and he said Creighton,'' Cannon said. "Both Nebraska and Creighton said they have other offers out right now and they don't have one for him. But who knows if he has a really good winter."
Kansas offers Traudt
Grand Island 6-10 junior Isaac Traudt already had more than 25 D-I offers, including Creighton and NU, before one came last week from Kansas for the top-50 national recruit in his class.
Traudt is leading Class A in scoring and rebounding.
Helms, Riley in demand
Bellevue West's returning tight end duo Kaden Helms and Micah Riley continue to add Power Five schools to their offer lists for the Class of 2022.
Arizona State, Texas Tech and Oklahoma State are the latest for Helms. Aurburn, Georgia Tech and TCU are the latest for Riley.
Teammate Henry Rickels picked up a Kent State offer in the past month.
Meyer picks Mississippi
Superior outside hitter Shayla Meyer recently committed to Mississippi, where former Husker player and assistant coach Kayla Banwarth is starting out as head coach.
Meyer's older sister, Kalynn, is a freshman on the NU volleyball team and a three-time World-Herald girls high school athlete of the year.
Shayla Meyer, a 6-foot junior who was third-team All-Nebraska, led the Class C-2 Wildcats this season in kills (475), digs (305), blocks (58) and aces (48).
---
Celebrating past All-Nebraska basketball teams