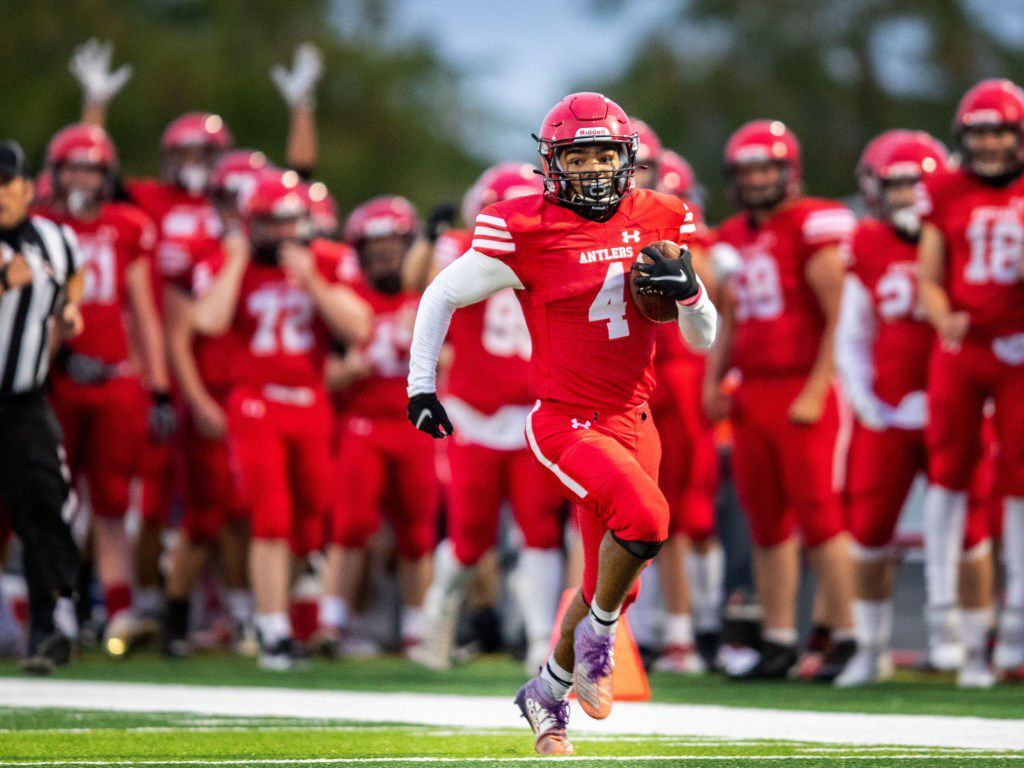 When a team's culture is good, players take on leadership roles.
If that's the case, then Elkhorn is in good hands. The Antlers are in the mix for a Class B title this season and are led by a core of seniors, including Aiden Young.
"It's ownership, and I've been doing it long enough that I don't mind having seniors lead the team. It's their team," Elkhorn coach Mark Wortman said. "Aiden was elected captain by the team for good reason, and he has been a starter since he was a freshman. The ownership by the seniors is great. They are grabbing the bull by the horns and they are very vocal, great leaders."
Leadership comes naturally for Young. Whether it's football, baseball or club teams in the summer, Young has stepped up. His senior football season is no different.
"This year, Wortman has given me the opportunity to be more vocal," said the 5-foot-9, 175-pound running back/defensive back. "This year what has pushed me has been some mistakes around the country. With everything going on in the world this summer, I personally felt I needed to become a better leader.
"My teammates look up to me and I have really tried to push it further and be better."
Young and fellow senior captains Drew Christo, Gannon Gragert, Austin Bober and Grant Gutschow have the Antlers (5-1) ready for the homestretch of their high school careers.
"I have a leadership role, but there are many leaders on the team," Young said. "It's not a one-man show. We have five captains on the team. We all take turns for the coin toss, and as much as I am a leader on the team, it is not just mine alone."
Young is also traversing the recruitment process. Meanwhile, he's maintaining a 3.8 GPA and taking four advanced-placement courses.
Nebraska has offered Young a walk-on spot. Division II schools Bemidji State, Pittsburg State, Harding, Mary, Wayne State and South Dakota School of Mines have offered, along with NAIA Peru State.
"Right now I am trying to just find a mix between (highest level and right fit). At the same time it is about the people at the school," he said. "I am trying to find a school where it is great competition and a great school along with a good support system."
Most of the schools recruiting Young see him as a running back, or a hybrid running back/wide receiver. Others are recruiting him at defensive back.
"I've had phone calls with Iowa State about a potential walk-on spot," Young said. "South Dakota, I've had numerous phone calls with. I've had numerous visits to South Dakota State, including a junior day last winter. California reached out earlier this season and I've had a little bit of conversation with them."
Others have shown interest, too, but haven't offered.
Wyoming has exchanged texts with Young, as have Ivy League schools Dartmouth, Harvard and Penn. He also had contact with FCS programs North Dakota State and Bucknell, plus Division II schools Northwest Missouri State, Missouri Western, Southwest Minnesota State, Minnesota State, Augustana and Sioux Falls.
Because of the NCAA's suspension of in-person recruiting, Young wasn't able to attend camps or visit schools this summer. 
"Nebraska was one school I was going to go to in the summer," he said. "I had a visit scheduled for Wyoming, but it got canceled the week before I was supposed to go."
Young planned on going to NU's Friday Night Lights camp, and said Iowa State, NDSU and Wyoming wanted him at their camps. Trips to South Dakota and South Dakota State were canceled, too.
Despite the missed recruiting opportunities, Young has kept a positive attitude in what has been a special senior season.
"Every week we get to come out and play the game, and it has been really special with the seniors," Young said. "We are trying to enjoy every week as much as possible and coming together. We still have a lot to do, and we haven't reached our full potential."
For now, Young is focused on finishing his career with a state championship.
"It would mean everything to me," Young said. "We have a great group of guys, and when you are competing with them, you do it for them.
"The theme we are preaching to our team is what a year to be in Class B. We have played many ranked teams already, and the goal is 13 games, get down to Lincoln and finish it."
Omaha World-Herald: Nebraska Prep Zone
All the latest updates for Nebraska High School sports