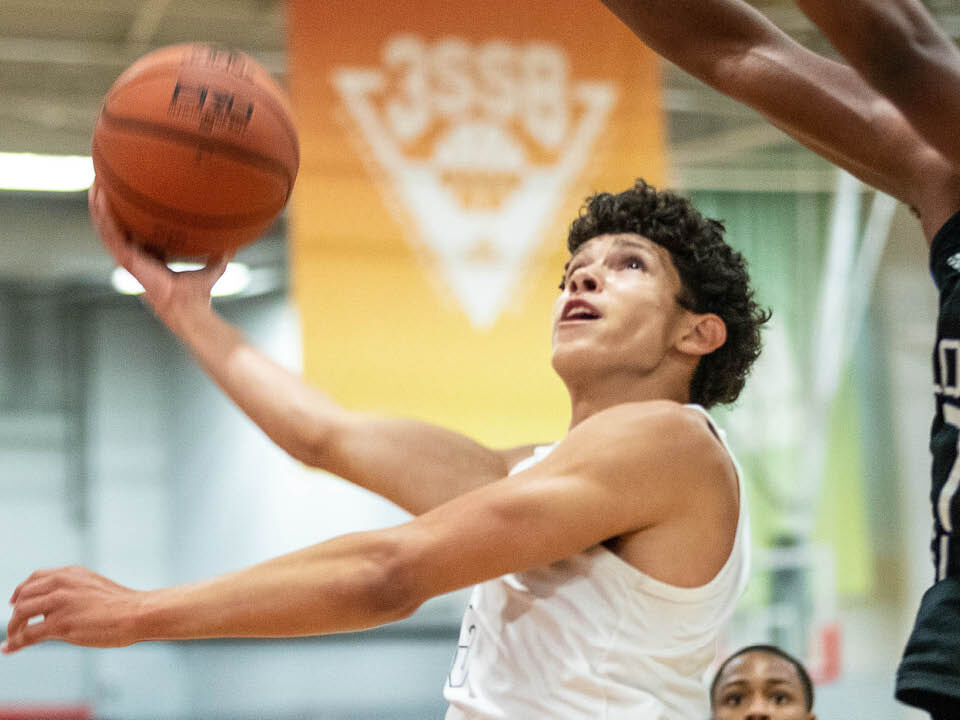 College coaches, wearing apparel branded with their schools' colors and logos, sat in folding chairs alongside many of the courts at Iowa West Field House last weekend, close enough to the action to lean back and stretch their own sneakers across the sideline.
Yet players like Josiah Dotzler did their best not to think about that, or even acknowledge the high-profile audience on hand.
"Someone might come up and say, 'Oh, this coach is here, make sure you play well," Doztler said. "I feel like if you think about it that way, that puts a lot of pressure on yourself.
"You have to have the mindset going into those games to just do your thing. Play to the best of your abilities and make sure you go 100%. That's what you can control."
His approach seems to be working this summer.
The Bellevue West guard — a rising high school junior — took the floor with Omaha Sports Academy's under-16 squad at the Adidas 3SSB Championships. He and the team played four competitive games (1-3), and Dotzler was one of the standouts.
He earned his first Division I scholarship offer from Liberty 11 days ago. Drake extended an offer on Saturday.
More offers could be on the way for the 6-foot-3 2023 prospect. Dotzler and OSA take the court again this weekend in Kansas City.
He said this week that his mentality won't change.
"I think of it as, you got started, but now you have to keep proving yourself and keep developing your game down the road," Dotzler said.
And he's been hard at work this summer.
He joins his Bellevue West teammates for lifting sessions at 6:45 a.m. every day. Then they get some shots up. An afternoon workout is typically on the books from 1-3 p.m. Dotzler's spent time with trainers to aid in his development.
The goal has been to maximize his on-court chances and enjoy the experience with teammates this summer. They all missed out on those high-profile AAU competitions last year.
The fact that college coaches are starting to notice has just been a bonus.
"The feeling is, you're insanely grateful," Dotzler said. "But you also don't really know what to think because you're putting in all this work every day and to see it come to fruition and to have people recognize it — I mean, you just thank God. There's nothing else to say."
Dotzler, whose older brother Josh played at Creighton, said he and his family plan to discuss plans for his recruitment soon. He may use some of his available official visits once school starts.
Nebraska Supreme heads to Indy
Another AAU team filled with promising Nebraska products will be in action all weekend at the UAA Finals in Indianapolis.
Nebraska Supreme's U17 squad — featuring rising seniors Isaac Traudt (Grand Island), Jasen Green (Millard North) and Jayden Dawson (Omaha Central) — opens the weekend against West Coast Elite at 10:30 a.m. Friday.
The UAA Finals are a parallel event to last week's Adidas 3SSB championships. Instead of featuring Adidas-sponsored AAU teams, the Indianapolis tournament showcases squads on the Under Armour circuit.
Supreme's produced a 10-2 record so far this summer, which is tied for third-best among the 26 U17 teams who've been competing on the top tier of the Under Armour circuit.
Traudt (No. 60) and Green (No. 214) are the two highest-ranked players in the state within the 2022 recruiting class, according to the 247Sports composite list. Both have scholarship offers from Nebraska and Creighton.
Nebraska Crusaders are champs
The Omaha-based AAU team that won the second-division Adidas national tournament last weekend initially wasn't even supposed to compete in that event.
It was just two weeks ago that the Nebraska Crusaders U17 Freeman squad received an unexpected invite for a regional tournament in Indianapolis. The squad took advantage, going 4-1 at that event from July 9-11.
In conjunction with the Adidas 3SSB Championships, the company held its Gold Championships at the Union Bank & Trust Sports Complex in Elkhorn. That's where the Crusaders shined.
They went 5-0 and claimed the title with a 56-54 victory over California Select. They rallied from an early 16-4 deficit in that final game. They overcame a couple of injuries during the weekend, too.
"They really stepped up," coach Patrick Freeman said. "The way they play, you can tell they care about each other and they want each other to succeed. It's just a real good group of guys.
Among the standouts for the Nebraska Crusaders are rising seniors Payson Gillespie (Westside), Casey O'Malley (Creighton Prep), Jakson Page (Millard North), Evan Inselman (Bellevue West) and Dane Petersen (Elkhorn).
They're set to play again this weekend in Kansas City.
---