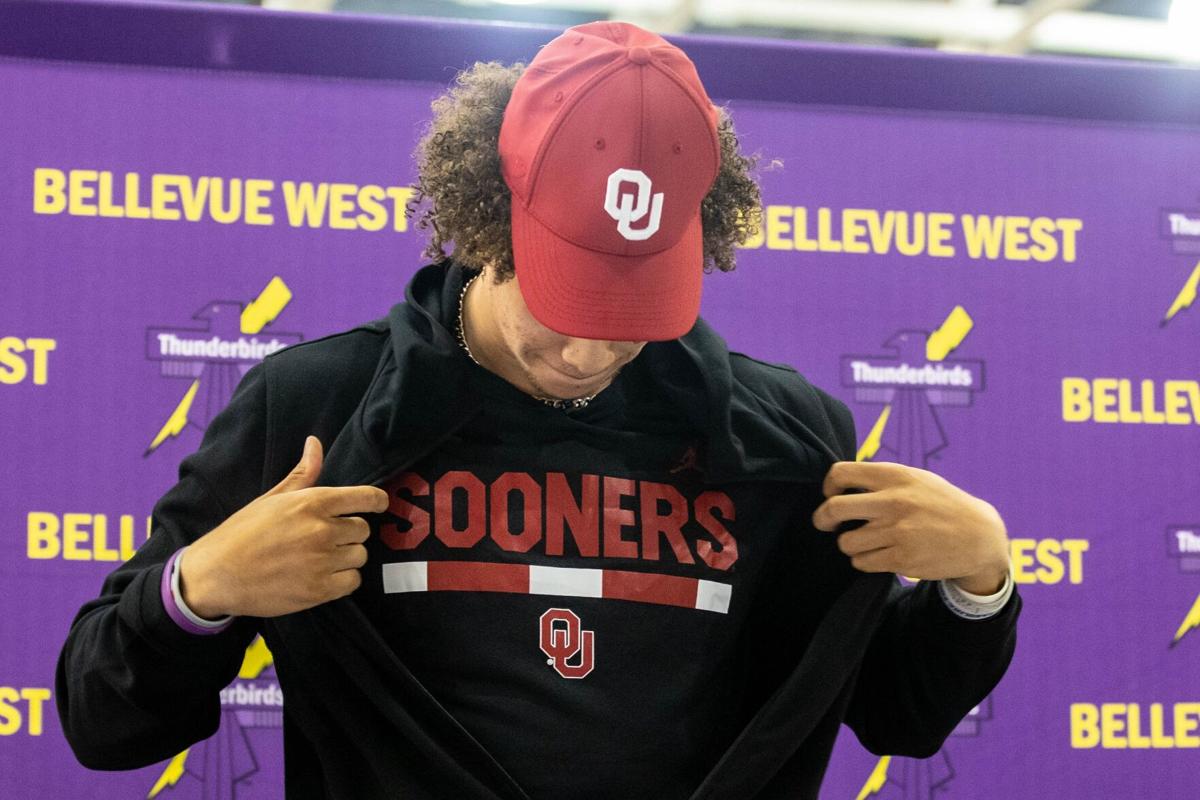 Bellevue West tight end Kaden Helms, his coach said, is one of the smartest players on the team. So when it came time for the four-star prospect to pick a college Saturday evening, his best offer seemed like the smart play.
It's the school of five-star quarterbacks and six straight Big 12 championships. Oklahoma.
"They win football games," Helms said of the Sooners Saturday evening after he'd announced his decision in front of 100 teammates, family members and T-Bird fans. "That's what we do here at Bellevue West, too. The main thing is I just want to carry that winning mentality over to the next level."
The 6-foot-5, 225-pounder picked OU — expected to be one of the nation's top College Football Playoff contenders in 2021 — over finalists North Carolina, Miami and Arizona State. Helms visited all four schools in June. Helms had nearly 25 offers — including those from Nebraska and Iowa — from which to choose.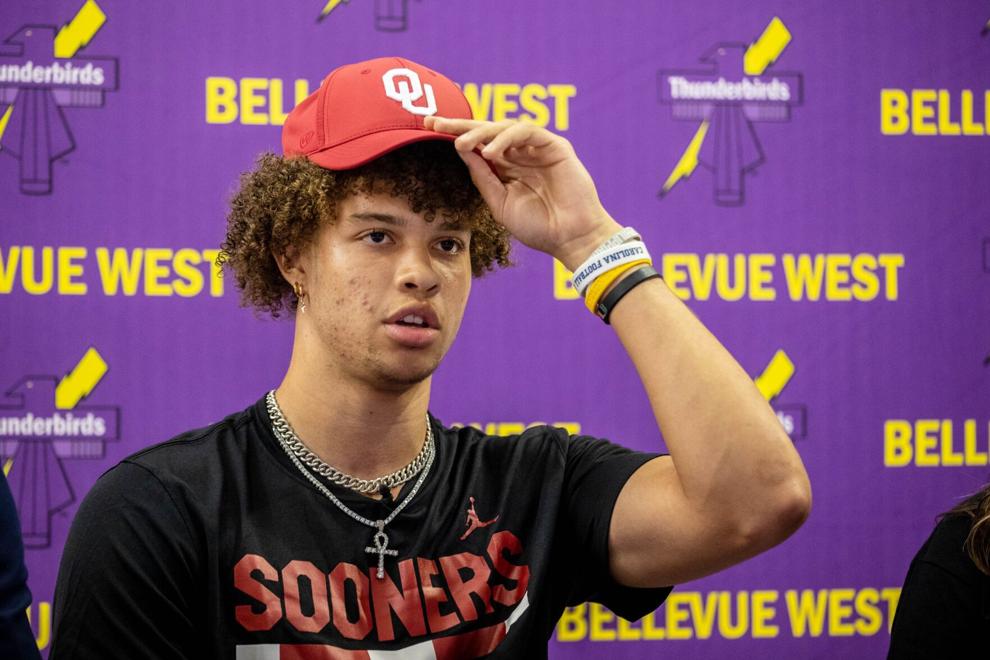 From the moment Oklahoma coach Lincoln Riley extended the scholarship offer earlier this year, he had hunch that "in the back of my mind" he was going to be a Sooner, Helms said. Like at Bellevue West, Helms will get to play all over the field. Also, he'll be surrounded by players as good as he is, particularly at quarterback where OU's starter Spencer Rattler and back-up Caleb Williams were the top signal callers in their respective recruiting classes. On Sunday, Oklahoma expects to pick up another five-star QB commit from 2023 prospect Malachi Nelson.
"That's a big part of it," Helms said. "They get the best talent every year. Best quarterbacks, best linemen, best receivers."
But there was a moment in his recruiting process, when Helms wasn't sure about the Sooners. Other schools, Bellevue West coach Michael Huffman said, were calling Helms more than OU.
"He said, 'the other coaches do more of this and more of that,'" Huffman said. "I said, 'You have to understand Oklahoma's not in the recruiting business, they're in the selecting business. There's only a handful of schools that are like that — Oklahoma, Notre Dame, Clemson, Ohio State, Alabama, Georgia. So I told him 'You've got to get past that.' Once he realized that, he started really evaluating them. He's highly intelligent. I can't imagine how hard this decision was."
UNC, coached by Mack Brown, made it interesting, Helms said. The Tar Heels told Helms he was the only tight end they were recruiting. But one week ago, Helms settled it in his mind. Oklahoma was for him. Huffman said Helms fits OU's system perfectly and will impress coaches with his work ethic. Helms' "25/8" mantra — one hour longer and one day more than 24/7 — showed this summer, Huffman said, when he lugged a JUGS football machine in and out of the equipment shed "probably 80 times" in the offseason so he could work on catching passes.
"Most high school kids don't want to do that, because that thing is awkward, and there are no graduate assistants to do it for them," Huffman said. "It's him. I'm proud of him. He deserves every bit of this."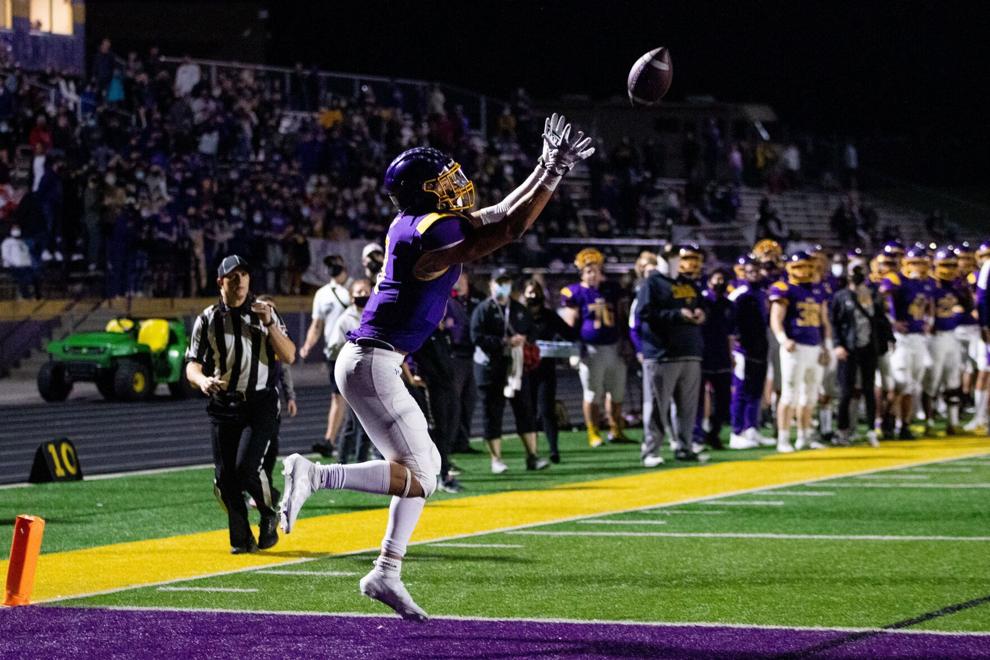 Helms continued a long run of T-Bird offensive skill players heading to FBS football programs. Zavier Betts and Jaylin Bradley went to Nebraska, while Keagan Johnson picked Iowa. Jay Ducker picked Northern Illinois while his brother — and Helms' teammate — Micah Riley-Ducker is committed to Auburn in the 2021 class. Another 2022 prospect from Bellevue West, running back LJ Richardson, has a scholarship offer to Wyoming.
He is also the third of four Metro football stars to pick a college this summer. Omaha Central offensive tackle Deshawn Woods committed in June to Missouri and Riley-Ducker picked Auburn. Both attended Helms' announcement decked out in their respective team gear. The last of the four to commit will be Omaha Burke outside linebacker Devon Jackson, who has Miami and Arizona State among other schools in his final group.
On a team full of elite pass-catching options over the last two seasons, Helms was still productive, catching 41 passes for 554 yards and six touchdowns in 20 games. As a senior, Helms likely becomes a primary option for two Bellevue West quarterbacks, Luke Johannsen and Danny Kaelin, who will battle for the starting job. Helms' recruiting stock took off in the last seven months as he collected scholarship offer after offer once teams saw his junior film. Scouts viewed him more favorably, as well, as ESPN and 247Sports upgraded him to four-star status.
Helms crossed Nebraska off his list early in the process, citing a desire to leave the state and play elsewhere.
"I'm kind of burned out on Nebraska, to be honest," Helms said in late March. "I lived here a long time, and it's about wanting to get out and see something different in the world."
Helms will see a Husker game this year, though. In Norman, Sept. 18, against his future school.
"Most definitely," Helms said. "I'll be there."
---