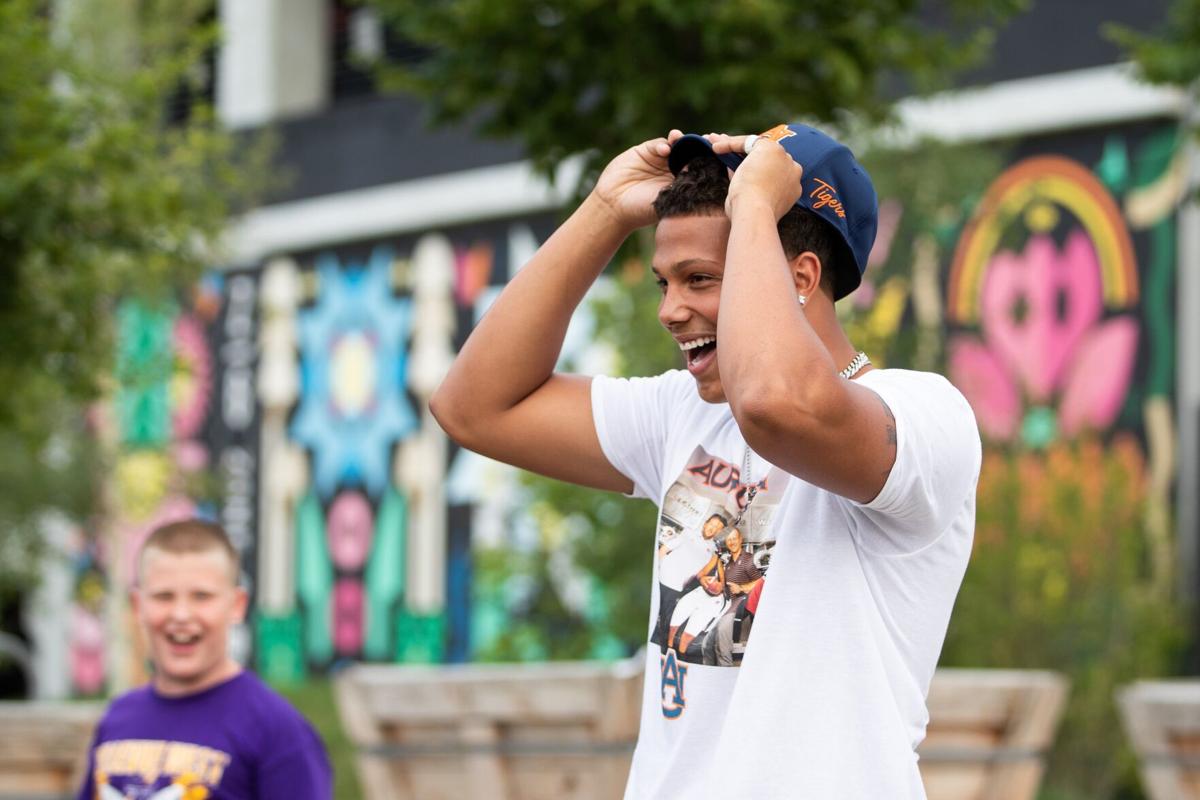 With his commitment to Auburn on Wednesday, Micah Riley-Ducker will have a chance to respond on the field to the SEC hecklers he has already met.
The Bellevue West tight end, who announced his commitment in an event at Aksarben Village, said that after a trip south, an interaction with an Alabama fan at the airport made him more confident in where he wanted to go.
"We were about to board, and an Alabama fan freaked out on us, because I had my backpack on," he said. "They were like 'Roll Tide,' and I knew from that second this is where I wanted to go. It's all competition down there."
Of course, much more factored into his decision. Prior to the announcement, the three-star prospect and No. 15 tight end overall, according to the 247Sports composite, had conversations with his family that helped him make the call between finalists Auburn, Iowa, Illinois and Iowa State.
"A lot of people say this isn't a family decision, but it is," Riley-Ducker said. "They've guided me through everything so this is the best opportunity for me. Best opportunity to play early, best environment, best coaching staff for me."
The coaches in particular are an interesting part of the puzzle, as the Tigers will be led by new coach Bryan Harsin, who was previously at Boise State. Riley-Ducker said he connected especially well with the tight end room and position coach Brad Bedell.
"We have a good vibe," he said. "I know (Bedell) will put in extra time and effort with me and make sure I'm straight. Same with the guys in the room, I know they care about me."
The 6-foot-6, 235-pounder also was impressed with Harsin's résumé — the coach didn't have a five-loss season with the Broncos from 2014-2020. That's something coaches at Illinois, Iowa and Iowa State can't claim.
"You play to win," he said. "That's why we do it. ... So that's a big part of this and I knew as soon as I left this was where I wanted to go."
Auburn could give Riley-Ducker an opportunity to compete for snaps early. The Tigers didn't have a tight end top 100 yards receiving last year. Meanwhile, two of the top four receivers for Harsin's Broncos were tight ends.
Even on his commitment day, Riley-Ducker made sure to give love to the talent in the area and on his team. A group of his Thunderbird teammates were in attendance, and he celebrated with them immediately after his announcement.
"We can ball, all of them can ball, it's just about opportunity, and I love my guys," he said. "So it's just about opportunity, finding a place for you and we got a lot of guys that are on the brink, or if not already there."
---