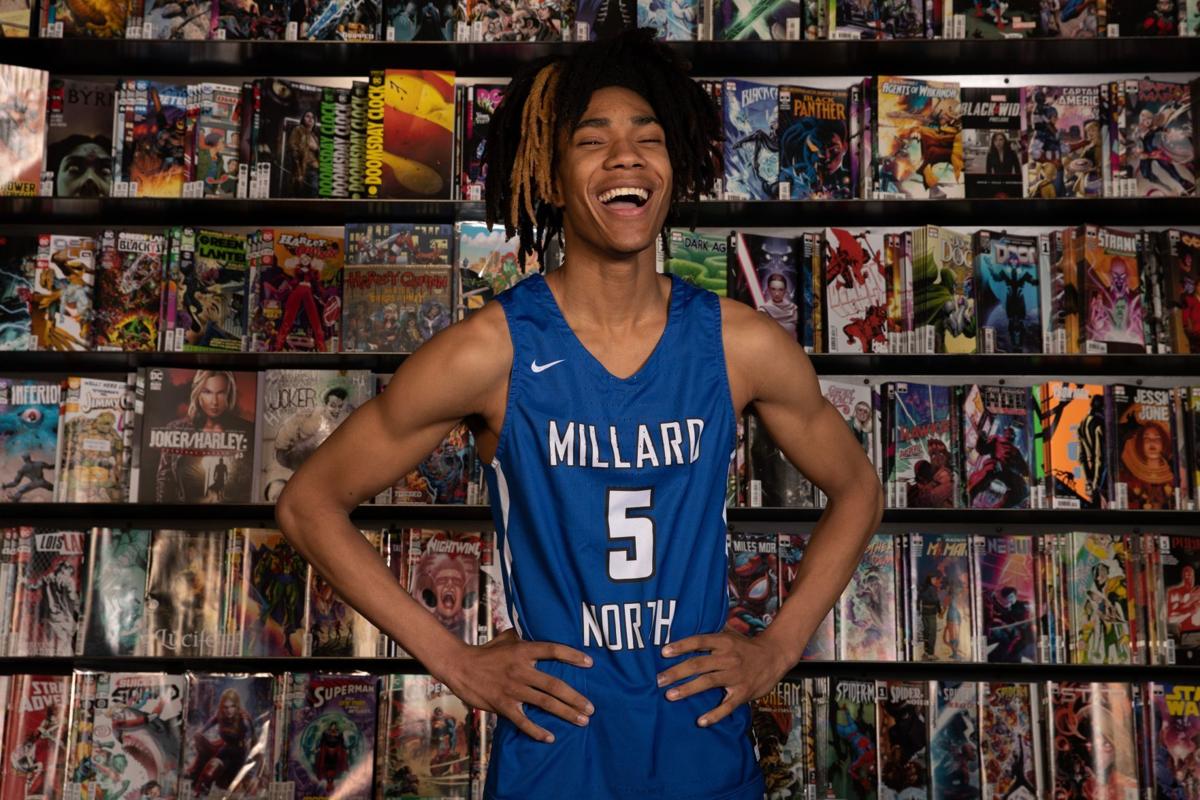 Millard North senior Hunter Sallis is nearing a decision, and he's got a lot of big names to choose from.
The 6-foot-4, 170-pound forward trimmed his list of suitors to 12 Sunday: Alabama, Auburn, Creighton, Gonzaga, Iowa State, Kansas, Kentucky, Louisville, Michigan, North Carolina, Oregon and UCLA.
"I feel like it is the best fit for me and they can put me in the best position to improve for the next level," Sallis said. "I also want to win, and (these programs) give me the best opportunity to do that."
The schools range from blue bloods to recent elites — and one of the two in-state programs that offered. Nebraska did not make the cut.
"The opportunity at a couple of those schools that aren't the blue bloods, I feel like I could come in and make an impact early," Sallis said.
Creighton making the list is twofold.
"My relationship with Coach (Greg) McDermott and how long they have been recruiting were factors," Sallis said. "It is also my hometown."
Two other recent Omaha products to go from the Bluejays to NBA draft picks are Justin Patton (North) and Khyri Thomas (Benson). Patton was a first-round pick in 2017 and Thomas went in the second in 2018.
Sallis is a five-star prospect — the first to come out of the state since online recruiting rankings started in the early 2000s — and the No. 11 player in the country, according to Rivals. The 247Sports composite — a ranking that combines the three major services (Rivals, 247 and ESPN) — has him at No. 19. His ranking was also considered to be on the rise before the pandemic shut down the AAU season.
Of the schools in his top 12, Sallis has taken one official visit. That visit was to Gonzaga in late January.
Kentucky is the latest in a string of top-tier schools to offer Sallis. The Wildcats offered Friday but had been in contact for a few weeks.
Michigan offered earlier this month and Auburn in July. North Carolina offered in late April while Oregon and Alabama offered last October. Louisville and UCLA offered in March while KU offered last November.
Iowa State and Creighton were the first power-conference schools to offer — the Cyclones on Sept. 1, 2018, and CU Aug. 29, 2018.
Former NU coach Tim Miles offered during Sallis' sophomore year . He took multiple unofficial visits to Lincoln, as well as an official visit last fall.
The All-Nebraska first-teamer is believed to the only player from the state to get offers from Kentucky and North Carolina.
With the NCAA's suspension of in-person recruiting continu ing through September, Sallis said the next step is waiting to see if he can take the five NCAA allotted official visits his senior year.
Sallis helped Millard North reach the Class A state final in March while setting school records for points in a season (644) and career (1,175).
Mike Sautter's 2021 Nebraska prep boys basketball recruiting rankings
Check out World-Herald Prep Recruiting Specialist Mike Sautter's 2021 basketball prep recruiting rankings. The 2021 high school rankings were updated April 16, 2020. The rankings are decided with some input from players and coaches around the state along with feedback from college coaches.