Below is a list of the Nebraska high school athletes who signed with colleges.
Did we miss anyone? Let us know by sending an email to Stu Pospisil at POSPISIL@owh.com.
Adams Central: Merci Hood, UNK tennis
Ainsworth: Mila Pozehl, Mount Marty volleyball.
Amherst: Destiny Damme, York women's wrestling.
Anselmo-Merna: Emmalee Bartak, Midland track.
Bayard: Hunter Kildow, Morningside wrestling; Daemon Avilez, Buena Vista track.
Bellevue East: Sami Reding, Upper Iowa soccer and softball; Jillian Mengel, St. Louis CC softball; Baylee Greene, Iowa Central CC volleyball
Bellevue West: Dasia Howard, Peru State basketball; Cole Hoppe, William Jewell soccer; Ty Kiviniemi, William Penn volleyball; Jayden Artherton, Midland diving.
Bennington: Bryce Melis, Nebraska Wesleyan soccer.
Blair: Faith Manion, College of Saint Mary soccer.
Blue Hill: Ladelle Hazen, Hartford cross country and track; Koltan Wademan, Presentation football.
Boyd County: Lauryn Hoffmann, Wayne State track.
Broken Bow: Avery Campbell, College of St. Mary golf; Blake Denson, Peru State baseball; Lathan Duda, North Dakota State wrestling; Madison Jackson, Nebraska Wesleyan golf; Nikki Peters, Northeast CC softball; Kali Staples, Doane basketball; Emma Schall, Morningside volleyball
Central City: Tanner Schneiderheinz, Hastings football; Sam Moore, Morningside wrestling; Dyson Kunz, Northern Colorado wrestling; Aydon Nelson, Nebraska Wesleyan football; Faith Carroll, Northern State track; Tyson Rinkol, Morningside track; Eric Lenz, Nebraska Wesleyan track.
Central Valley: Danielle Wadsworth, Northeast CC volleyball; Trevor Cargill, Wayne State football; Ty Nekoliczak, Concordia baseball; Jackson McIntyre, Wayne State track.
Cody-Kilgore: Tehya From, Mount Marty track.
Columbus Lakeview: Reese Janssen, Nebraska Wesleyan volleyball.
Columbus Scotus: Kamryn Chohon, Central CC volleyball; Kaden Young, Northeast baseball; Ava Kuhl, Doane basketball; Evan Bock, Mount Marty baseball.
Dorchester: Jacee Zoubek, Doane track.
Dundy County-Stratton: Delton Haines, Chadron State football; Maggie Lutz, McKinzie Baney, Doane basketball; Lincoln Waters, Nebraska Wesleyan football.
Elkhorn High: Colton Uhing, Midland basketball.
Fillmore Central: Jackie Shelkopf, Hastings basketball; Claire Kimbro, Hastings softball; Garrett Nichols, UNK track/cross country.
Fort Calhoun: Abbie Anderson, Kaitlyn Smith, College of Saint Mary soccer; Ellie Lienemann, Morningside volleyball; Brant Hilzendeger, Midland basketball.
Fremont: Bryce Mitzelfelt, Hastings football; Zacharry McGeorge, Midland track/cross country; Camden McKenzie, Hastings baseball; Nate Stinemates, Hastings bowling; Alex Bigsby, Augustana tennis.
Fullerton: Tresden Gonsior, Sioux Falls baseball.
Garden County: Colton Holthus, Morningside wrestling.
Gering: Quinton Chavez, Nebraska wrestling; Nate Rocheleau, Paul Ruff, St. Cloud wrestling; Kiara Aguallo, Midland Lutheran basketball.
Gibbon: Matthew Weismann, Concordia basketball.
Gothenburg: Avery Dunphy, Hastings softball.
Grand Island: Jennifer Aguilar, Esperanza Villatoro, York soccer; Aidan Keyes, York baseball; Anthony Acosta, Dakota Wesleyan soccer; Gage Long, U.S. Naval Academy, track and cross country.
Gretna: Christopher Atkinson, UNO golf; Nathan Minarik, Nebraska Wesleyan football; Rusty Wortman, Midland baseball; Patrick Long, Midland soccer
Johnson County: Ashlei McDonald, Iowa Western CC cross country.
Kearney: Rebecca Thacker, Davis and Elkins swimming; Kyan Nickel, Marshalltown CC softball.
Laurel-Concord-Coleridge: Jadyn Kinkaid, Peru State golf.
Lexington: Noah Converse, Doane football; Ivan Lazo, UNK wrestling; Emely Carranza, Doane soccer; Kimberly Corzo, Indian Hills CC soccer.
Leyton: Zackry Henke, Concordia football.
Lincoln Lutheran: Lauren Stull, Hastings soccer; Cruise Trumbley, Hastings golf; Wyatt Marr, UNK football; Josh Puelz, Concordia basketball; Noah Schaedel, Concordia football.
Lincoln Northeast: Zachary Moerer, Nebraska Wesleyan basketball; Lina Le, Nebraska Wesleyan basketball.
Lincoln Pius X: Alex Becker, UNO swimming; MacKenna Eidson, Southeast CC-Beatrice basketball; Ava Heasty, UNK swimming; Sam Hoiberg, Nebraska basketball (walk-on); Jason Kolbas, Iowa Western golf; Allyson Korus, UNK cross country/track; Benjamin Mitchell, Josh Moore, Northeastern JC baseball; Hannah Pham, St. Thomas volleyball; Clare Plachy, UNK tennis; Blake Vodicka, UNK football; Jase Woita, Kansas City (Kansas) CC baseball.
Lincoln Southeast: Graham Peterson, Coe tennis; Corey Krueger, Concordia basketball; Ajantae' Hogan, Peru State basketball.
Lincoln Southwest: Carson Stille, Nebraska Wesleyan baseball; Dylan Cox, Telo Arsiaga, Hutchinson CC baseball; Ethan Morrow, Southeast CC baseball; Joon Dunsmore, William Johnson, Mount Marty baseball; Max Petersen, Nebraska baseball; Tanner Vercellino, Morningside baseball; Andrew Bohrer, Concordia baseball; Tyler Sellentin, Grand View basketball; Cayden Wynne, Mid-Plains golf; Geran Sander, Nebraska Wesleyan golf; Braden Lackey, Doane soccer; Carter Novosad, Johnny Le, Drury soccer; Clayton Monroe, Rockhurst soccer; Elijah Rhodes, Dakota Wesleyan soccer; Nolan Fuelberth, Northern Illinois soccer; Jacob Balfany, Nebraska Wesleyan tennis; Drew Snyder, Baylor cross country and track; Grant Reid, Nebraska Wesleyan cross country and track; Kerra Smid, UNK cross country and track; Blake Baker, Nebraska Wesleyan football; Grant Buda, Nebraska football walk-on; Grant Miller, Pomona football; Justice Schmitt, Mount Marty football; Nolan Milius, Augustana football; Karli Scott, Midland soccer; Lainie Fanton, Midland tennis; Tanner Jonas, UNK track; Lauren Dirks, Hastings volleyball
Louisville: Caleb Hrabik, Doane basketball; Jennifer Katz, Dodge City CC softball; Treyton Savage, Northwestern College baseball; Nash Callahan, Hastings baseball.
Lyons-Decatur: Zachary Hegge, Mount Marty baseball
Maxwell: Dalton Whisenhunt, Doane football.
Millard North: Sidney Anderson, College of St. Mary basketball; Matthew Caruso, Concordia track; Hunter Sallis, Gonzaga basketball; Zephaniah Sivels, Midland football; Katelyn Smith, Concordia soccer; Saint Thomas, Loyola basketball.
Millard South: Delsie Westbrook, College of St Mary soccer; Scott Robertson, Nebraska wrestling.
Millard West: Isabelle Berlin, South Dakota State swimming; Carter Betts, Nebraska Wesleyan baseball; Kaitlyn Dickmeyer, College of Saint Mary bowling; Ryan Larsen, Midland basketball; Carson Meier, Colton Wunderlich, Midland lacrosse; Caden Tubaugh, Maryville soccer; Idell Wostoupal, Maryville lacrosse.
Morrill: Libbie Schaefer, Eastern Wyoming CC basketball.
Neligh-Oakdale: Paige Furstenau, Nebraska Wesleyan basketball; Trinity Kurpgeweit, Central CC-Columbus basketball.
Norfolk: Kallan Herman, Dakota Wesleyan basketball; Kylie Freudenburg, Concordia tennis; Tyler Sellin, Augustana track; Trevor Eisenbraun, Chadron State track/cross country; Carson Means, Mount Marty track/cross country; Josh Licking, Nebraska wrestling.
Norfolk Catholic: Mary Fennessy, UNO track; Max Wattier South Dakota Mines football; Christian Mickelson,.Mount Marty basketball; Kalee Gilsdorf, Mount Marty golf.
Norris: Ryan Gouldin, Cloud County CC baseball; Brayson Mueller, Concordia basketball; Dane Small, Sioux Falls baseball.
North Platte: Will Coe, Jamestown basketball; Derrick Kuhlmann, Iowa Western CC basketball; Tyler Tobey, Kaskaskia CC basketball; Darian Diaz, Chadron State wrestling; Baylee Evarts, Hastings track and cross country; Tom Moss, Morningside track and cross country; Tahjza Botts, Southeast CC softball.
Omaha Brownell Talbot: Jake Gibbs, Rose-Hulman football; Austin Vetter, Quincy lacrosse.
Omaha Central: Christian Dump, Midland football; Ashad Wills, A Mari'yan Lathan, Peru State football; Nyanuar Pal, Florida A&M basketball; Nyawargak Gatkek, Arkansas Tech basketball; Christina Spomer, South Dakota swimming; Denim Johnson , Central Arizona CC basketball; Connor Mahoney, Buena Vista soccer; Olivia Baker, Palm Beach Atlantic soccer; Camila Munoz, Nebraska Wesleyan soccer; Cole Kreber, Whitman baseball; Joey Craig, Glendale CC baseball; Jaxson Fullerton, Concordia golf.
Omaha Creighton Prep: Brendan Buckley, Morningside basketball; William Buechler, Rockhurst golf; Drew Kaelin, Minnesota swimming; Jack Schembari, Marquette track/cross country; Tony Tubrick, Concordia basketball; Ben Ravnsborg, Saint Louis swimming.
Omaha Marian: Maddie Clark, Army swimming; Lauren Harris, Princeton track; Aryannah Harrison, Johnson County CC basketball.
Omaha Skutt: Miguel Thompson, Benedictine wrestling; Will Kubat, Zach Hodge, Jake Dennis, Midland football; Jaden Schmaderer, Morningside football; Charlie Fletcher, Morningside basketball; Isaac Richards, Wayne State cross country/track; Zach Weis, Andrew Davidson, John Meyers, Nebraska Wesleyan soccer.
Omaha Westside: Mikayla Capazo, Rockhurst soccer; Dayton Kell, St. Louis CC softball; Anthony White, Iowa Central CC football; Parker Kotas, Midland football; Kori Bullard, Lincoln softball; Spencer Kaufman, Concordia soccer; Kutty George, Northeast CC baseball.
Ord: Payton Hackel, Hastings track; Tommy Stevens, Morningside football.
Papillion-La Vista: Jessica Crowder, Davis & Elkins soccer; Erin Dickinson, Wellesley track/cross country; Anna Fitzgerald, Midland basketball; Aidan Graham, Doane basketball; Audrey Haworth, Morningside soccer; Alex Herman, Midland track and field; Joey Hylok, Hastings basketball; Ezekiel Kinsey, Doane football; Ian Rudner, Chicago wrestling; Brooklyn Scanlon, Simpson soccer; Jakob Tadlock, Doane track/cross country.
Papillion-LV South: Chance Hergott, Truman State soccer; Peyton Hylok, Johnson County CC soccer; Mason Burger, Morningside golf; Graham Cassoutt, Dordt basketball.
Paxton: Remington Schimonitz, UNK football; Noah Ackerman, Doane football.
Schuyler: Carly Johnson, Peru State golf; Easton Hall, Peru State basketball.
Seward: Jackson Warren, Doane football; Tayden Vandenberg, Dakota Wesleyan football; Cameron Schrad, University of the Ozarks wrestling.
Shelby-Rising City: Ceagen Watts, Hastings golf; Colin Wingard, Morningside baseball.
Sidney: Reagan Biesecker, Concordia track; Delanie Namuth, York track.
Sioux County: Kodie Rempp, Northland basketball.
South Sioux City: Hannah Strom, Southeastern basketball.
Sumner-Eddyville-Miller: Carson Rohde, Concordia football.
Superior: Elijah Heusinkvelt, Hastings football.
Tri County: Drew Garrison, Doane football; Brandon Beeson, Morningside football; Cole Siems, Jack Holsing, Nebraska Wesleyan football; Carissa Lijewski, Nebraska Wesleyan golf; Anna Schmidt, Augustana track.
Wahoo: Cooper Hancock, Doane football; Sara Lindgren, Nebraska Wesleyan track; Trevor Kasischke, Hastings basketball.
York: Thomas Ivey, Concordia wrestling.
Yutan: Brady Timm, Doane basketball.
---
Photos: Celebrating past All-Nebraska basketball teams
2021: Showstoppers
2020: The Legion of All-Nebraska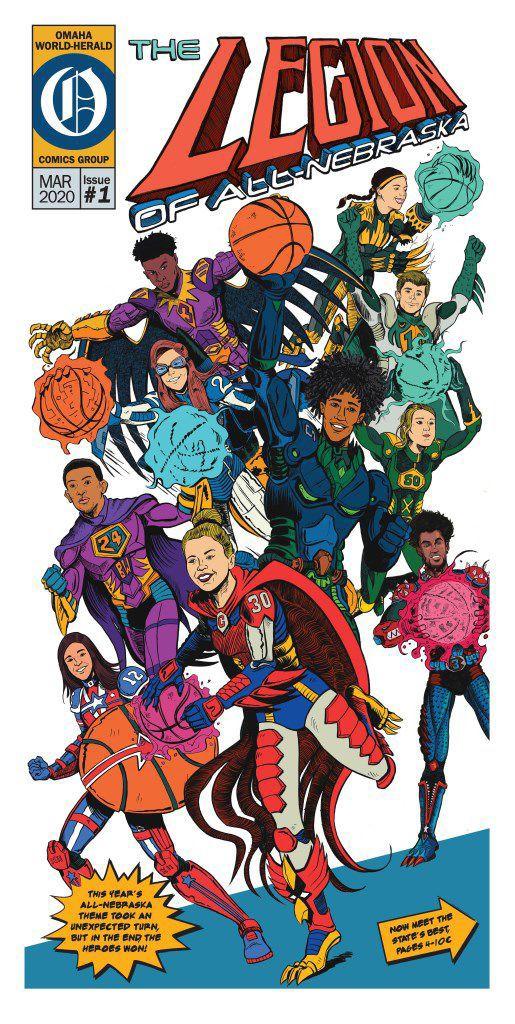 2019: Masterpiece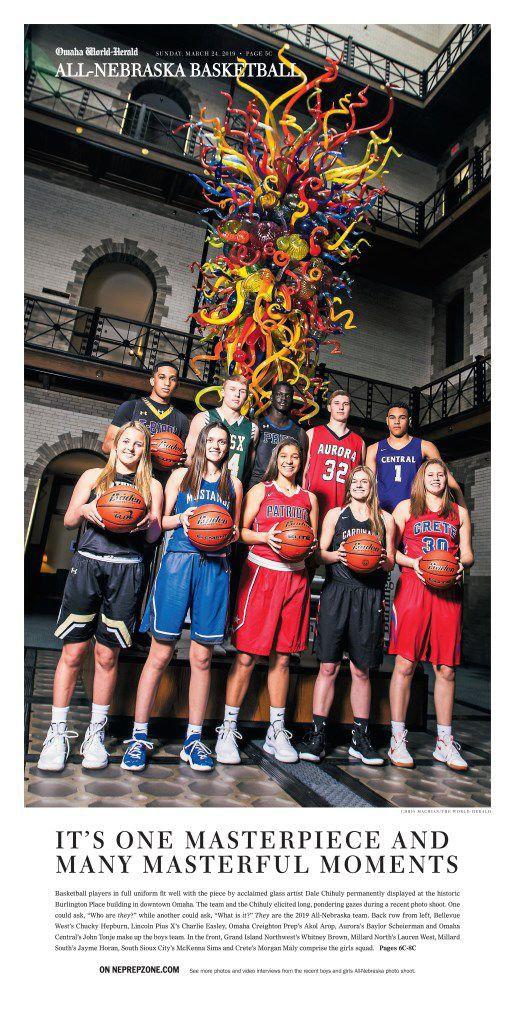 2018: Monumental
2017: Royal Court
2016: Hang Time
2015: Shooting Stars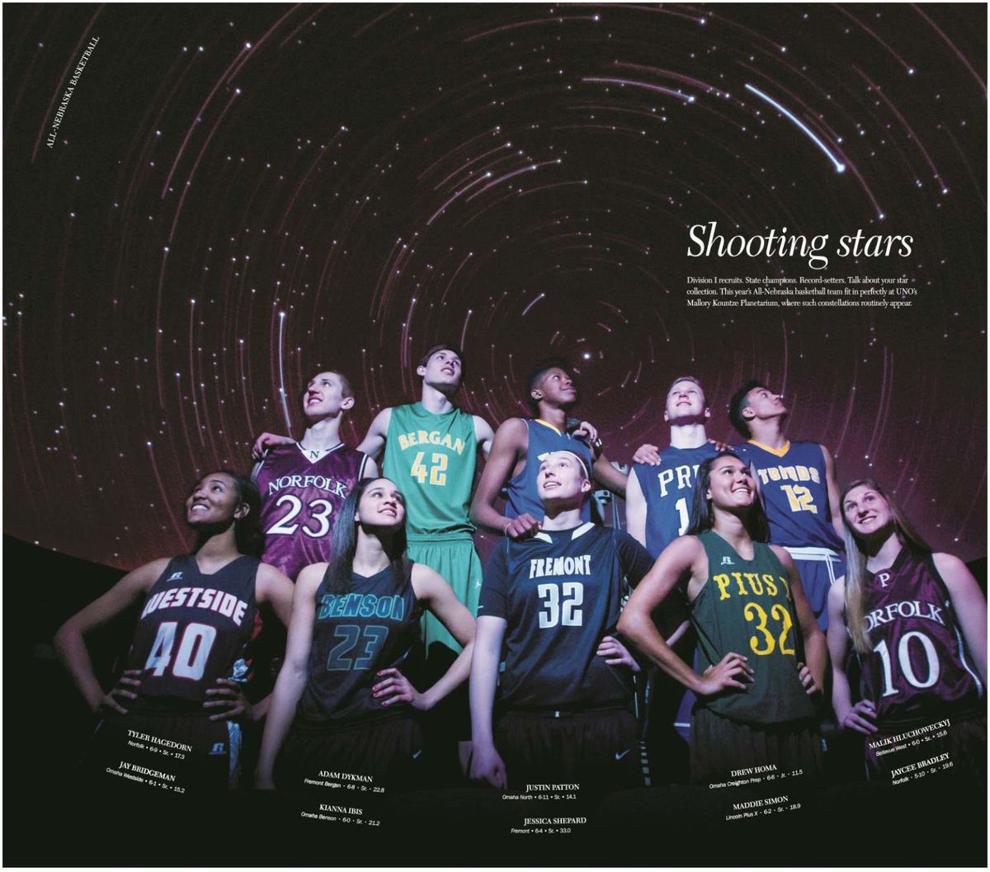 2014: Full-court Press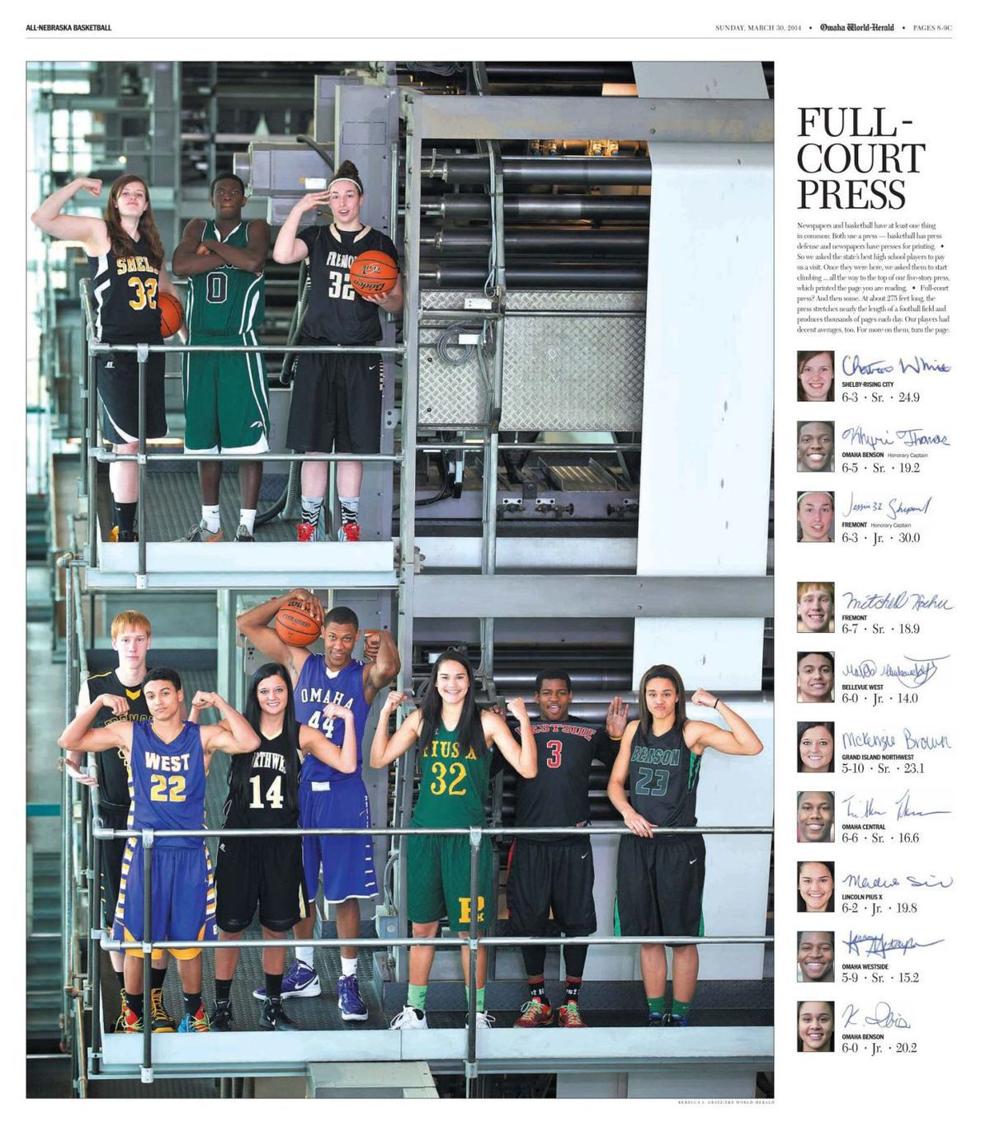 2013: All-Shake
2012: Old School
2011: Showstoppers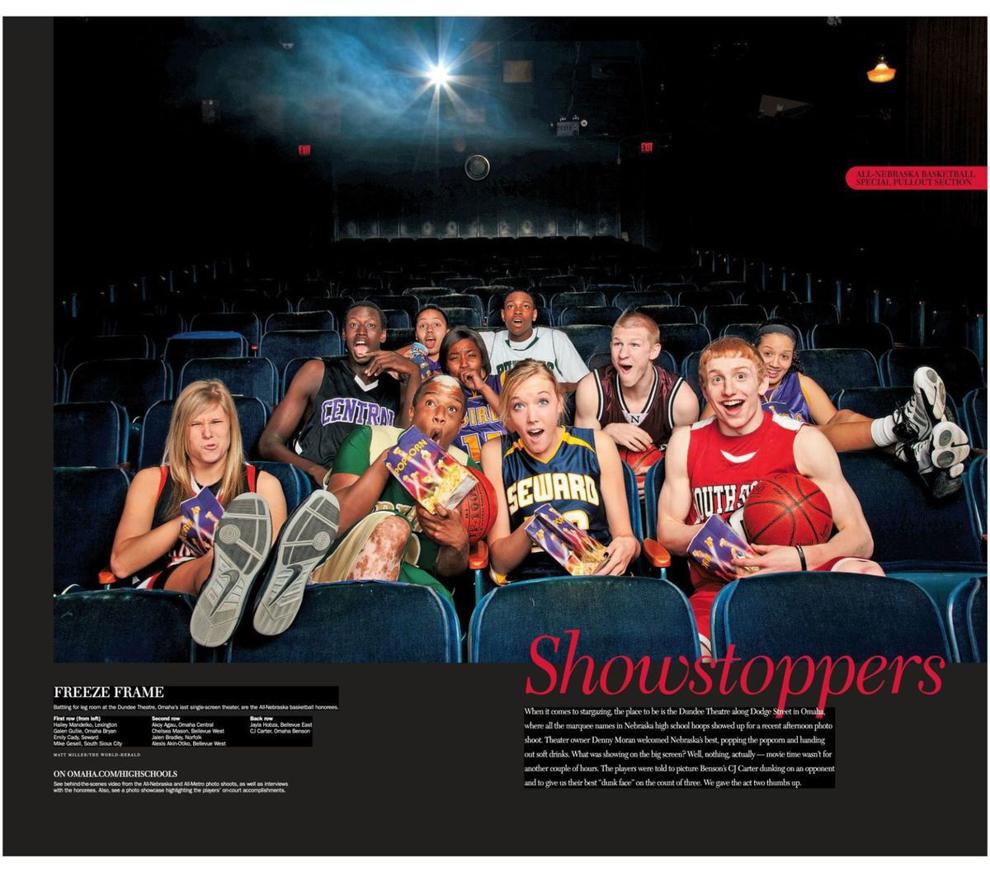 2010: Good to the End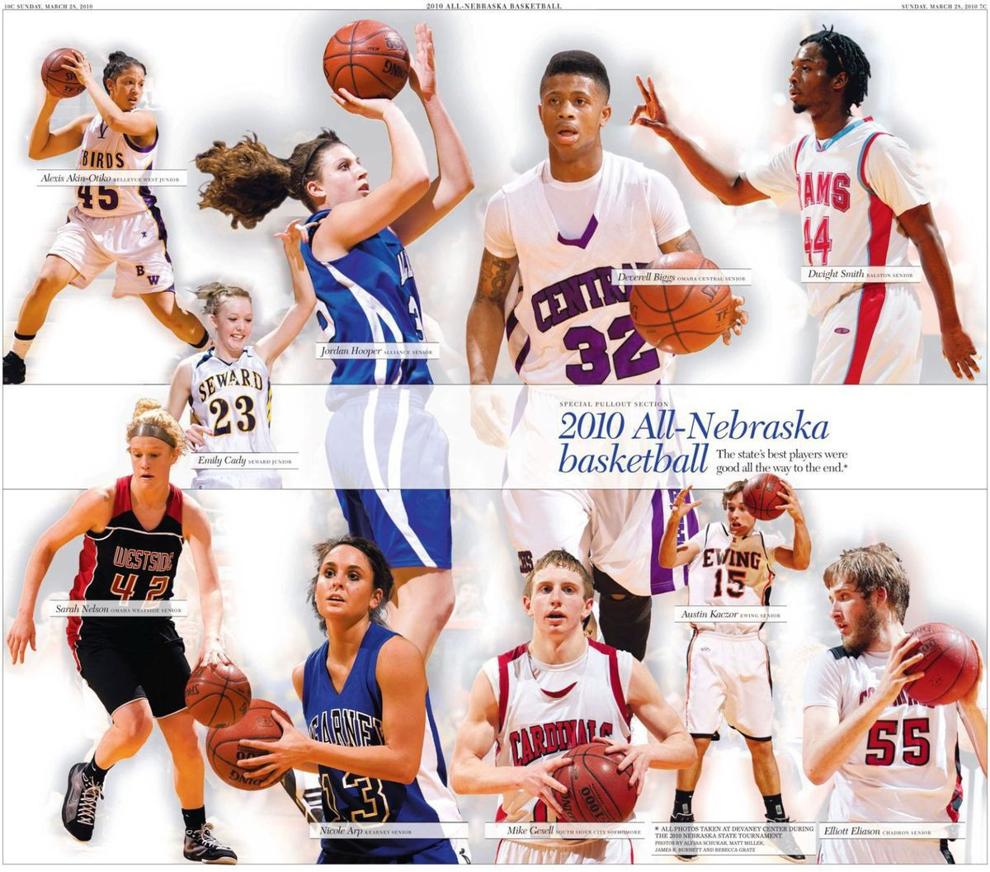 2009: From All Directions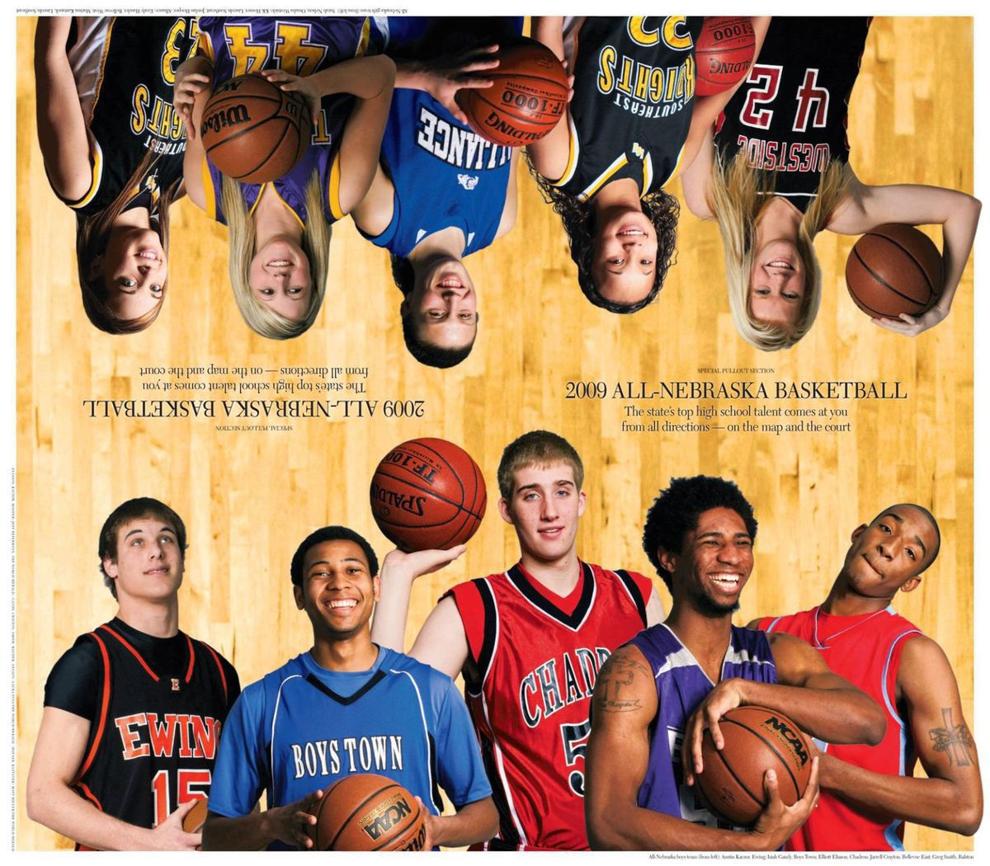 2008: Rare Collection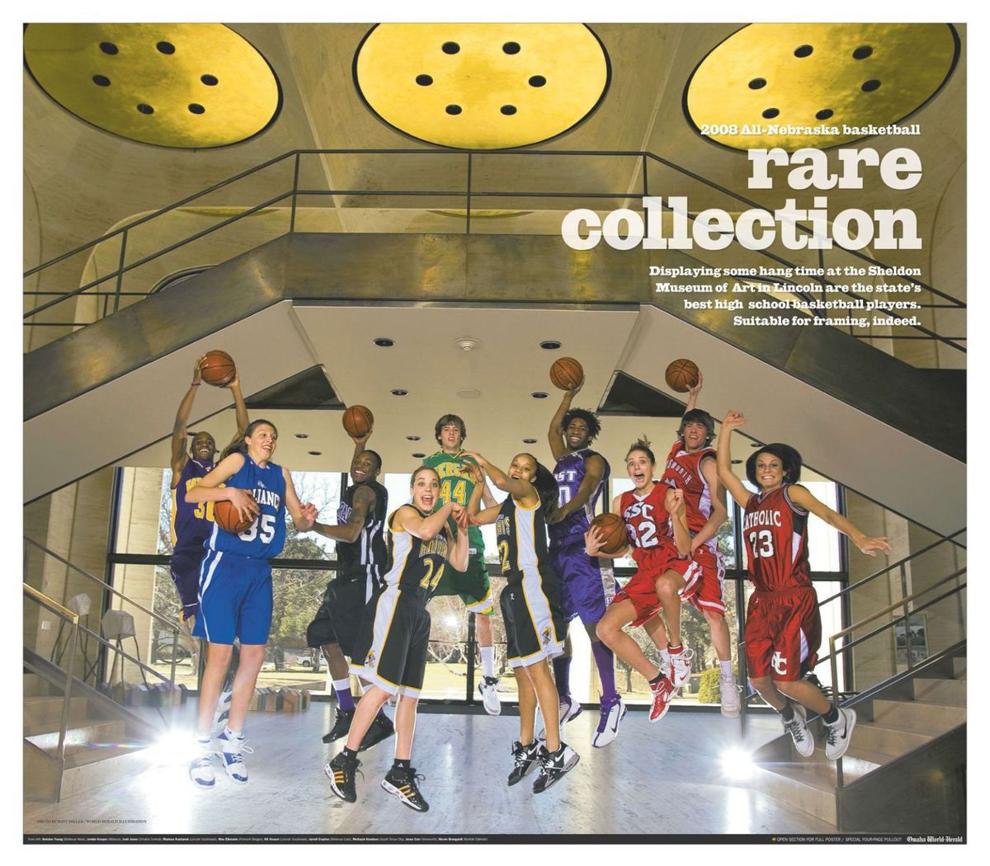 2007: Big Game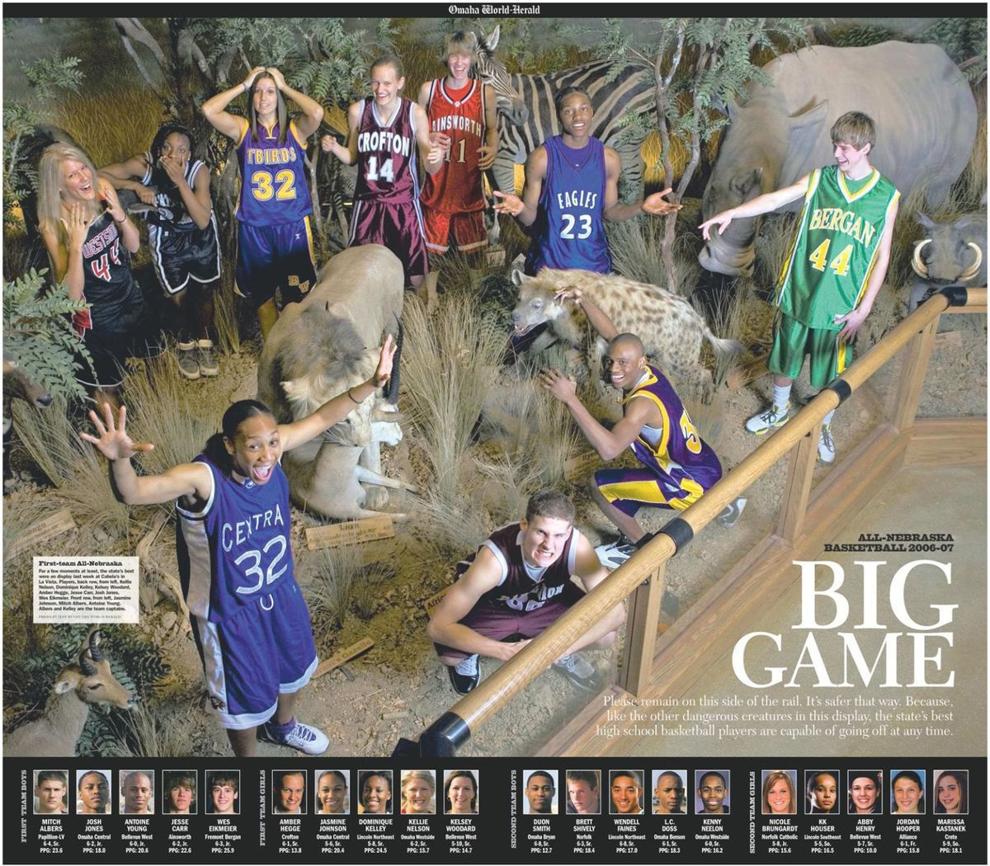 2006: A Cut Above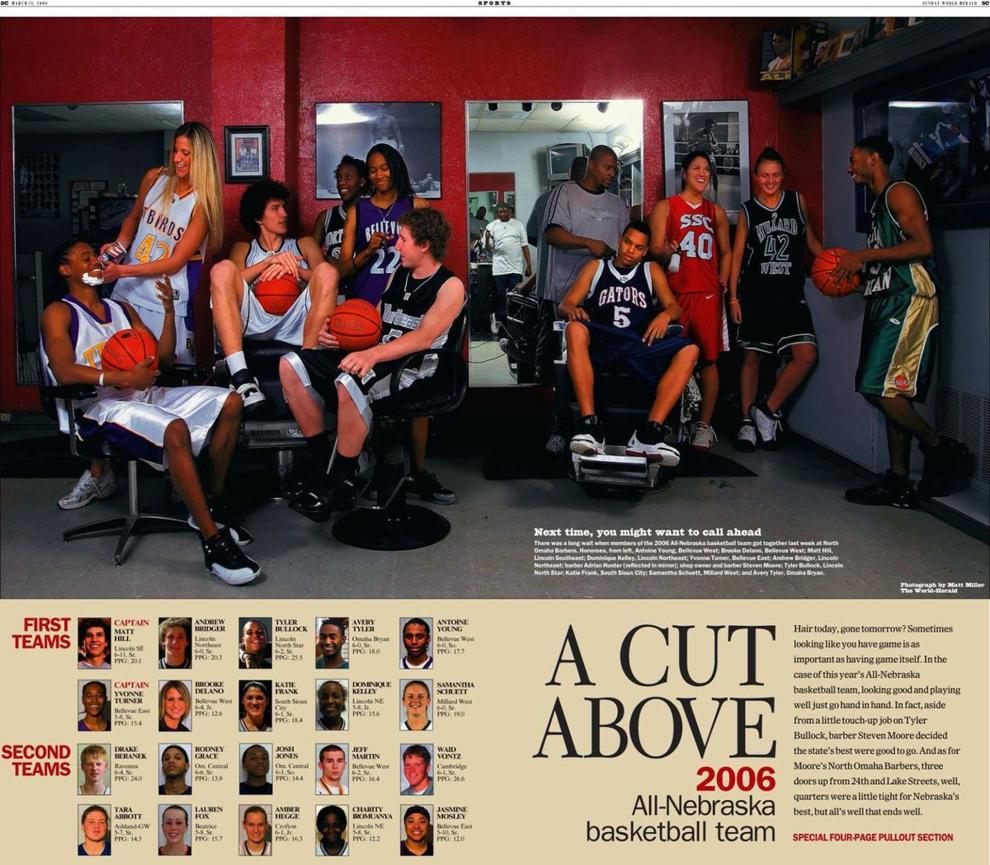 2005: All-State Oasis