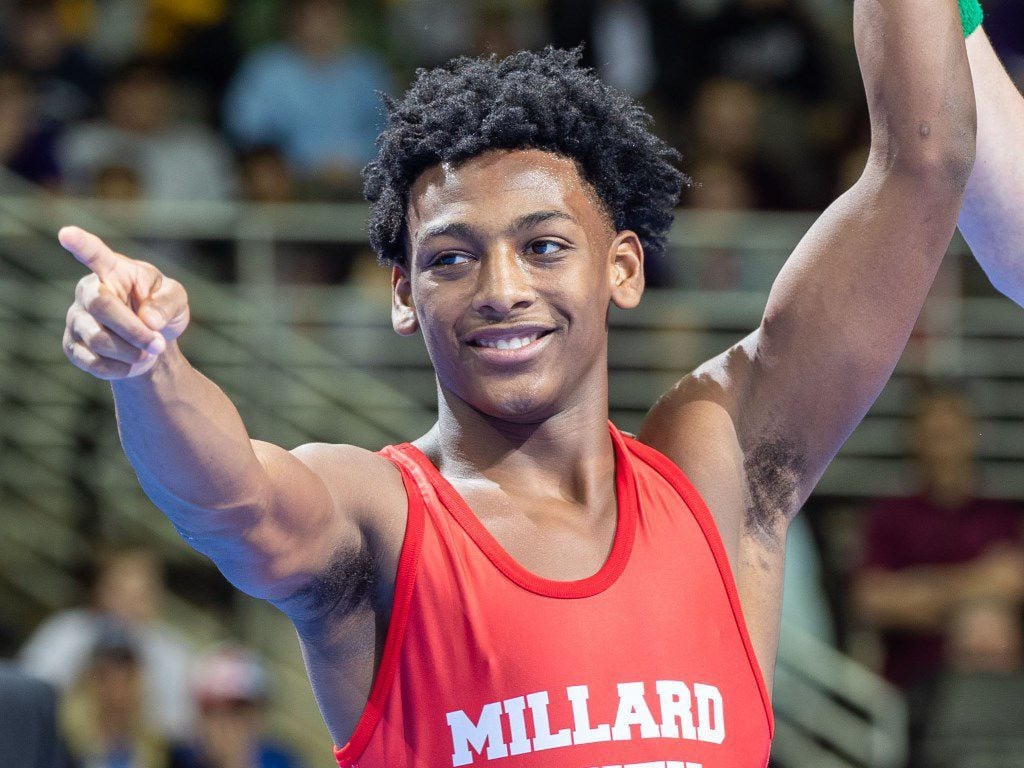 Millard South wrestler Antrell Taylor got plenty of phone calls June 15, the first day Division I college coaches could have direct contact with him.
"I had a lot of schools calling me," he said. "The top schools that called me were Ohio State, Iowa State, Oklahoma State, Nebraska, Virginia Tech, Cornell, N.C. State and Illinois."
Taylor, who won a Class A title at 145 pounds as a sophomore in February, said the calls from coaches have continued.
"Some schools call me every day, but most of them just text. On average, about 10 schools a day are texting me," he said. "It's not bad, it's something I was sort of expecting."
Taylor had a virtual visit last week with Nebraska, and the NU staff has made him a priority in the 2022 class.
"They were just telling me I am at the top of their recruiting class for my grade," he said. "They said if I was to go there, I wouldn't have to worry about paying, so basically a full ride."
"I talk with Iowa State the most," Taylor said. "I like that school, plus Conor is going there."
Taylor, who is 5-foot-9 and 170 pounds, has worked hard to gain weight in the offseason. Recruiters expect him to wrestle in college at 165 or 174.
When he's not working out with the Patriots' football team in the summer, he spends his time wrestling for MWC Wrestling Academy with some of the top wrestlers in the state.
"I have been wrestling there since my eighth-grade year," he said. "We have a lot of good partners at MWC, so it makes me better."
His club experience and the program strength at Millard South, winner of four of the past five Class A team wrestling titles, have given him a good idea of what he is looking for in a college program.
"A real good coaching staff and a school with a lot of good guys in the room that will make me better and excel while I'm at college," he said.
Taylor is also one of the more explosive wide receivers in the Metro. A broken wrist suffered in the state quarterfinals against Grand Island sidelined him for the Patriots' semifinal loss to Omaha Westside and for the first month of wrestling season.
"It was really boring," he said. "All I did was play video games and jump rope at practice. I missed a good amount of tournaments. I knew I was going to come back and be fine."
And that's what he did, finishing his junior season 31-1. 
Photos: 2020 Nebraska state wrestling championship matches
Get in the game with our Prep Sports Newsletter
Sent weekly directly to your inbox!