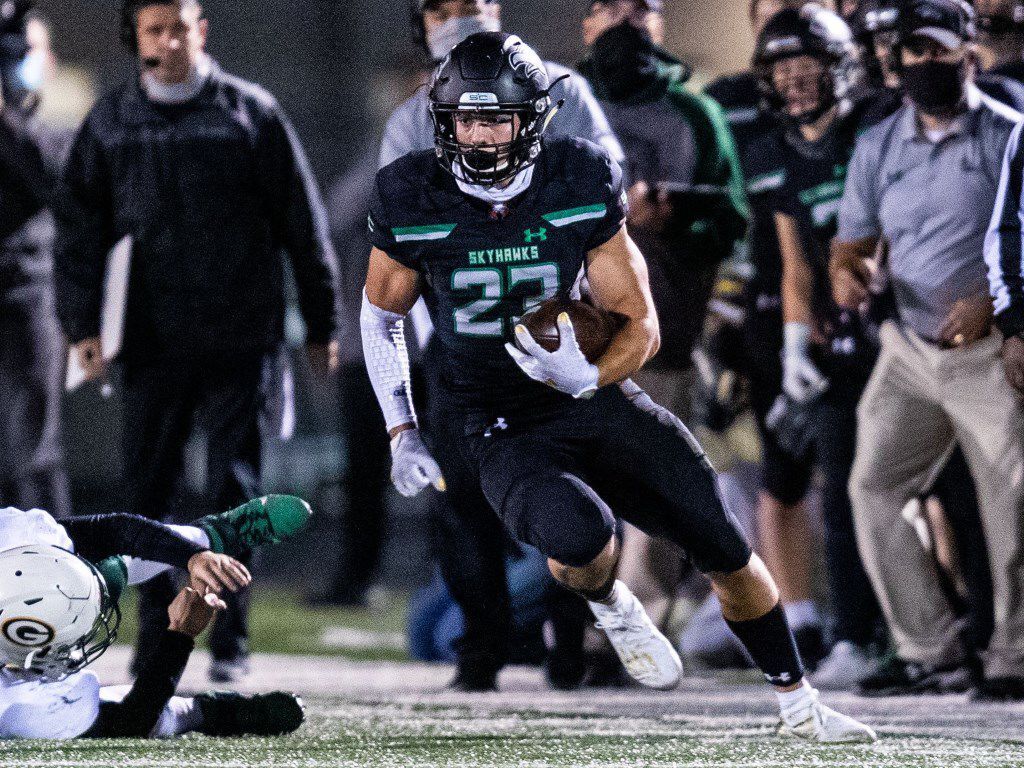 Sam Scott's senior season was turned upside down before it began.
Scott had a standout junior season for Omaha North in 2019. For his senior year he was supposed to move from outside linebacker to inside linebacker and add duties on offense as an H back.
But OPS canceled fall sports before practice was scheduled to begin in August, so that left Scott needing a place to play this fall.
Scott eventually settled on Omaha Skutt.
"Just coming in it was a fairly easy transition," Scott said. "We obviously had to move as a family. That was a lot to handle. On top of that it was a new school and new kids. Going into Skutt I needed to meet everyone. It was fairly easy, but it was a lot to take in. It has been really good, and I am enjoying it."
Scott has settled in nicely on the field. Last week against Gretna, the 6-foot-1, 215-pounder rushed for 249 yards and four touchdowns on 23 carries.
Before his move to Skutt, Scott received scholarship offers from Northern Iowa, South Dakota State, South Dakota, North Dakota and Iowa Western. Nebraska has offered a walk-on roster spot.
Scott is familiar with the staff at Northern Iowa. His brother, Jayden, is a redshirt sophomore tight end for the Panthers.
"I've seen it all there. I know the coaches pretty well," Scott said. "Obviously if I decided to go there I wouldn't have to worry about unfamiliarity. It's very homelike, and I have learned a lot from my brother. All of the coaches are great there."
Scott missed the opportunity to connect with college coaches on campus visits and at camps over the summer. Because of the NCAA's suspension of in-person recruiting, virtual visits with schools have been the new norm for Scott.
"Obviously I didn't get the summer I wanted to," Scott said. "Coaches can see a kid with their own eyes at camps and not just rely on film. Even though I didn't have that, I am still getting recruited."
Wyoming hasn't offered but has been in regular contact with him.
"They like me a lot and are navigating this whole thing," Scott said. "Anytime in the next month I should expect an answer from them."
A Monday night Zoom call with Cowboys linebacker coach Aaron Bohl was another opportunity for Scott to learn more about where he stands. Bohl is the son of Wyoming head coach Craig Bohl, a former Nebraska defensive coordinator.
"Right now they are looking at some other guys," he said. "I think I am one of three and they are giving me updates on what they think and how they want to go about recruiting and the next few games. They thought I've been very impressive the last few games."
Recruited primarily as an inside linebacker, Scott is willing to do what is necessary to win.
"One of my biggest strengths is versatility. I can play a lot of different ways and positions," he said. "Whatever a coach tells me they want me to do, I can do it however the coach wants. And I think coaches will value that and see that."
Photos: Gretna at Omaha Skutt