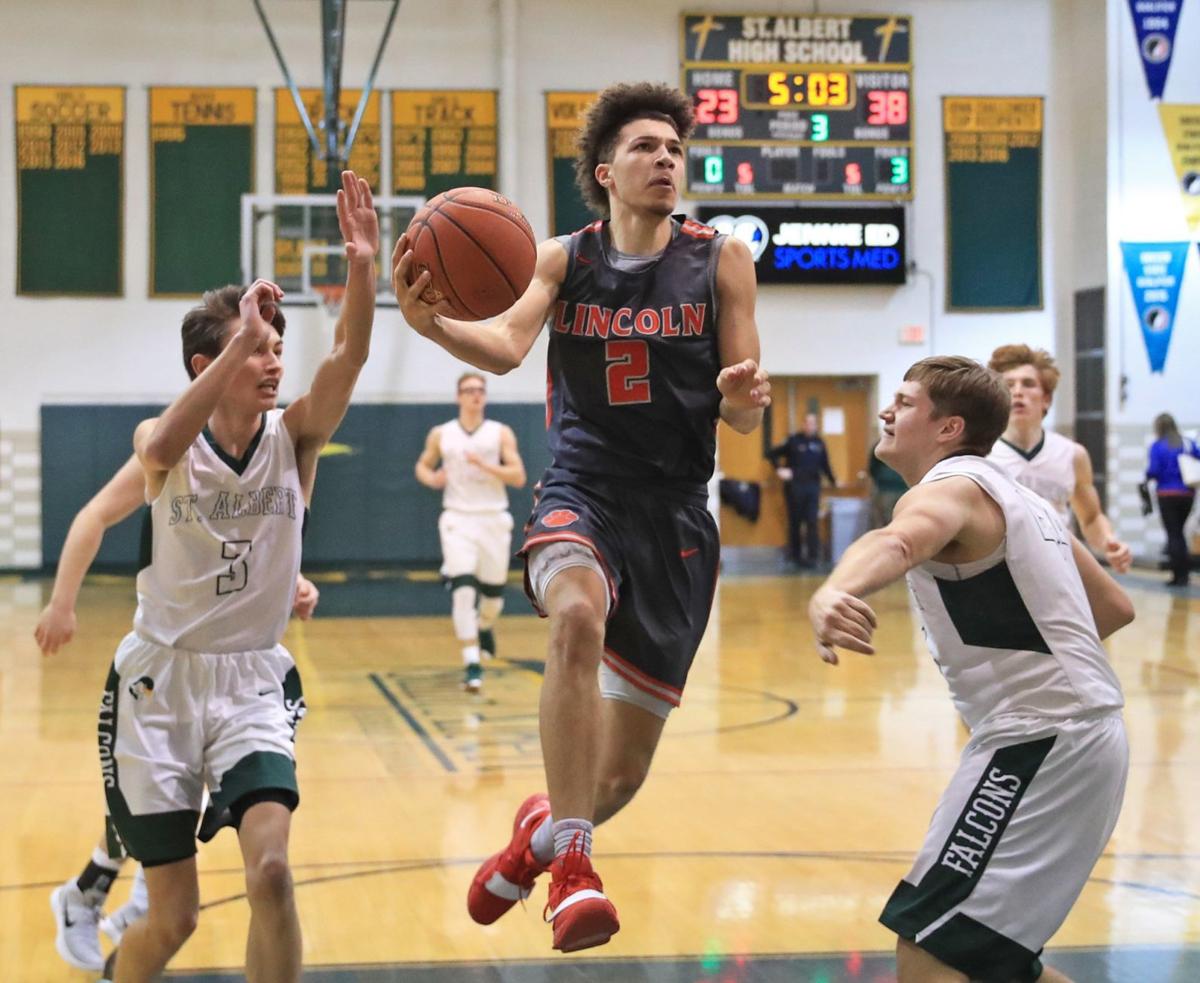 There are lots of ways to measure a good basketball team — and as the high school hoops season approaches this fall, The World-Herald will look at a lot of them. But for now, as the AAU season ends and we enter somewhat of a basketball lull, let's consider height.
Yes, height. It's a good thing to have in basketball. And Millard North will have a lot of it. And, as you may have heard, it just got more in the form of Jadin Johnson, formerly of Council Bluffs Abraham Lincoln.
Johnson is 6-foot-4. Nothing eye-popping about that until you realize that Johnson is a point guard and that he likely will be the shortest player in the Mustangs' starting lineup. Johnson's announcement of his transfer on Saturday via Twitter sent a buzz through the Nebraska high school hoops world for lots of reasons, but for now, let's only consider the length that the Mustangs will be able to roll out come opening night.
Based on what I've seen during the AAU season, here would be my projected starting lineup, and mind you, there is not a player among them who can't get up and down the floor: 6-9 senior forward Max Murrell; 6-7 sophomore forward Jasen Green; 6-7 junior forward Tyler Sandoval; 6-5 junior wing Hunter Sallis; and 6-4 junior point guard Johnson.
Among those who will also have a say in my projection are 6-4 junior wing Saint Thomas and 6-5 senior forward Noah Erickson.
Let me say this again: A high school team in Nebraska will go 6-9, 6-7, 6-7, 6-5 and 6-4. Or look at it like this: The Mustangs' two guards are 6-5 and 6-4. Some coaches are lucky to have that height in their two bigs! And as much as has been written about Sallis, I don't need to repeat his skill set — the same goes for Murrell and Green. Johnson, a true pass-first point who also gets after it on defense, is, dare I say, the perfect fit for this already talented bunch.
When I reached Johnson on Monday, here is how he put it: "I do whatever the game needs me to do, whether that is scoring, passing, rebounding, blocking shots or getting steals."
Millard North was already going to draw lots of publicity this winter, with Murrell, Sallis and Green perceived by some as the best players in the state in each of their respective classes. All three hold scholarship offers from Nebraska. Murrell and Sallis hold numerous other Division I offers, including from Creighton. Green doesn't graduate until 2022, and his offer list is on the verge of growing. The trio are the first high school teammates in Nebraska boys history to hold offers from power conference schools.
Johnson, whose summer team is Martin Brothers out of Iowa, likely will be the fourth. Plenty of Division I schools have been in contact: DePaul, Providence, UMBC, Columbia, Iowa, Wisconsin, Drake, South Dakota State, San Diego State, Northern Iowa, Dartmouth, Old Dominion, Virginia Tech, Wake Forest, Colorado State, Texas A&M, Maryland, Marshall, UAB, West Virginia, Western Illinois, Wagner and Yale.
Sign up for daily headlines from NEPrepZone
Get a daily roundup of game recaps, player features and more in your inbox.
"I took an unofficial visit to Iowa last fall, Wisconsin in November, South Dakota State twice and once for a workout in February, Northern Iowa last year and Colorado State in March," he said. "I'm setting up visits with Old Dominion, Providence, Marshall and DePaul for this fall."
Before more hype starts flowing about the possibilities for this team — it's all unrealized potential until results are shown on the court — it's important to note that the arrival of Johnson at Millard North is on the up-and-up. His family has purchased a home in Millard. He's officially a Mustang.
"My family moved, and I believe this is the best fit for me socially and academically," Johnson told me.
My final thought for now: With teams like Omaha South, Bellevue West, Omaha Westside, Lincoln North Star and Omaha Central all returning potent lineups with college prospects of their own, this winter is going to be a lot of fun.
Photos: Division I basketball and football recruits in Nebraska for the 2020 class
These are the basketball and football players from Nebraska in the 2020 class who have at least one Division I scholarship offer. Did we miss anyone? Let us know by sending an email to mike.sautter@owh.com
Get in the game with our Prep Sports Newsletter
Sent weekly directly to your inbox!