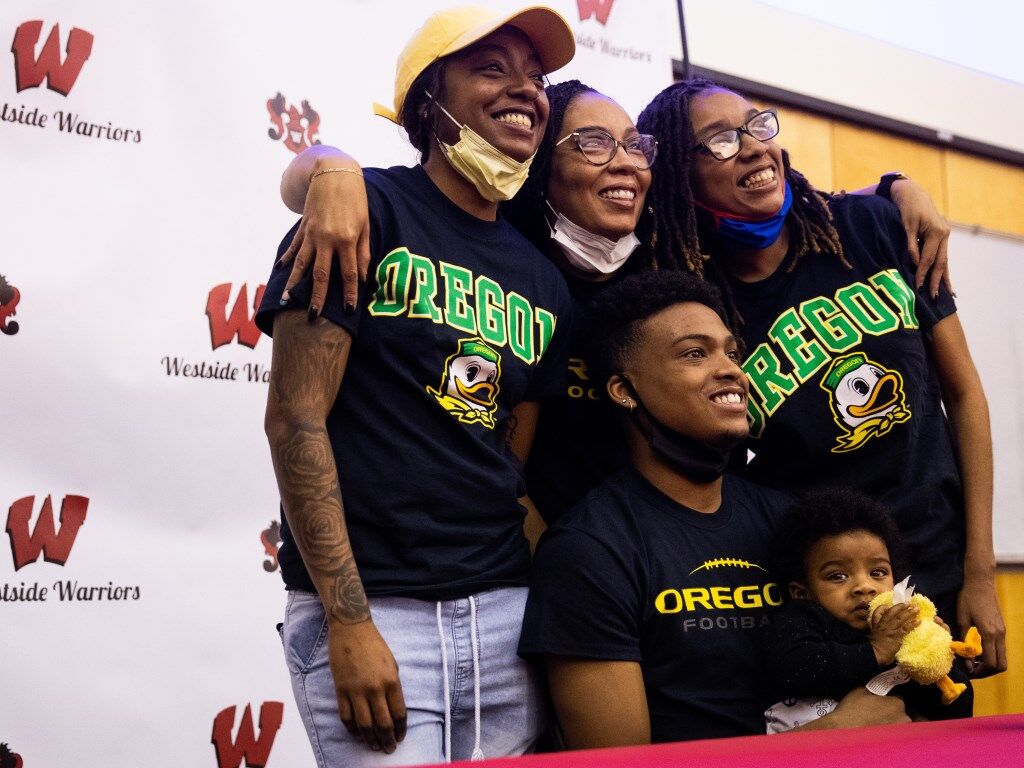 Avante Dickerson stood at Omaha Westside's auditorium lectern with headphones in his ears and a large crowd of mask-wearing teammates in front of him.
A long recruiting journey for the state's top football prospect was about to come to a unique end. The cornerback announced on a CBS Sports signing day show and to the auditorium that he was committing to Oregon. The room erupted in applause for the 6-foot, 170-pound four-star prospect who became a part of the Ducks' star-studded recruiting class, which could finish among the nation's top five.
A late visit to Oregon's campus two weeks ago clinched the decision. Dickerson didn't get to see the Ducks' football stadium or renowned facilities — the NCAA's pandemic recruiting rules won't allow it — but he did talk to current Oregon players on a self-styled tour of campus and the city of Eugene.
"It's just a different group of guys coming from the West Coast, because they're all from California and I'm the only one who's from the Midwest," Dickerson said. "It's kind of cool getting to know people who are from different states, West Coast, from Cali, so I got a really good vibe from them. They told me about the program and I just liked what they said about it."
Dickerson liked the Pac-12, too. He chose Oregon over Minnesota — where he was previously committed — because of it.
"They play three or four corners and it's the Pac-12, they give you a chance to ball out," said Dickerson, who also took a trip to Minneapolis. "They throw a lot. I'm trying to get that ball in my hands and hopefully get to the NFL draft."
In picking Oregon, he'll separate from his best friend, Westside's Koby Bretz, who is headed to Nebraska to play safety. Dickerson said he told Bretz of his decision Tuesday.
"Obviously, he wanted me to go to Nebraska, because we're best friends," Dickerson said. "But at the end of the day you've got to do what's best for you." 
Dickerson kept his recruiting process quieter than most prospects, granting few interviews and insights to anyone outside his mother, Nicole Graham, who was Dickerson's primary confidant during the recruiting journey.
Graham said Dickerson handled his recruitment "very humbly." It was "very hard" to decommit from Minnesota — which Dickerson did Jan. 24 — because of the "great relationship" the family had with Gopher coaches.
"We were just trying to figure out what was going to work best for him," Graham said. "Style of play, the competition, location, getting out of the Midwest, and when it's all said and done, it was Avante's decision. I trust him and I trusted his process.
"I'm proud of his choice, and I'm happy about it."
Nebraska — which appeared to finish third in this race — "were pushing for me" in recent weeks, Dickerson said.
"I love Scott Frost, I love the coaching staff, I know they're going to do wonderful things there," Dickerson said. He looks forward to watching Bretz especially.
Was Nebraska really in contention? Given his relative silence during the process — and his monthslong commitment to Minnesota — it wasn't always clear.
"They were," Graham said. "I just think as time went on, he just started digging into things that were personal to him in terms of his caliber of play and where he wants to live and what type of football team he wants to play for. Nebraska's always going to be his home, but that's just not where he chose to go, and there's nothing wrong with that."