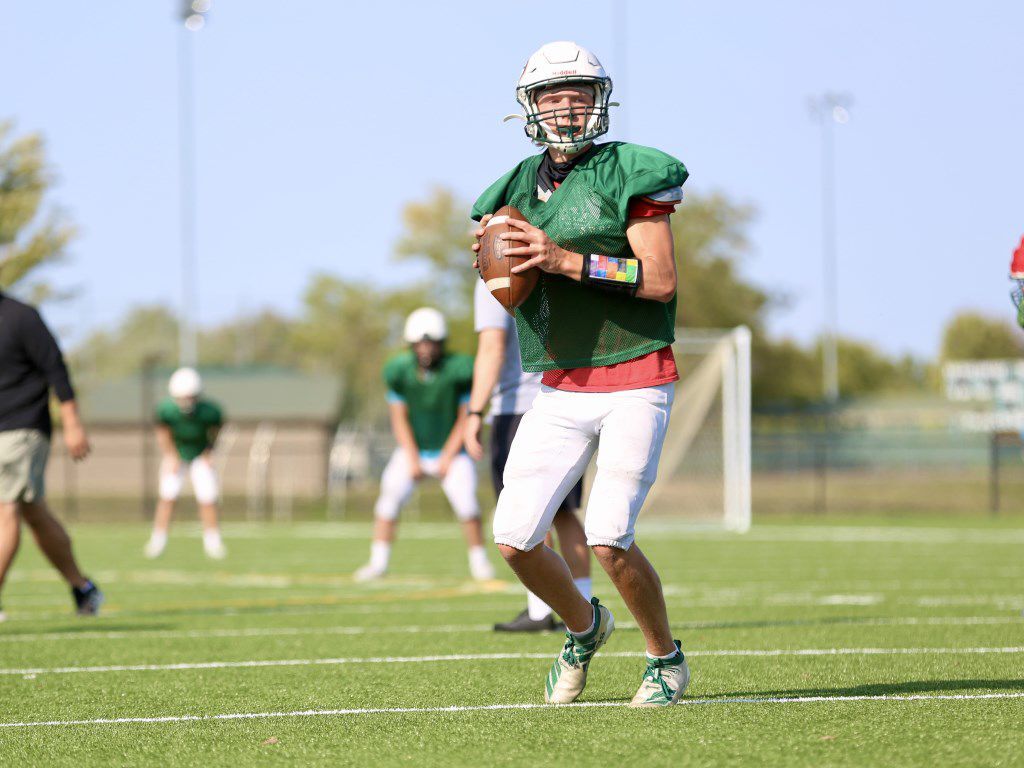 Gretna is guaranteed its first winning season since joining Class A in 2018, and the 4-0 start is due in large part to quarterback Zane Flores.
Now Flores, a 6-foot-2, 180-pound sophomore, is trending toward becoming the next power-conference quarterback recruit from Nebraska. And that would put him in rare company.
Kearney Catholic senior Heinrich Haarberg, a Nebraska commit in the 2021 class, became the first such prospect in more than a decade. Before him, other prep quarterbacks ended up playing wide receiver in college — Omaha Central's Daryle Hawkins (2009) at Oregon and Omaha North's Phillip Bates (2007) at Iowa State.
Flores intends to be a passer on the next level, and college coaches have taken notice.
"Iowa, Iowa State and Arizona State have had some small-talk conversations with me," Flores said. "It's really just getting to know me, and me them, right now."
This season Flores has a 71% completion rate with 1,188 passing yards, 13 touchdowns and just one interception. He gives praise to his offensive line and has noticed a change of attitude around the team after last year's 3-6 record.
"Our offensive line has been doing great, and their pass (protection) has been great," Flores said. "This year it is way more positive and just attacking every week, trying to go 1-0 every week."
Flores spent the summer working with his Gretna teammates and coaching staff. He's also put in extra work at the Warren Academy with the area's high-profile recruits, and that's helped his confidence.
He got an opportunity to learn from TCU quarterback and Council Bluffs Lewis Central graduate Max Duggan and Omaha Westside senior quarterback Cole Payton, a North Dakota State commit.
"I think he's a great dude, and it was a lot of fun working with him," Payton said of Flores. "What stood out to me was his footwork and mechanics. He's so advanced for only being a sophomore."
That trio also threw passes to Denver Broncos tight end Noah Fant, an Omaha South grad, and Lewis Central's Thomas Fidone, a highly ranked Nebraska commit.
"That was really cool," Flores said. "They are all really supportive and they just helped me. If I was doing something wrong, they would tell me to try something that might work better. They came every day and just gave 100%. They never walked through things and they always had a positive mindset about things. They made me better."
Flores also has a quiet confidence, which is something he shares in common with Duggan and Payton. They're all laid back and humble with a go-to-work mindset.
"You have to be pretty confident to play the position," Flores said. "I don't like to be cocky."
Gretna coach Mike Kayl echoes his quarterback.
"The thing that stands out about Zane is that he always keeps a level head," Kayl said. "Doesn't get too high or too low. He's an extremely hard worker that's very competitive but stays humble in the process."
Flores hopes that work ethic will bring him success in college.
"I'm always going through drills 100% and trying to get better," Flores said. "In games I go as hard as I can and try to make the best out of every play that I can. I'm trying to be at the highest level possible, but I'll be happy if I get the opportunity to play anywhere, but obviously like any kid my dream is to play at the highest level."
The schedule stiffens for the Dragons beginning this week. An away game against traditional Class B power Omaha Skutt (4-1) is Friday, followed by a home game against Elkhorn South (3-1) and the regular-season finale against Lincoln Southeast (4-0).
If Flores can keep his quarterback rating close to its current level (138.6) during that difficult stretch, look for more than just three power-conference schools to begin recruiting him.
---
Every Super Six since 2006