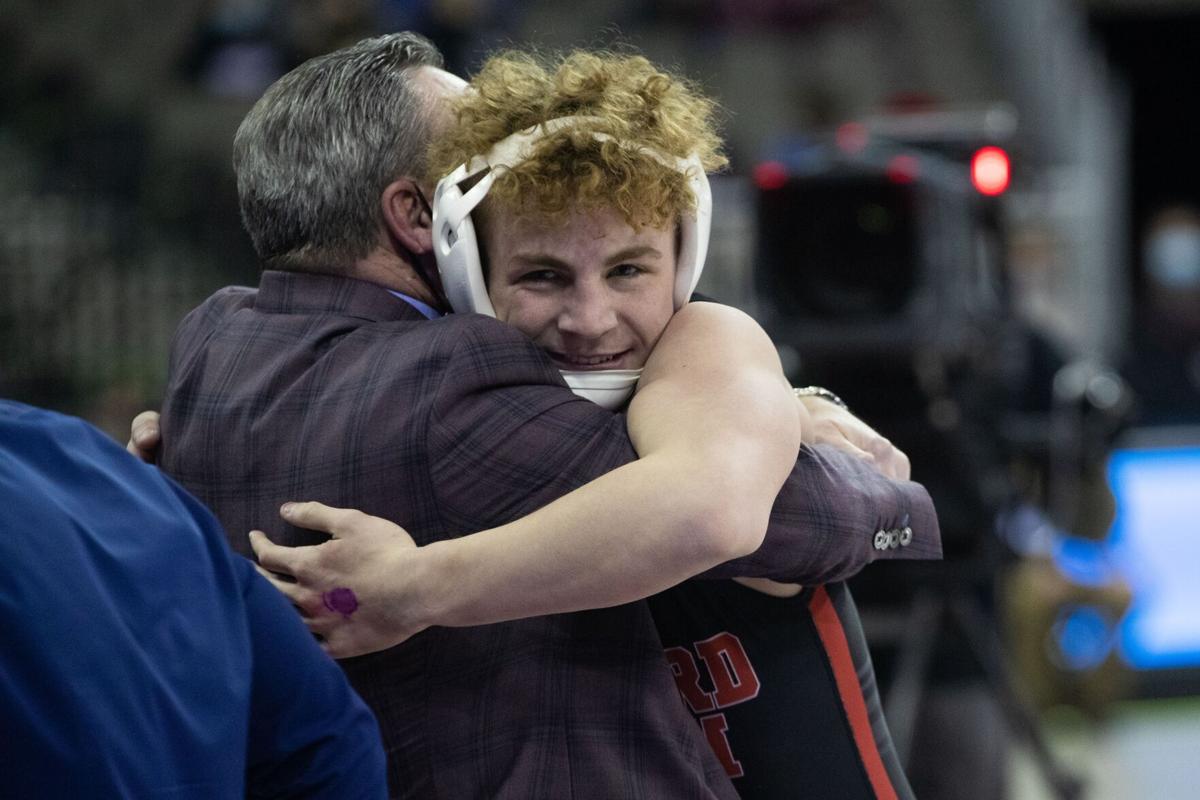 Threes may have been lucky Thursday night at the state wrestling tournament, but fours could be wild.
Millard South and Plainview each put finishing touches on team title three-peats during the day's semifinals and consolation rounds, adding hardware and extending streaks along the way.
In the evening's championship session, Bellevue East junior Garrett Grice got one step closer to history with his third individual gold.
All three have eyes for more.
"Seventy-five percent of the way," Grice said. "We're getting there."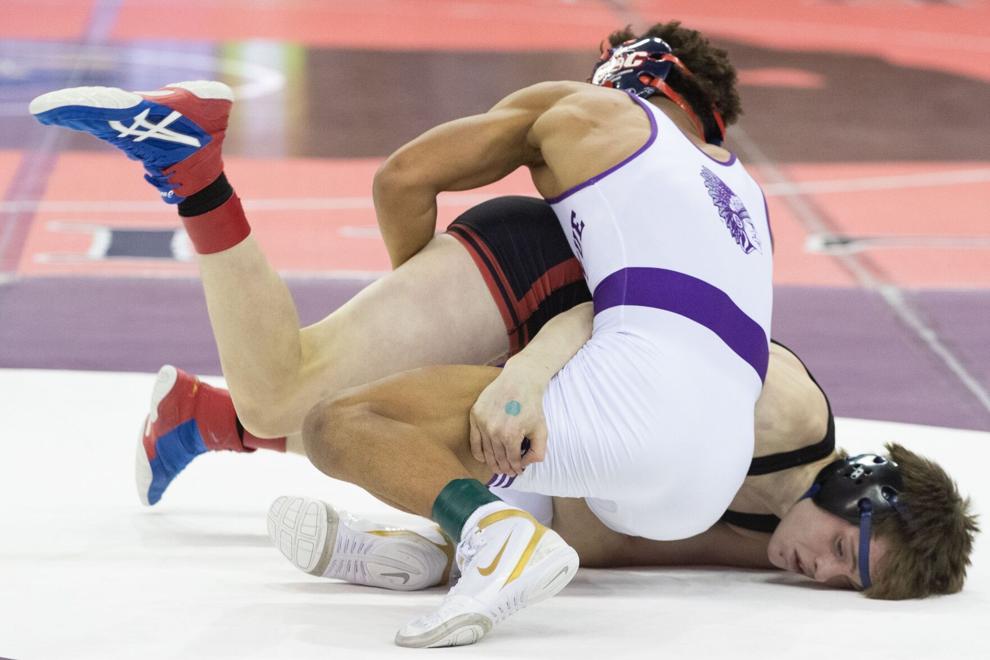 The Virginia commit impressed in a 26-9 technical fall over Millard South's Aiden Robertson. Grice, also the Class A career leader in takedowns, racked up the points and nearly finished with his fourth fall of the tournament in the match's final seconds.
Instead he settled for his seventh win with bonus points in his past eight state tournament matches.
And almost immediately after, the questions about a fourth title began.
When did Grice begin thinking about it?
"Since I started wrestling," he said. "Every day, it's on my mind. I try not to overthink it and just take one title at a time. Four would be amazing, a childhood dream."
Conversations about more weren't exclusive to those on the mat.
Plainview's coach Chad Schumacher hadn't even gotten his hands on Class D title No. 3 before he was asked about next year.
Schumacher, who took over the Pirates this season as longtime coach Dean Boyer battled leukemia, said the loss of five seniors will make a run at four in a row "tight."
But six with tournament experience will return, including junior Scout Ashburn. He won his second state title with a sudden-victory takedown of previously unbeaten Dayton Gipe of Sandhills Valley.
"We have a lot of kids coming back," Schumacher said. "We've got some good freshmen coming, so we'll see if it works out."
Millard South also will be well positioned to keep its reign in Class A going next season.
Eight of the Patriots' 14 qualifiers are back, including three with state titles on their résumé — sophomore Joel Adams and juniors Tyler Antoniak and Antrell Taylor.
"Millard South is just a winning tradition," senior Caleb Coyle said.
Coyle helped bring some of the buzz — notably the boos — back to the arena with his nailbiter at 120 pounds. The Oregon State commit beat Gabe Grice of Bellevue East in the ultimate tiebreaker round, hanging on to Grice's leg in the final seconds to secure his second state title.
The two met in the 2019 state final, a match Grice won in eerily similar fashion.
"They can say what they want out there," Coyle said about the crowd's reaction. "I had that exact same situation happen to me two years ago. He dropped down to my leg and I didn't get out and I lost.
Friday's sessions will begin with opening rounds for Class B at 9 a.m. and 5 p.m. for Class C. Finals for the two classes are slated for 7 p.m. on Saturday.
Nick's Picks
Garret Grice, Bellevue East: The junior left little doubt as to who the best wrestler in the state is, cruising to his third state title with a 26-9 technical fall over Millard South's Aiden Robertson. Grice, a Virginia recruit, pinned his way to the finals nearly got another late, but settled for the lopsided win.
Zach Dickau's 4-2 upset of previously unbeaten Adam Miller of Elkhorn Valley raised some eyebrows. The North Central senior avenged a 4-0 loss to Miller earlier in the season.
"The fans, listen to them out there, they hate us. They do not like us. That pumps you up."
— Millard South senior Caleb Coyle after winning his second state title with an ultimate tiebreaker decision over Gabe Grice of Bellevue East. Coyle was called for stalling once and forced three stalemates in the 30-second final period, drawing the ire of the CHI Health Center crowd.
Results
Team scoring: Millard South 220.5, North Platte 136, Grand Island 126.5, Norfolk 107.5, Papillion-La Vista 105, Kearney 103.5, Lincoln East 100.5, Omaha Westside 93, Bellevue East 92.5, Millard North 83, Columbus 82, Omaha Central 50, Lincoln Southwest 48, Lincoln Pius X 42, Millard West 42, Fremont 37, Lincoln Southeast 37, Creighton Prep 35, Omaha Burke 31, Omaha North 30, Bellevue West 27.5, Elkhorn South 25, Gretna 21.5, Omaha Northwest 21.5, Papio South 21, Omaha Bryan 14, Omaha Benson 9, Lincoln Northeast 7, Lincoln High 5, Omaha South 1, Lincoln North Star 0
Championship matches: 106 pounds:  Jesse Lewis, Norfolk, dec. Gabe Turman, Lincoln East, 2-1. 113 pounds:  Brandon Baustert, Lincoln East, dec. Archer Heelan, Kearney, 7-2. 120 pounds:  Caleb Coyle, Millard South, dec. Gabriel Grice, Bellevue East, ultimate tiebreaker 2-2. 126 pounds:  Conor Knopick, Millard South, dec. Blake Cushing, Grand Island, 2-1. 132 pounds:  Garrett Grice, Bellevue East, tech. fall Aiden Robertson, Millard South, 26-9. 138 pounds:  Joel Adams, Millard South, dec. Darian Diaz, North Platte, 4-3. 145 pounds:  Brody Arrants, Grand Island, dec. Beau Hostler, Kearney, 2-1. 152 pounds:  Nick Hamilton, Papio, dec. Scott Robertson, Millard South, 5-1. 160 pounds:  Antrell Taylor, Millard South, major dec. Joshua Licking, Norfolk, 18-5. 170 pounds:  Blayze Standley, Columbus, dec. Austin Miller, Norfolk, 5-2. 182 pounds:  Gavyn Brauer, North Platte, pinned Lucas Nigh, Millard North, 2:51. 195 pounds:  Vincent Genatone, North Platte, dec. Cole D. Haberman, Westside, 10-4. 220 pounds:  Tyler Stewart, North, dec. Daylon Keolavone, Grand Island, 3-1. 285 pounds:  Zephaniah Sivels, Millard North, def. Nolan Olafson, Millard South, 2-1.
Team scoring: Plainview 110.5, Palmer 75, Southwest 75, Sutherland 73, Elkhorn Valley71.5, Burwell 63.5, Sandhills/Thedford 63, Neligh-Oakdale 59, North Central 58, East Butler 55, Ansley/Litchfield 54, Winside 51, Thayer Central 50.5, Mullen 49, Arapahoe 46, Howells-Dodge 39, Maxwell 39, Garden County 34, Brady 33, Doniphan-Trumbull 33, Summerland 31, Hi-Line 30, Perkins County 30, Superior 27, Weeping Water 27, Bayard 26, Freeman 22, Sandhills Valley 21.5, Kenesaw 21, Twin Loup 21, Axtell 20, Elm Creek 19, Pender 19, West Point GACC, Alma 17, Hitchcock County 17, SEM 17, Elgin/Pope John 16, Overton 14, Pleasanton 14, Hyannis 13, Southern Valley 13, North Platte St. Pat's 10, Hemingford 9, High Plains 9, Shelton 9, Central Valley 8, Creighton 8, Stanton 8, Fullerton 7, Red Cloud/Blue Hill 5, Cambridge 4, Scribner-Snyder 4, Clarkson/Leigh 3, Crawford 3, Franklin 3, Hastings St. Cecilia 3, Medicine Valley 3, Meridian 3, Minatare 2, Morrill 2, Shelby-Rising City 2, South Loup 2, Anselmo-Merna 1, Wauneta-Palisade 1, Kimball 0, Leyton 0, Paxton 0, West Holt 0
Championship matches: 106 pounds: Eli Lanham, Plainview, dec. Hayden Neeman, Superior, 4-1. 113 pounds: Hunter Bennett, Elkhorn Valley, dec. Lane Bohac, East Butler, 9-3. 120 pounds: Scout Ashburn, Plainview, dec. Dayton Gipe, Sandhills Valley, 4-2 SV. 126 pounds: Zach Dickau, North Central, dec. Adam Miller, Elkhorn Valley, 4-2. 132 pounds: Jeremy Larson, Brady, major dec. Drake Belville, Doniphan-Trumbull, 11-2. 138 pounds: Nolan Blevins, Weeping Water, dec. Keagan Mosel, Plainview, 7-5. 145 pounds: Ruger Reimers, Palmer, dec. Dominic Stewart, Thayer Central, 6-2. 152 pounds: Colton Holthus, Garden County, dec. Matt VanPelt, Southwest, 10-7. 160 pounds: Aiden Kuester, Neligh-Oakdale, major dec. Brody Dickinson, Freeman, 9-0. 170 pounds: Conner Schutz, Hi-Line, pinned Jestin Bayer, Howells-Dodge, 2:20. 182 pounds: Reece Zutavern, Sandhills/Thedford, dec. Cooper Slingsby, Ansley/Litchfield, 11-7. 195 pounds: Gunner Reimers, Palmer, dec. Alex Gideon, Burwell, 5-1. 220 pounds: Brandon Knoles, Perkins County, pinned Luke Howitt, Maxwell, 3:58. 285 pounds: Brayton Branic, Sandhills/Thedford, dec. Logan Mueller, Summerland, 7-4.