Life may be tough, but Dean Boyer is tougher.
Even with double masks, the Plainview coach may have been the face of this year's state wrestling tournament.
"I feel strong," he said shortly after the Pirates got their hands on the trophy.
What he lacked in hair, he made up for in spirit. Boyer said he's running stairs now, adding to his daily sit-up and push-up routine.
"I'm just gonna keep pushing," he said. "That's just what we do."
Wrestling fans around the state are nodding in agreement. If anyone was built to withstand the tough times, it's them.
And there have been plenty of tough times for the Plainview program of late.
Boyer received his diagnosis on the second day of the school year. Just a couple of months later, former Pirate four-time champion Christian Miller — then wrestling at Nebraska — died in a car accident.
Many on the team lost their coach and hero before the season even got started.
"They've had just a heck of a lot of things they've had to deal with this year," Boyer said.
It took awhile for the Pirates to adjust, Boyer said. He could sense things were a bit "shaky" to begin the season.
And not just for the wrestlers.
Boyer said it was a bumpy adjustment to life as an absent assistant.
"I don't delegate very good," he said.
But a pair of assistants with a combined 25 years in the program helped continuity. As did regular Facetime and text conversations between Boyer and his wrestlers.
He stays connected by breaking down film. And he's put even more focus on the mental aspect of the sport.
"At the end of the year," Boyer said, "the guy that thinks he's going to win and is mentally healthy is the guy that wins most of the time."
Sunday is day No. 74 of his 100 days of isolation, and Boyer said he's looking forward to going home in March.
Here's to hoping Coach Boyer is back in his other home — the corner of a wrestling mat — sometime soon.
Strange finish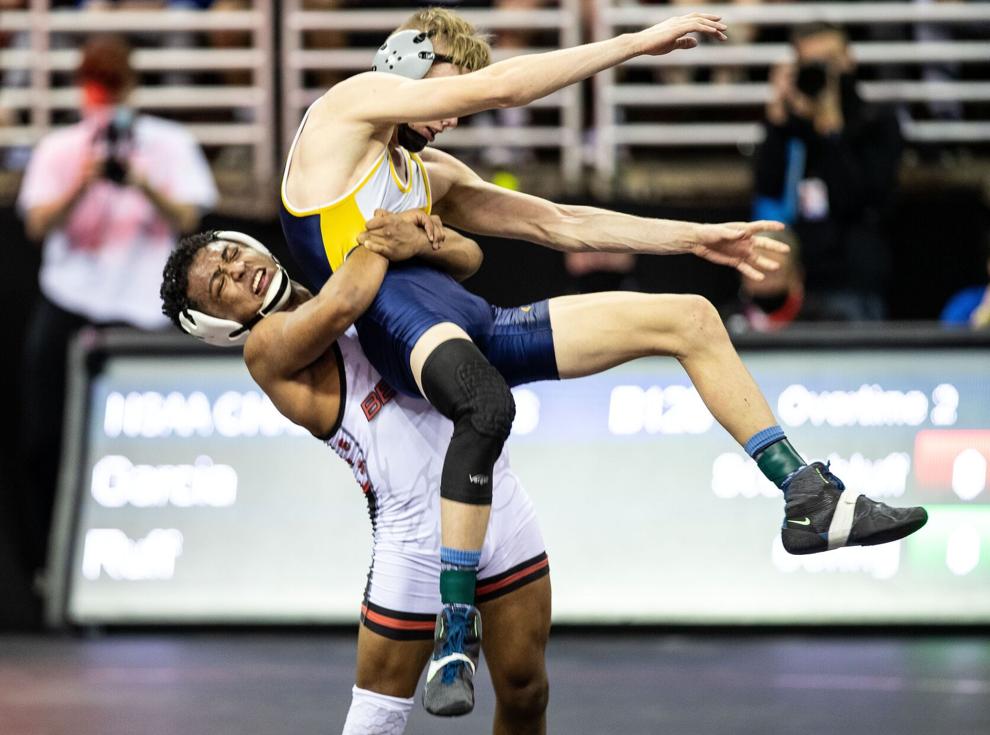 The most debated match in recent memory also happened to be the one with the most eyes on it Saturday.
Scottsbluff's Paul Garcia secured his fourth state title in a 1-0 tiebreaker win over Paul Ruff of Gering in one of the strangest finishes you'll ever see.
Ruff was hit with his third caution of the match in the first tiebreaker round — his second of the session — for lining up over the start line.
Replays showed that Ruff clearly lined up over the line both times, thus making it a justified caution.
But what they also show is that Ruff, who is deaf, was not aware that the point had been awarded to Garcia.
He wrestled the rest of the tiebreaker sessions thinking he was in a scoreless tie.
It was a decision that brought out opinions from every corner of social media. But one thing is indisputable: It was an unfortunate situation and a disappointing way to finish an anticipated showdown.
Ruff controlled a long stretch of the match, riding out Garcia for the final four minutes of regulation to get to overtime.
Should he have noticed the scoreboard at some point? Sure. Should he have been made more aware of the situation? Probably.
Gering coach Jarred Berger said afterward that he makes sure to let officials know before each match that Ruff is deaf. And on a couple of occasions Saturday they had to physically touch Ruff before he stopped wrestling.
It shouldn't take away from what Garcia accomplished. He's the first four-timer in Nebraska history to win three title matches in overtime, showing just how tough the Wyoming commit is in crunch time.
If anyone has the keys to the CHI Health Center, let's run it back.
Spreading talent
The week's team results proved that wrestling in the state continues to get stronger — from border to border.
Millard South's dominance in winning a third straight Class A team title left little doubt as to who the best team is in the metro area.
But the Patriots were the only team from either Omaha or Lincoln to finish in the top four in any of the four team races.
North Platte's second-place finish was its first in the top two spots in its history.
Other winners — Gering, Central City and Plainview — are spread out pretty well throughout the state.
Streaking SkyHawks
One streak ended while another kept going strong for Omaha Skutt.
The SkyHawks finished No. 14 in the Class B standings, the first time since 1997 outside of the top two.
Skutt did, however, extend its string of consecutive seasons with a state champion to 25 when Zach Ourada won the 120-pound Class B title. With a winner next year, the SkyHawks would tie the state's record of 26 straight years by Omaha South from 1942 through 1967.
Noteworthy
Gering became the first team since Norfolk Catholic in 2005 — and first Class B team since Valentine in 1974 — to win a state team title without an individual champion.
David City's Dylan Vodika became the city's career wins leader at 184 with his title at 182 pounds. That's saying something considering the strength of the two Class C powerhouses in the wrestling-crazy town. David City has finished in the top three in seven of the past eight seasons, including three team titles. David City Aquinas has been in the top five each of the last three seasons, including a runner-up finish Saturday.
How improbable was the state championship run by St. Paul's Caleb Baker? After finishing fourth in his district, Baker (39-13) was in none of the three major polls. His 13 losses were the most of any champion in the past four state tournaments.