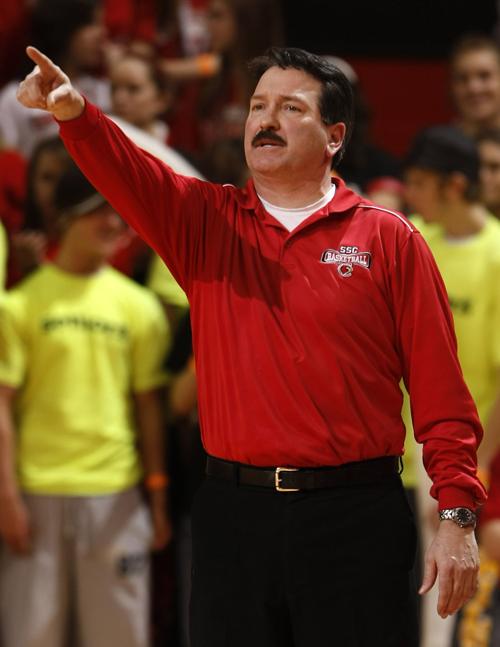 With the high school basketball season just one day away, the spotlight is squarely on a trio returning to the coaching ranks.
John Larsen, Kelly Flynn and Kip Colony will each be back on the bench following a hiatus from the game. The three have combined for 1,478 wins as they take on the challenge of coaching at new schools.
Larsen, the new coach at Crete, guided the Lincoln Southeast program for 31 years. He last coached in 2011 after leading the Knights to nine state titles in 23 state tournament appearances while amassing 560 wins — fifth on the state's career victory list.
"To be honest, I didn't plan on coaching again,'' Larsen said. "But Crete reached out to me and was pretty persistent, so the opportunity really began to intrigue me.''
Flynn, who takes over the program at Fremont, found his success at South Sioux City. He guided the Class B Cardinals to 11 state titles in 16 state tourney appearances and racked up 508 wins before stepping aside following the 2011 season.
He is ninth on the all-time win list.
"I think that deep down I've always wanted to come back and coach,'' Flynn said. "When you have a passion for something, it's definitely in your bones.''
Colony, the new coach at Omaha Skutt, built Millard West into a Class A powerhouse after starting the program in 1995. Though the Wildcats have never won a state title, Colony guided them to 11 state tournament appearances and three runner-up finishes while winning 410 games — 20th on the overall win list.
He stepped down after the 2014 season and was an assistant principal at Millard South the past four school years.
"For me, this absolutely was the right opportunity,'' Colony said. "I truly wasn't really looking at all, but coaching really gets in your blood.''
Interestingly, none of the three will be coaching in the class in which they'd become accustomed. Larsen and Colony move from Class A to Class B while Flynn goes from Class B to Class A.
Larsen said that already has posed a bit of a challenge.
"I could find the Class A gyms in my sleep,'' he said. "But I'm already checking my GPS to find some of these Class B schools.''
Larsen added that the situation at Crete was too good to pass up.
"The facilities are fantastic and four starters are back,'' he said. "It's not like the cupboard was bare, and I've been really pleased with what I've seen the past few weeks in practice.''
Sign up for daily headlines from NEPrepZone
Get a daily roundup of game recaps, player features and more in your inbox.
At Southeast, Larsen's teams were known for their tenacious defense. He said that's a concept he's definitely going to instill in the Cardinals.
"The girls hadn't played much man-to-man defense, so we've been working on that a lot,'' he said. "I see a lot of athletic ability here.''
Flynn's teams at South Sioux were known more for their offense. The Cardinals were famous for lighting up the scoreboard and are still 1-2 on the state's all-time single-game scoring record list — 134 points in 2000 and 126 in 1996.
"I want to see our team getting out and running, the way we did at South Sioux City,'' he said. "We've also been working on some presses, which was another key to our past success.''
Flynn remained as athletic director for two years after stepping down as coach before moving on to become the economic development director for the city of South Sioux City the past five years.
He inherits a young Fremont team that includes five freshmen.
"We've got a mix of experienced players and newcomers,'' he said. "I think it's going to be a fun season.''
Flynn will have a familiar face on his bench. The former Jane Horkey, one of his standout players from the South Sioux days, is one of his assistants.
Colony also will have some positive reinforcement on the sideline. He'll be joined by his former Millard West assistants, his son Cole and Rick Mintken — who recently had been the coach at Bellevue West.
He'll also be assisted by Skutt volleyball coach Renee Saunders, a former volleyball and basketball standout at Omaha Marian and Nebraska.
"I think it's a great coaching mix,'' Colony said. "I'm really excited to get started and see how it all comes together.''
One of the SkyHawks' strengths will be height, thanks to the presence of two state championship volleyball players: 6-foot-3 Lindsay Krause and 6-2 Sydney McDermott, daughter of Creighton basketball coach Greg McDermott.
Colony preached team play at Millard West, and it's something he said he wants to instill at Skutt. The Wildcats always were introduced before games as a team, which will now become a SkyHawks tradition.
"I told the girls I want them to keep some of their traditions from the past,'' he said. "But this is one we're going to add.''
Fremont will open the season Thursday at Lincoln East while Crete will play its first game the same night at Columbus Lakeview. Skutt will begin play Saturday night at Gretna.
"It's kind of neat that we're all coming back at the same time,'' Colony said. "I guess we just missed the game that much.''