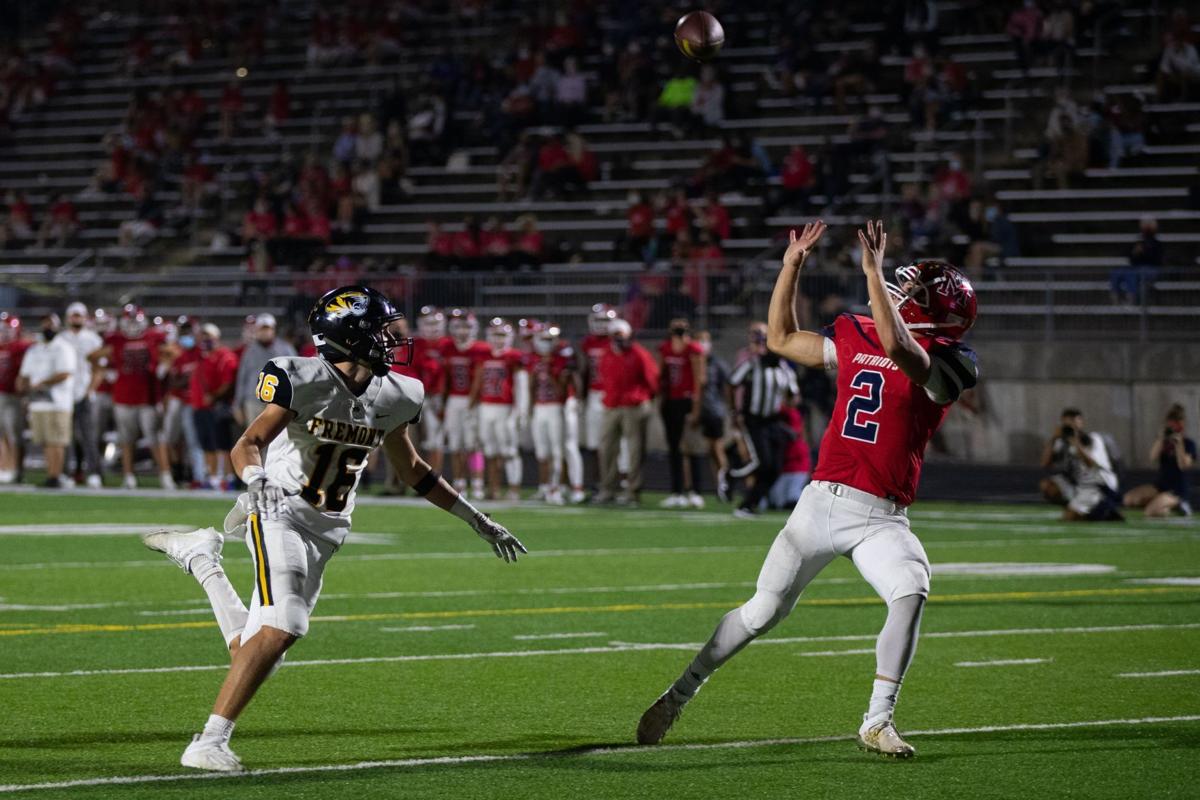 Fremont avoided taking two losses in the same game against the state's No. 3 team on Thursday.
Starting quarterback Carter Sintek was able to finish the game after being overwhelmed on an all-out rush by Millard South's line early in the third quarter. Zane Stenger forced a fumble that Jack Nickolisen fell on for the Patriots, who cashed it in for a 34-10 lead in a televised game that finished 41-17 at Buell Stadium.
TJ Urban and Christian Nash each scored twice for 5-1 Millard South, which ran for 375 yards. Gage Stenger saw his most time of the season at quarterback, with Urban taking his spot at receiver when he was used, and took the Patriots on a 98-yard drive that broke a 10-10 tie in the first quarter.
Sintek, who missed only two offensive plays after the crushing hit, was 21 of 30 for 250 yards and touchdowns of 80 yards to Dawson Glause on Fremont's first snap and 22 yards to Drew Sellon in the fourth quarter. He's thrown for 1,469 yards since 2019 starter Jack Cooper was hurt in the first quarter of the season opener.
Urban ran for 162 yards on 12 carries and had a 52-yard interception return.
Millard South ends the regular season next week against Lincoln North Star (3-4). Fremont has a replacement game at home against No. 9 Millard North as it is assured of its first winning season since 1998.
Fremont (5-2)...................10  0    0  7—17
At Millard South (5-1).......17  3  21  0—41
F: Dawson Glause 80 pass from Carter Sintek (Kaeden Thomsen kick)
MS: TJ Urban 34 run (Cole Lammel kick)
MS: Christian Nash 6 run (Lammel kick)
MS: Urban 52 run (Lammel kick)
MS: Nash 3 run (Lammel kick)
MS: Gage Mack 20 run (Lammel kick)
F: Drew Sellon 22 pass from Glause (Thomsen kick)
Rushing: F, Micah Moore 21-134, Bennie Alfaro 1-6, Sintek 7-minus 33, Glause 2-minus 2. MS, Urban 12-162, Gage Stenger 5-74, Reggie Harris 6-45, Mack 2-39, Nash 9-45, Antrell Taylor 1-10, team 1-minus 5.
Passing: F, Sintek 22-30-1 250. MS, Urban 3-8-0 10, Stenger 7-11-1 78.
Receiving: F, Glause 2-79, Sellon 9-83, Connor Richmond 6-52, Moore 2-24, Tyler Downey 1-7, Jax Sorensen 2-5. MS, Lance Rucker 1-21, Urban 1-5, Luke Irvine 1-4, Jake Gassaway 2-14, Stenger 1-0, Delondre Rice 1-26, Taylor 2-10, Michael Harding 1-8.
---
All-Nebraska football teams through the years