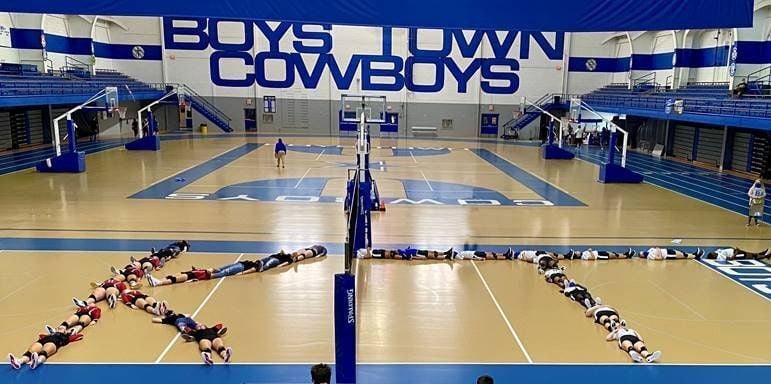 Initially, it might not have seemed like a big deal.
But when two volleyball teams combined to show support for someone going through cancer treatment after their match, it meant so much more.
It happened when Weeping Water played at Boys Town. The visiting Indians had just won the match when someone approached Boys Town coach Paula Grinvalds with an idea.
"It might have been one of our assistant coaches, I'm not even sure," Grinvalds said. "But it seemed like a really neat thing and the girls were totally on board with it."
During the match, Boys Town fans had noticed Weeping Water fans and players wearing T-shirts bearing a heart and the initials "KT." Those shirts are in support of Weeping Water special education teacher Katrina "KT" Bescheinen, who is undergoing treatment for cervical cancer.
The idea was hatched to have both teams lay on the court to spell out the initials "KT" in the hope it would lift the spirits of the 37-year-old Bescheinen, who was first diagnosed in 2017.
"I knew our team would be on board with it right away," Weeping Water coach Ty Peteranetz said. "But I wasn't sure how the Boys Town players would react because they had just lost the match to us."
It wasn't a problem. Grinvalds said her players were enthusiastic to bring a little joy to someone going through a difficult time.
"It's indicative of how all of our kids are here," she said. "Our team is very compassionate and caring, and the girls didn't hesitate."
With everyone on board, the teams formed a letter on either side of the net and the photo was taken. Peteranetz said it was a moment that transcended the sport and brought the teams together that night.
"It's hard to put into words what that meant," he said. "We were honored and touched that their players would do that for someone they didn't even know."
Unlike the Boys Town players and fans, Peteranetz knows Bescheinen well and understands what she's going through. Residents from Weeping Water, Yutan and other surrounding towns have taken part in fundraisers to help defray the family's medical bills.
"KT has helped so many people in her time at Weeping Water," Peteranetz said. "Unfortunately, now she's on a journey that nobody wants to go on."
Tracy Andersen, the school nurse at Weeping Water and a close friend of Bescheinen, said the volleyball photo achieved its goal.
"I was with her when she saw it," Andersen said. "It was really uplifting and I know it touched her."
Bescheinen began as Weeping Water's elementary special education teacher during the 2015-16 school year. She underwent treatment after her original diagnosis and was in remission, but the cancer has returned.
"KT has a very strong faith," Andersen said. "She's a bright light, and everyone loves her so much."
Peteranetz said he is thankful that his team — with the help of its opponent — got the chance to bring a smile to his friend's face.
"That night says so much about the Boys Town people," he said. "I hope they know that they made a huge difference in someone's life."
---
All-Nebraska volleyball teams through the years