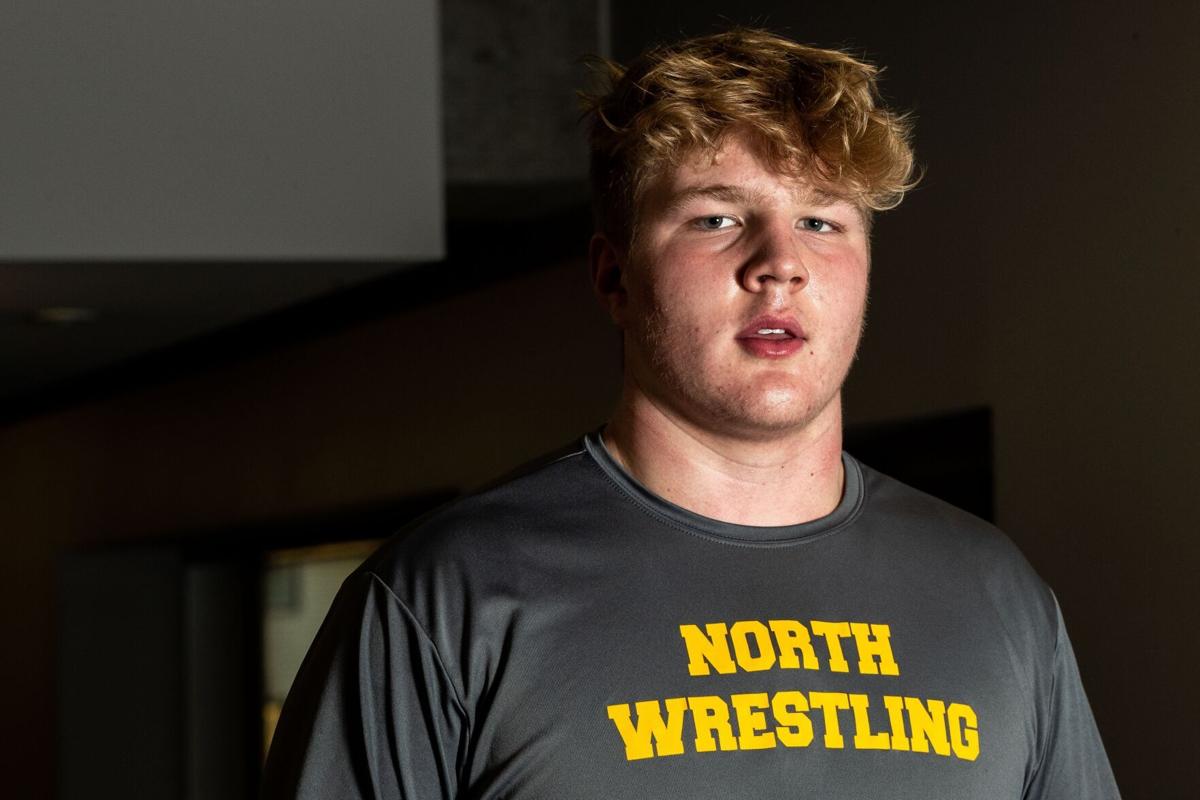 Tyson Terry isn't just another wrestler at Omaha North.
Not when he carries that last name. Not when he was born into the program.
Such is life with a dad who was a two-time state champion for the Vikings. And a cousin who won a pair of titles in the blue and yellow.
So it's no surprise that Terry, unbeaten and a unanimous No. 1 at heavyweight entering this weekend's Metro Conference tournaments, is all business when it comes to continuing that success.
"It's always been serious to me," the North freshman said.
And has been since he can remember.
Terry was in a singlet at the age of 5, making the finals of Tulsa Nationals his first try. Four titles at the nation's premier youth event came shortly after.
The name — and more regularly, the accolades — have been brought up in wrestling circles around Nebraska for a while. Last summer, it went national when MatScouts ranked Terry No. 19 in the Class of 2025.
North coach Dan Carlson said Terry was still a "smaller, chubbier kid," the first time he saw him wrestle. But it didn't take much of that middle school championship to see what the buzz was about.
"He could just wrestle," Carlson said. "You just never know how he's going to adjust to high school. Being a young freshman, you never know how they're going to respond."
Questions about physicality at the next level were answered in the fall, when Terry started on the defensive line for the football team. He played in all 12 games, racking up 85 tackles and five sacks — both second on the team — as North reached the quarterfinal of the state playoffs.
He needed less than a month to show he belonged with the big boys on the mat, too.
Terry, who said he weighs between 260 and 265 on most days, already owns wins over three of the four who are ranked behind him in the Class A heavyweight class.
But it's still business as usual, his dad said.
"That hasn't made him complacent," Ryan Terry said. "He doesn't let any of that get to him."
Not the lofty expectations. Not the potential to make history. And certainly not the early success.
His oldest of three sons, Tyson has been his dad's shadow for the better part of 16 years. If it wasn't tagging along to wrestling tournaments or football games, it was driving around the country to find the best competition.
Ryan might have pushed wrestling early in Tyson's youth, but after the two "butted heads" a bit over the sport in the fourth grade, Ryan said he realized he couldn't push his son to be successful. It would be something Tyson would have to take upon himself.
The family put a weight room in the basement during the pandemic, and a familiar sound soon followed.
"I'd hear weights clankin' at 11 at night or first thing in the morning," Ryan said. "He's put in the extra work, all on his own."
That has been apparent in his first high school season.
Included in an 18-0 record are decisions against the two directly behind him in the rankings — an overtime win over Omaha Northwest senior Tyson Danner and a 3-0 victory against Fremont's Titus Richardson — as well as a pin of Ryan Zatechka of Omaha Westside, who is ranked fifth in Class A.
It was the win over Danner — ranked No. 2 in all three major polls — before the holiday break that caught Carlson's attention.
"Right then and there I knew," he said.
Terry could see both Danner and Zatechka — as well as four other Metro heavyweights ranked in NEWrestles's Class A top 10 — during conference tournaments Friday and Saturday. Both will be held at UNO.
"It's going to be two tough days," Tyson said. "You've just got to grind it out."
Ryan, who wrestled at UNO in college, will be in the stands to watch his son's first conference tournament, missing Tulsa Nationals — where two other sons will compete over the weekend — for the first time in 12 years.
"It's something we've waited on for a long time," Ryan said of Tyson going for Metro gold. "Sitting back as a dad, it's refreshing and rewarding."
North will be the No. 2 seed in Friday's dual tournament, the highest seed the program has had in Carlson's four years. Terry and teammate Ty Stewart — a returning state champion ranked No. 1 at 195 — give North quite the 1-2 punch at the upper weights for Saturday's individual tournament.
"If we have a healthy lineup," Carlson said, "we can match up pretty well with most of the teams in our bracket."
They're hoping to regain some power for a proud program.
Between a state title in 1985 and another in 2014, North finished in the top three in team scoring 15 times at state. Seven of those seasons ended with the Vikings on top.
But they've finished outside the top 20 four straight years.
Football will likely be where Tyson competes in college. He calls it his "passion." There's already been unofficial visits to Nebraska, Iowa and Iowa State, as well as contact from Kansas State, Wyoming, Missouri and Notre Dame. Oregon, where his mother has family, has a soft spot in his heart.
But wrestling will definitely continue to have its place in Terry's story.
"Being a four time state champion was always my goal growing up," Tyson said.
It wouldn't just be historic, it would be unheard of. It's been 51 years since a freshman won a heavyweight state title in any class, and hasn't happened in Class A. Only one four-time champion — North's Ronald Coleman — has multiple golds in the highest weight class.
Father and son are fully aware of the history. They've talked all about it plenty. They just don't dwell on it.
"You always have to go day by day, always have to trust the process," Tyson said. "You have to earn everything. Nothing is given to you."
Nothing but a family name. Even that is one that he's working on.
"He's creating his own legacy," Ryan Terry said, "and he's making a name for himself."