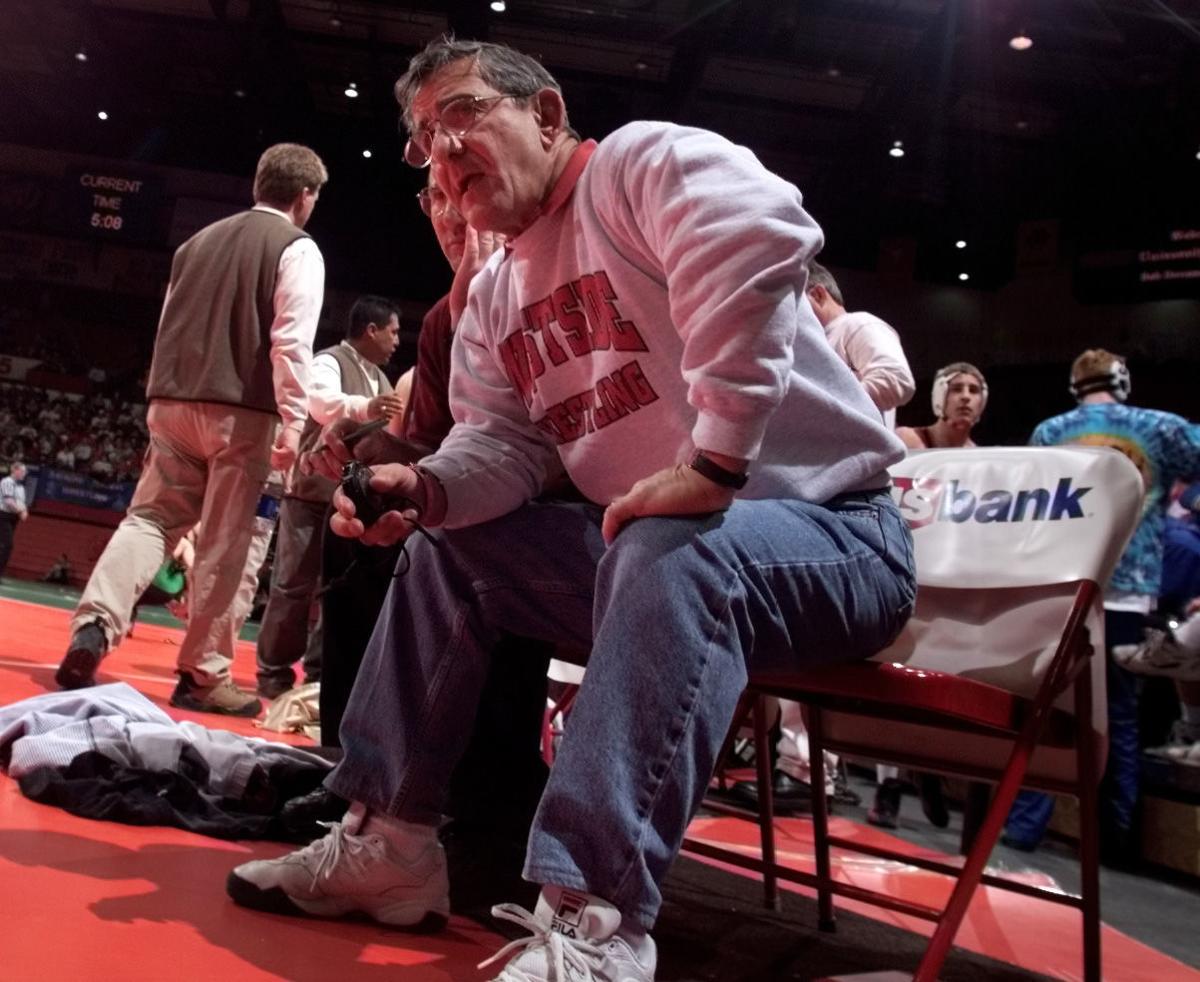 Lou Miloni's legacy to Omaha Westside wrestling is found on the school's mat.
Right there in the center circle, his face is drawn in caricature.
Miloni couldn't attend the mat's unveiling last year at the state tournament at CHI Health Center, as he was at his home in Arizona with non-Hodgkins lymphoma. But he came back last June when the school unveiled a commemorative plaque and announced an annual endowed scholarship in his name.
The 36-year teacher and coach at Westside died May 15 in Chandler, Arizona. He was 79.
A memorial service will be held in Omaha at a later time, daughter Tiffany Small said.
"Sports were always important to him," she said. "The family has been touched by the former students who have reached out or visited my dad during his sickness. It meant so much to him."
Her father coached the Warriors to Class A team championships in 1976 and 1977. They were Metro Conference champions four times and district champions 16 times.
Bob Danenhauer was one of his 23 individual state champions. He followed Miloni into education and coaching, eventually working as athletic director at UNO and the Omaha Public Schools.
"He was a second father to me and always has been, even when I went into teaching," Danenhauer said. "I went to Millard North for wrestling in 1982 and I could always count on Coach for mentoring with regard to seeding meetings, weigh-ins.
"He's been a big friend too, not just being a mentor as me being a wrestling coach but in life. We'll miss the guy to death."
Danenhauer said Miloni was a positive person, much like the school's revered basketball coach, the late Tom Hall.
"Like coach Hall, he'd be the first one to get on you when you made a mistake and the first to hug you when you did well," he said.
Miloni grew up in Omaha's Little Italy neighborhood. He was a two-time state wrestling champion with a 75-5-1 career record at Omaha Central before graduation in 1958. He also was the starting halfback for the Eagles' football team.
At Omaha University, now UNO, he was a four-year starter in football who was all-conference three times and was a team captain as a senior. He was 39-3 as a wrestler, qualifying for the NAIA nationals, and was the Indians' athlete of the year as a senior in 1962-63.
After staying at Omaha U. as Don Benning's assistant wrestling coach, Miloni started at Westside in 1964-65.
"I was fortunate enough my first year of coaching to have two individual state champions, Scott Lausterer and Scott Swanson," Miloni said last year. "I started my novice program in the early 1960s that continued through the '80s and where we developed many state champions."
On his final team was the school's only four-time champion, Brad Metzler, who went on to wrestle for Stanford. Four-time status had eluded Miloni, who led in his title bouts as a freshman and senior before getting pinned.
Miloni coached with a passion, former Metro coach Mel Masek recalled in 2000.
"I did make him an honorary letterman at Benson," Masek said. "Lou had gotten thrown out of our dual back-to-back years."
Masek said Miloni was instrumental in creating the Metro Wrestling Coaches Association and often would put on instructional clinics designed for schools starting wrestling teams.
Miloni has been inducted into six halls of fame — UNO wrestling, UNO athletics, Central High academics, Westside athletics, Metro Coaches and Officials Wrestling Association and the Nebraska Scholastic Wrestling Coaches Association.
Besides his daughter, surviving him are wife Linda; daughters Colleen Miloni, Shaunessy Nadeau and Shealey Miloni; stepsons Mike, Scott and John Logue; sister Pauline Vieceli; and brothers Joseph and Tony Miloni.
Photos: Nebraska high school coaches of the year since 1995
Every boys and girls Nebraska high school coach of the year named by The World-Herald since 1995.