During a typical year, DJ's Dugout would be bustling.
Wrestling fans would make the short walk from the CHI Health Center to the sports bar at 10th Street and Capitol Avenue to grab a bite between sessions during the state wrestling tournament.
"Usually, it's really busy for us," manager Sean Glen said. "It's the kind of thing where it's hard to get a table. There's constant turnover."
This year, Glen said, he isn't sure what to expect. Staffing the restaurant during the tournament will take an "educated guess." The restaurant has had diners coming from events at the CHI Health Center, such as youth volleyball tournaments in late January and early February, and Creighton basketball games.
But the tournament itself is going to look much different to the typical fan this year, with more days of competition and fewer fans allowed inside.
One of the biggest changes to the state wrestling tournament is the addition of an extra day of competition. The tournament starts Wednesday and runs through Saturday.
Class A and D matches take place Wednesday and Thursday. Classes B and C compete Friday and Saturday. The finals for each class will be broadcast live on NET. The matches also will be livestreamed at netNebraska.org and on the NET Nebraska app.
Other changes have been made to crowd size and ticket sales.
The crowd size will be cut to just under half. About 6,500 spectators will be allowed at each session, said Ron Higdon, assistant director of the Nebraska School Activities Association. In previous years, up to 14,000 attendees would attend the semifinals.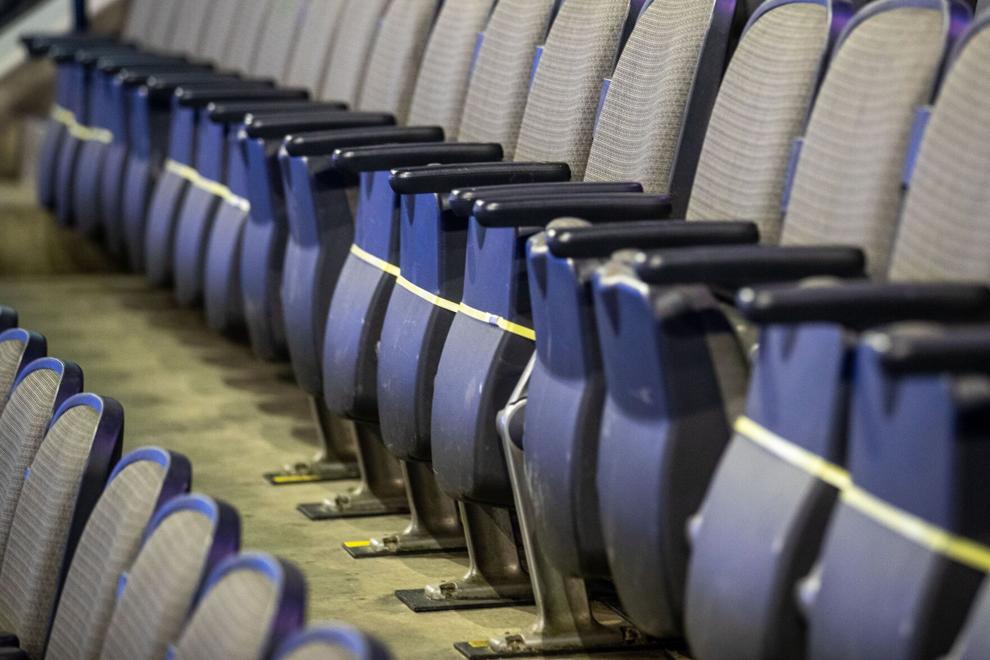 And because the event is expected to draw more than 1,000 attendees, the NSAA had to submit a plan to the Douglas County Health Department for approval.
Tickets, which fans could purchase individually in past years, are now being sold only in pods of two, four and six. Seats between each grouping will be blocked off to allow for social distancing, Higdon said.
Tickets, which went on sale in mid-January, are good only for the session they are purchased for, Higdon said. As of Monday, more than 30,000 tickets had been sold. All tickets are electronic.
In a typical year, 10 mats would be on the floor to start the tournament. That's been cut down to six this year. Subsequent sessions will be cut to four mats, followed by two mats for the finals.
The facility will be cleared between sessions for cleaning and disinfecting.
"We feel good about it," Higdon said. "It's been months and months of planning. It's like starting over because it's so different than what we normally do."
Tournament spectators will notice additional changes around the CHI Health Center.
Cash will no longer be accepted at concession stands, ticket windows and other purchase points. The change was done to help limit person-to-person contact.
Those who forget can use the reverse ATMs in the building. The touchscreen machines allow people to insert cash and receive a Visa debit card in return. There is no fee to convert cash, and if you have a balance on the card on your way out the door, you can use it anywhere that accepts Visa.
Most concession stand items will come in individual packaging. Plastic barriers have been installed in front of registers, and only every other register will be open.
The arena also is complying with Omaha's mask mandate, which requires anyone age 5 and older to wear a mask in a variety of indoor settings where they can't stay 6 feet from others. In addition to spectators, workers, coaches and wrestlers not competing must be masked.
"I would just put it in perspective the fact that we're even having a championship in this is a positive because back in the beginning of the year or even in November, the thought of us getting to a wrestling championship was uncertain," Higdon said.
Changes have been made to other upcoming state tournaments, too, said Jay Bellar, executive director of the NSAA.
For the state swimming and diving championships Feb. 25-27, no fans will be allowed at state swimming, though limited fans will be allowed for the diving competition. After discussing plans with University of Nebraska-Lincoln officials, they realized the number of swimmers in the competition would put the Bob Devaney Sports Center at max capacity, Bellar said.
"We had two decisions: Cut the number of swimmers able to compete to have parents or not have fans," Bellar said. "We didn't want to take away the opportunity for the kids so we went that way."
State swimming and diving championships will air on NET as well as netNebraska.org and on the NET Nebraska app.
Girls and boys state basketball tournaments, also in Lincoln, are shifting from three-day tourneys to five days of play. The girls tournament runs March 2-6, followed by the boys tournament March 9-13.
One silver lining of the changes: More teams will get the chance to play at Pinnacle Bank Arena than in previous years, Bellar said. Games will be played at the arena as well as at three Lincoln high schools.
It won't be like previous years where spectators can watch multiple games. Instead, tickets will be good for only one game. The arena won't be packed, but Bellar said he hopes the excitement level will still be high. Officials are hoping to have Pinnacle Bank Arena filled at half capacity.
"We're doing all we can for our kids. That's who it's supposed to be for," Bellar said. "Our system is not going to be perfect for everybody, but we're going to try to do what's best. We have to remember we're making the changes for safety."
---
2021 Nebraska state wrestling: Day one