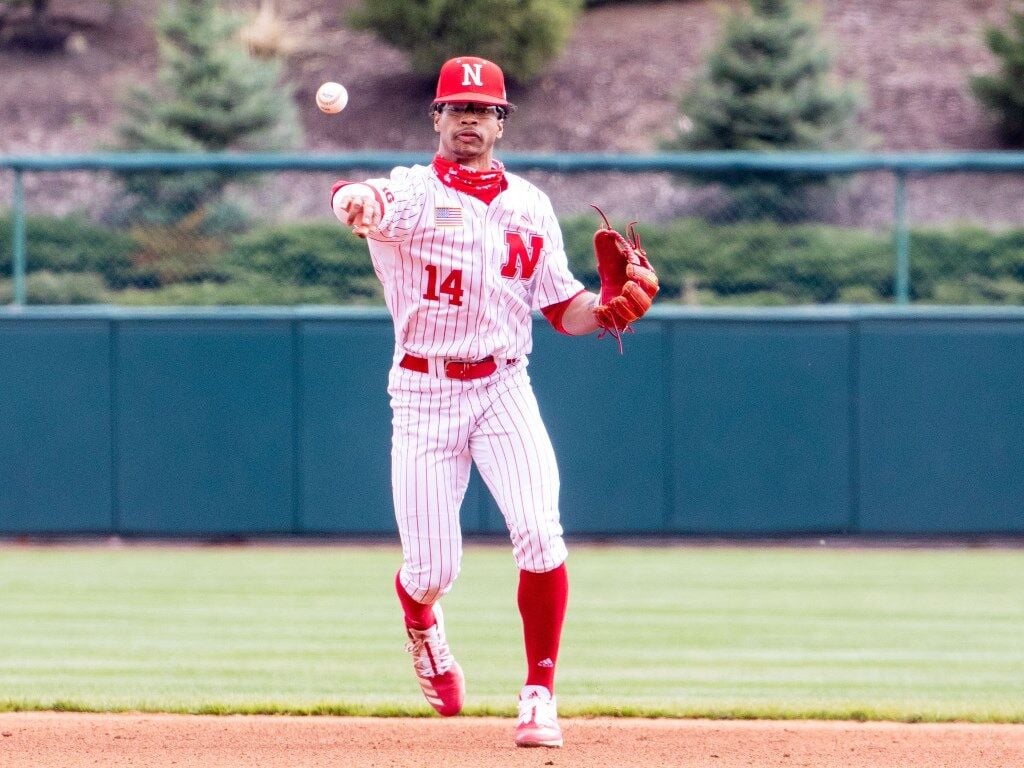 Like with routine grounders to second base, Brice Matthews fields the football question smoothly and often.
He got it for years as he piled up yards and wins as the quarterback of his high school team in suburban Houston. He still hears it as a freshman second baseman at Nebraska even after 13 starts and 16 RBIs for the first-place team in the Big Ten.
Is football in his future?
Schools like Rice and Louisiana were curious enough that they offered him full scholarships in that sport. When Matthews took recruiting trips to other interested baseball programs — Sam Houston State, Northwestern State and Prairie View A&M — a coach from the football team always seemed to be around.
"Are you sure you don't want to —" they would begin before Matthews smiled and shook his head.
The 6-foot, 175-pounder has sensed a return of that familiar speculation in recent weeks from fans and teammates. Maybe it's natural, with spring football practices playing out just a Hail Mary away from Haymarket Park. Those Huskers are still figuring out who their backup quarterback will be for the fall and might look to add a transfer at the position in near future.
Any interest from the guy who ran a spread offense in high school and went 23-4 in his last two seasons as a starter?
"My football days are in the past," Matthews said. "That's done. I've settled into my home over here with these (baseball) guys and I love these guys. I don't want to be anywhere else."
Nebraska football people haven't approached him about the possibility, he said, which is fine. Baseball became his first love at a young age. By the time he was a junior QB with a 21-2 touchdown-to-interception ratio and nearly 200 passing yards per game, he was telling football recruiters he wasn't interested.
America's pastime got an assist from Stephen Matthews, Brice's dad and a college outfielder at Kansas in the mid-'90s who recalls never beating Nebraska and star Darin Erstad during their Big Eight bouts. The older Matthews coached his son until high school — the daily reminder before they started working on fielding or Brice's swing was to always have fun.
"Hopefully Brice can mature and be the player Nebraska needs him to be so he can succeed and see where things take him," said Stephen Matthews, a home health physical therapist. "Now, if things don't go right in baseball? You never know. Because I do know one thing: He enjoyed every single snap he took when he was on that football field and he enjoyed playing with his teammates. But I think he's made his choice and I think it was a good choice for him."
NU has seen players juggle football and baseball before, most notably Erstad and more recently outfielder/receiver Khiry Cooper in the early 2010s. Bubba Starling and Monte Harrison were set to do the same in the past decade before signing with professional baseball teams out of high school.
But Brice Matthews is content where he is. He swatted his first career grand slam last weekend one week after stealing home. Nebraska coaches, who define roles for their batters in one of four specific ways, consider him a "hitter," meaning he is a run producer with a combination of strength and speed.
This baseball thing indeed seems to be working out. Matthews said his favorite part of the game is the mental challenge, staying even-keeled after a great game or an 0-for-4 afternoon. The simultaneous simplicity and complicated nature of the game continues to draw him in.
NU coach Will Bolt said Matthews' knack for coming through in clutch spots — including a pair of bases-clearing doubles this season and sure-handedness in the field — was surely forged in part on gridirons under those famous Friday night lights.
"He doesn't ever seem like he's nervous, doesn't ever seem like the moment is ever too big for him," Bolt said. "I think you can honestly attribute a lot of that back to his days as a Texas high school quarterback where he's used to playing in front of thousands of fans and having the ball in his hands having to make plays for his team."
Matthews considers his best trait as a quarterback throwing the ball — he was a 67% passer as an upperclassman at Atascocita with 44 passing touchdowns to three interceptions. He could run, too, carrying 79 times for 597 yards (7.6 per tote) and 14 scores in that span.
These days, Matthews said, he could round up a few football studs on the baseball roster if necessary. Freshman first baseman Jack Steil quarterbacked his Minnesota high school team to a state championship. Infielders Leighton Banjoff and Cam Chick were workhorse running backs. Relievers Max Schreiber and Tyler Palmer are former standout QBs, too.
"I think we'd have a pretty decent squad, actually," Matthews said.
Among Matthews' teammates, one consistently prods him more than others about football. Pitcher Jake Bunz, a diehard Husker fan from Elkhorn South whose parents have had football season tickets for decades, brings up a different version of that well-worn question.
Will he help Nebraska win a national championship playing football?
"No," Matthews always replies. "I'd rather do it over here.'"​
---