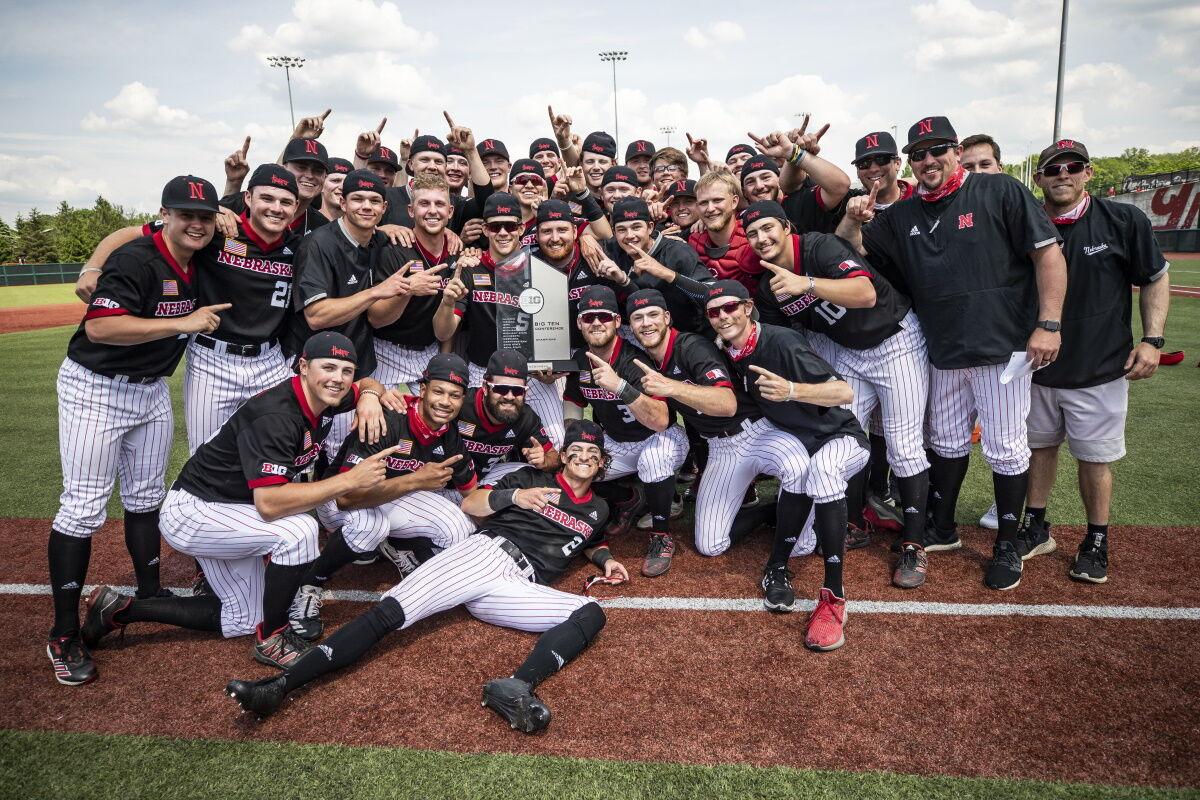 There are about 30 seconds Sunday that Jaxon Hallmark doesn't remember at all.
He needs help filling in the gaps after that.
"I'm not going to lie to you, I kind of blacked out," Hallmark said. "I remember (catcher) Griffin (Everitt) tagging (the batter), then I was getting up out of the dogpile."
Reliever Caleb Feekin first met Everitt between the mound and home plate. The pair embraced so forcefully that Everitt's red helmet popped off his head. Then a swarm of Huskers bowled them over from the third-base dugout, led by pitchers Shay Schanaman (6-foot, 195 pounds) and Jake Bunz (6-5, 240).
Shortstop Spencer Schwellenbach leaped onto his teammates moments later. Joe Acker — who arrived a couple of beats later than he hoped to — hopped on and rolled down one side of the mountain of humanity. Pitcher Kyle Perry was on a knee on one edge, squirting liquid from a green Gatorade bottle on anything that moved.
"I was toward the bottom of the pile," Bunz said. "It was pretty cool."
That sun-splashed scene was months in the making, starting when players arrived last August and continuing through 12 weeks of a league-only schedule during which they also satisfied strict COVID protocols. Nebraska has at least two more weeks to make memories in 2021, with Michigan coming to Haymarket Park this weekend and an NCAA regional after that.
Before looking too far ahead, though, it's worth reflecting on a conference championship won during an unprecedented spring in which all 13 schools will have played one another multiple times. Here are five defining moments in Nebraska's run to Big Ten glory:
Establishing the top of the lineup. After tinkering with the batting order for two weekends, the Huskers settled on a top three of Acker, Hallmark and Schwellenbach that they've stuck with for 32 straight games.
Ironically, Nebraska was shut out the first time it showed the look in a 3-0 loss at Iowa, but it won 14 of its next 16 outings while averaging more than nine runs per contest in that span.
NU locked in a top six beginning with the Minnesota series that rounded out with Cam Chick, Max Anderson and Luke Roskam. Those half dozen have comprised the first two-thirds of the team's lineup in 23 of the past 29 games.
The mix is an effective blend of age, ranging from fifth-year seniors Acker and Roskam to the true freshman Anderson. There is skills diversity, too, with table-setter Acker followed by the speedy Hallmark and do-everything Schwellenbach. Roskam has often been NU's best hitter with a squad-best .455 on-base percentage and eight homers, while Anderson is hitting .341.
Nebraska has played matchups and hot hands at the bottom of its lineup to great success. The overall result is a versatile top-25 scoring offense that paces the Big Ten at 7.4 runs per game.
Beating Michigan State in 12 innings. The game was among the wildest in a decade of Nebraska baseball in the Big Ten. NU won on that Sunday, April 25, despite a 17-strikeout performance by MSU reliever Sam Benschoter and survived a would-be Sparty walk-off hit in the 11th when Hallmark fired home a one-hop strike to nail a runner at the plate.
Schwellenbach also saw extended mound action for the first time as a Husker, logging four scoreless frames on 65 pitches and showing a glimpse of what his usage might be like when games matter most.
The victory made school history, marking the first time the Huskers had won seven straight league series to begin a season. It also vaulted them into most Top 25 polls for the first time in four years.
Nebraska has gone 9-4 on Sundays this year, winning five series on what the team calls "Championship Sunday."
The bullpen's scoreless streak. For much of April and into May, Nebraska relievers didn't let in a run of any kind. The shutdown stretch spanned nine games and more than 24 innings, with multiple Huskers contributing.
And while the streak ended emphatically in a tough-luck home weekend against Rutgers, its existence proved that the team's biggest preseason question mark could be an asset.
The 'pen had blown multiple games in the abbreviated 2020 season, after all, and added new arms since then including transfers Cam Wynne, Koty Frank and Bunz. One former closer was out all season with a shoulder injury in Colby Gomes and another had moved to the starting rotation in Schanaman. Even Schwellenbach hadn't pitched since high school before this spring and was unproven on a college mound.
Nebraska firemen have swung games in a positive direction most of the time this year. Caleb Feekin, Emmett Olson, Max Schreiber and Kyle Perry are among others who have come through in high-leverage spots.
Being swept by Rutgers in Lincoln. The result was shocking in the moment. With many fans in town for the spring football game, big crowds watched the bullpen blow a pair of eighth-inning leads capped by a flat 6-0 Sunday loss that marked a rare lack of fire by the Huskers.
The sweep — NU's first at home at the hands of a league foe in 12 years — came in early May as the Huskers were gaining national attention. It cost them their fresh Top 25 ranking, first place in the Big Ten and ultimately a chance to host an NCAA regional.
But instead of fizzling, the Huskers refocused by winning nine of 10 games since. Players and coaches met to remind each other to do what they do. Be the tougher team. Play fast and loose. Be selfless at the plate.
"We needed that slap in the face to just wake up and realize that what we had been doing the last two weeks wasn't working," Hallmark said. "It paid off — we've been playing the best baseball we've played all year the last two weeks."
A wild pod at Indiana. The Huskers headed east looking to set themselves up well for the Michigan series by doing no worse than splitting four games with Ohio State and the Hoosiers. Instead they won all four contests in a span of 43 hours, and the Maryland-Michigan series played out exactly as it needed to for NU to secure Big Ten hardware in Bloomington on Sunday.
Beyond just winning the games, Nebraska impressed by doing damage against multiple regional-quality arms. Even when the offense wasn't scoring runs, it drove up pitch counts and got into the opposing bullpen in the sixth inning or earlier three times.
Ultimately, NU separated itself from other Big Ten contenders by beating them head to head. While the Huskers were 18-6 against the bottom seven teams in the standings, everyone largely feasted on those struggling squads — Indiana was 21-4 against them, Michigan was 17-9 and Maryland was 17-7. But facing the other top five teams, NU has gone 11-5 while Indiana (5-11), Michigan (9-6) and Maryland (9-8) couldn't keep pace.