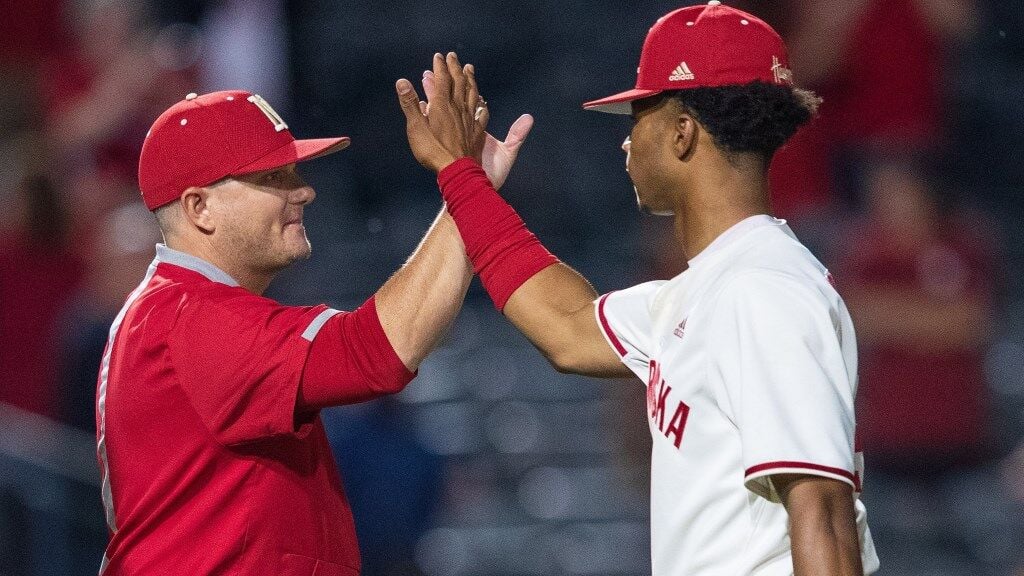 FAYETTEVILLE, Ark. — One of the best coaches in college baseball didn't want to see Nebraska.
Dave Van Horn knew before his Arkansas team played the Huskers last weekend that they didn't belong in the same regional as the No. 1 overall national seed. Then he saw that belief confirmed over and over from his perch inside the third-base dugout at Baum-Walker Stadium.
NU beat the Hogs 5-3 on Sunday and led into the middle innings of a winner-take-all regional final the next night before the hosts broke through in the eighth.
"They ran away with (the Big Ten) because they were better than everybody else and they're tougher than everybody else, and I saw that this weekend," Van Horn said. "That's because of the players that are over there. Will Bolt, his coaching staff have instilled that into those kids."
Three months earlier, Big Ten coaches didn't even put Nebraska in the top six of their preseason poll. In a year of pandemic-related roster continuity throughout the sport, the Huskers had drastically reshaped their bullpen and starting rotation. Freshmen like Max Anderson — the eventual Big Ten freshman of the year — and Brice Matthews were relative unknowns. National outlets also went into wait-and-see mode, mostly projecting the program to finish around eighth in the 13-team baseball conference.
The Huskers did much better than that, winning 31 of their 43 league contests to claim the Big Ten title by 3.5 games over the rest of the field. And they did it without a weakness, boasting the best scoring lineup and defense in the conference while checking in second in earned-run average. The roster was deep and talented.
A league-only schedule kept their secret as a top 25-quality team much of the season. NU popped into polls for a week in late April before suffering a rare home sweep at the hands of Rutgers that knocked it out of the national consciousness and killed its chances to host a regional. With no nonconference games to establish a reliable RPI or basis for evaluation, the NCAA's selection committee rewarded the Huskers' 11-2 streak to finish the regular season with a date at No. 1 Arkansas.
Without a superhuman effort from Hogs reliever Kevin Kopps — who threw the final 90 of his 185 regional pitches over seven scoreless innings in the clincher — the Huskers may well have reached a super regional for the first time in 16 years. Same if they had benefited from a better tournament draw.
Yet despite the ouster, perception has shifted and momentum is squarely in the corner of Nebraska and Bolt, who signed a five-year contract at $300,000 per year when he arrived in the summer of 2019.
"I think it's pretty tangible right now," Bolt said. "These guys went toe to toe with the best. They have nothing to hang their heads about. … I think this is certainly a stepping stone here. Getting to a regional final and having a shot to win in the late innings against the No. 1 team in the country, I think the needle is definitely pointing up."
If Van Horn taught Bolt anything from their time together as coach and player at Nebraska in the early 2000s, it's that recruiting is the lifeblood of a program. Bolt's first class in Lincoln ranked 94th nationally by Perfect Game but didn't factor in key non-high school additions like grad transfer Chance Hroch and junior college relievers like Jake Bunz, Cam Wynne and Koty Frank.
The 2021 group ranks 36th, which would be Nebraska's best since Bolt's last year as an assistant there in 2014 (25th). It includes in-state pitching headliners Drew Christo (Elkhorn) and CJ Hood (Norris). A seven-man 2022 class is currently 72nd, though that figures to rise. The staff also has a history of working the transfer portal and juco levels.
The MLB draft, as always, complicates team outlooks for next season. Christo, Hood and outfielder Chase Mason from South Dakota are the most likely signees to be selected. NU coaches have often said their goal is to educate players on the process and what is in their best individual interest.
The draft, which has been held in June since its inception in 1965, will coincide with All-Star week this year from July 11-13 and go 20 rounds.
"If Drew Christo gets drafted in the first round and is going to be a multimillionaire, we're going to be the first ones after his mom and dad high-fiving him and saying, 'Dude, we'll see you in the big leagues,'" Nebraska recruiting coordinator Lance Harvell said. "They need to know and trust that we're not trying to play goalie with their dreams."
Meanwhile, the draft will also impact the current roster of the most successful Big Red team of the Big Ten era. Closer/shortstop Spencer Schwellenbach, the Big Ten player of the year, is destined to be a high pick and will probably leave despite having two remaining years of eligibility. Friday ace and left-hander Cade Povich may also be taken, though he also has two college seasons left for leverage and could run it back in 2022.
Fourth-year players essentially have the same decision to make that seniors did when COVID-19 shut down the 2020 season: Should they come back for an extra year? Such players for Nebraska are outfielder Jaxon Hallmark and relievers Max Schreiber and Wynne along with reserve catcher Gunner Hellstrom. Draft status should help inform their futures.
Seniors whose eligibility has expired are outfielders Joe Acker, Mojo Hagge and Logan Foster, along with infielder/catcher Luke Roskam and Hroch. All were significant contributors.
Now the current players scatter, spending some time at home before departing for various collegiate summer leagues around the country. They'll reassemble for the fall semester and begin building for a 2022 season that includes the promise of a normal, restriction-free schedule.
Hagge said the returning core has the qualities necessary to continue to thrive. He saw it firsthand in a hostile environment last week in northwest Arkansas when — for a time — the Huskers were better than No. 1.
"This team is tough as nails," Hagge said. "Some of these younger guys, they know what the culture's about. They know what to expect. There's a lot of young talent. Husker baseball, they're going to be dangerous moving forward."
---