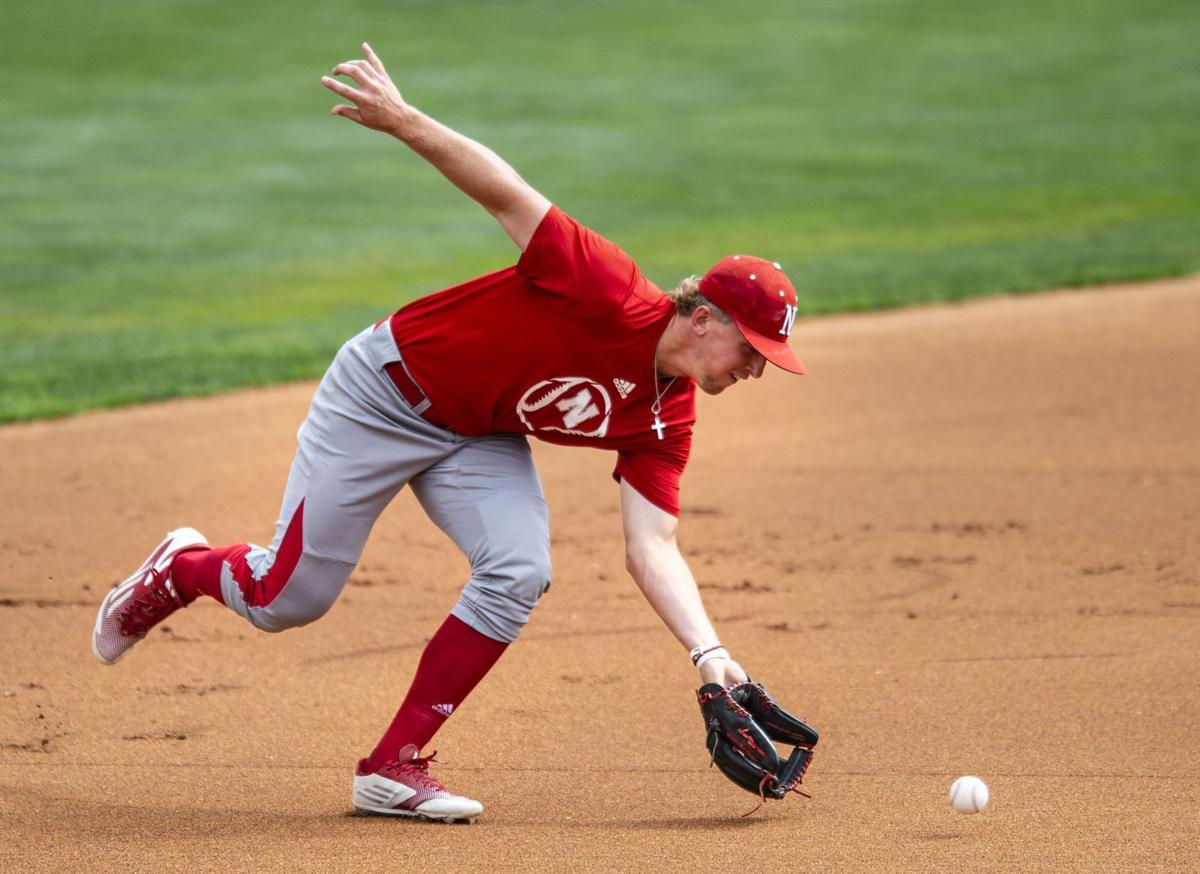 The pounding of feet on concrete echoed through the Haymarket Park concourse. Testing day.
Nebraska baseball players had been gathering every Tuesday at 6 a.m. training to run a 6-minute mile. A year ago, almost no one raised their hand when coaches asked who had done it before. The first session this fall came on a rainy day, so the team moved to the parking lot. Sometimes the warning track was their path.
The players over the years always bring up those morning workouts, assistant coach Lance Harvell said, when the spring season hits a rough patch. If they can work to crack the 6-minute mark, they can rise up now.
And as fall practice wound down last month, more than 30 players beat the target time, reinforcing an idea Nebraska coaches often preach. Just because you've never done it before doesn't mean it can't be done.
"It's always a really cool moment," Harvell said. "You see they're as tired as they've ever been in their life, but there's pure joy on their faces because they've accomplished something."
Nebraska hasn't hosted an NCAA regional since 2008, a drought coach Will Bolt and his staff would like to end as they enter their second season in Lincoln. They took a step closer this fall, integrating 17 newcomers and upgrading depth in the infield and on the mound. Mojo Hagge, Joe Acker and Luke Roskam also return for a second try at their senior campaigns after the pandemic limited their 2020 season to 15 games.
Former coach Darin Erstad and his staff often kept personnel decisions close to the vest in the fall before establishing roles in the spring. Bolt and Co. already have a vision in mind and aren't shy about sharing it. The team parted ways with 11 players during the summer and continued the roster overhaul by welcoming a host of freshmen and transfers.
Nebraska is wrapping up skill instruction ahead of Thanksgiving, then endures a stretch of nearly two months before preseason work begins in January. Here is where the program saw the most movement during fall ball:
Starting rotation taking shape
Rarely have the Huskers established a weekend rotation so far in advance, but Harvell — the hitting coach and recruiting coordinator — said coaches have a strong sense of how 2021 will look: sophomore left-hander Cade Povich to begin a series, followed by senior righty Chance Hroch and sophomore righty Shay Schanaman.
Povich was NU's Sunday starter last year and had a 5.06 ERA bloated by an eight-run outing at Arizona State before dominating in summer ball. Hroch is a graduate transfer from New Mexico State with a career ERA of 3.13 in nearly 150 Division I innings. And Schanaman, a Grand Island graduate, transitioned from closer to starter with a stellar summer that included a 1.09 ERA and 42 strikeouts in 24  2⁄3 innings in the Expedition League.
"We feel good about the starting pitchers and who would fall into those spots," Harvell said.
A pair of junior college transfers are in the mix for the No. 4 job, Harvell said, in junior lefty and Elkhorn South grad Jake Bunz along with righty Koty Frank.
Bolstered bullpen
Nebraska could have four or five pitchers with closer-quality stuff next year after reliable relief options were scarce early in 2020.
The team's TrackMan program can compare Nebraska data to that of major league pitchers — measuring categories like velocity, ball RPMs, vertical/horizontal movement, etc. It likens Spencer Schwellenbach (fastball), Cam Wynne (slider) and Max Schreiber (movement) to top-150 MLB pitchers when they're going well.
"Is it every day they're doing that? No, not necessarily," Harvell said. "But at times, they showed the potential to have big-league stuff depending on the metric."
Schwellenbach, the probable starting shortstop, has generated "serious, serious buzz" from scouts for his potential on the mound and in the field. He has yet to pitch at Nebraska after recovering from an arm injury last year but walked 27 batters and struck out 233 in 154 career prep innings in Michigan.
The righty Wynne transferred from Texas A&M and was "rock -solid and dominant" this fall, Harvell said. Schreiber, a right-handed junior, was Nebraska's most reliable long reliever last year.
Meanwhile, Colby Gomes also is set to return to the bullpen, though he sat out this fall after a minor procedure. The sophomore from Millard West was a freshman All-America closer in 2019 but struggled to a 6.89 ERA in four outings as a weekend starter last season. Junior Paul Tillotson (2.57 ERA, two saves last year) and second-year freshmen Ethan Bradford and Braxton Bragg are other candidates for high-leverage roles.
Legends of the fall
There's a practice drill in which Nebraska sets up a cage at home plate and splits it in half with a screen, then inserts a left-handed and right-handed batter to see who can hit better balls against dueling pitching machines.
A match is usually best two of three, but there's a rule that if someone hits an opposite-field home run, it's an automatic walk-off. The task is especially hard because the pitching machines fire home at an angle just off the mound.
Cam Chick, a 5-foot-9 sophomore, did it upward of a dozen times, running off righty after righty.
Said Harvell: "A lot of times they'd step in there and wouldn't even get to swing."
Chick, who hit .297 with a team-best four homers in the abbreviated season, is one of many Huskers to show major strides in the fall.
Schwellenbach hit .360 in scrimmages, Harvell said, while freshman infielder Brice Matthews struck the ball as hard as anyone on the team and approached .300. Freshman infielder Max Anderson hit .350, which the coach said is "pretty special and pretty rare."
Perhaps the biggest transformation came from Hagge (.350), who coaches agree fully embraced being a table-setter and bunting threat. The left fielder from Omaha Skutt batted .167 last season and is a career .269 hitter.
"He really made a move to be a little more bought-in to the role that we needed him to play and not try to do too much and be something that he's not," Harvell said.
Who's on first?
Five Huskers have started at the corner infield spot the past two seasons, and a similar committee approach could emerge next year.
Second-year freshmen Luke Boynton and Leighton Banjoff are most likely to assume the duties, Harvell said.
Boynton, a 6-6 slugger from Georgia, hit .423 in 26 at-bats last year. Banjoff played multiple positions and batted .341, earning Freshman All-America honors.
Junior college transfer Griffin Everitt could also see time there when he's not catching.
Said Harvell: "Whoever's playing first base might just be the guy who has the hot hand at the time, who is swinging it the best."
---
A brief look at Nebraska baseball since 2010