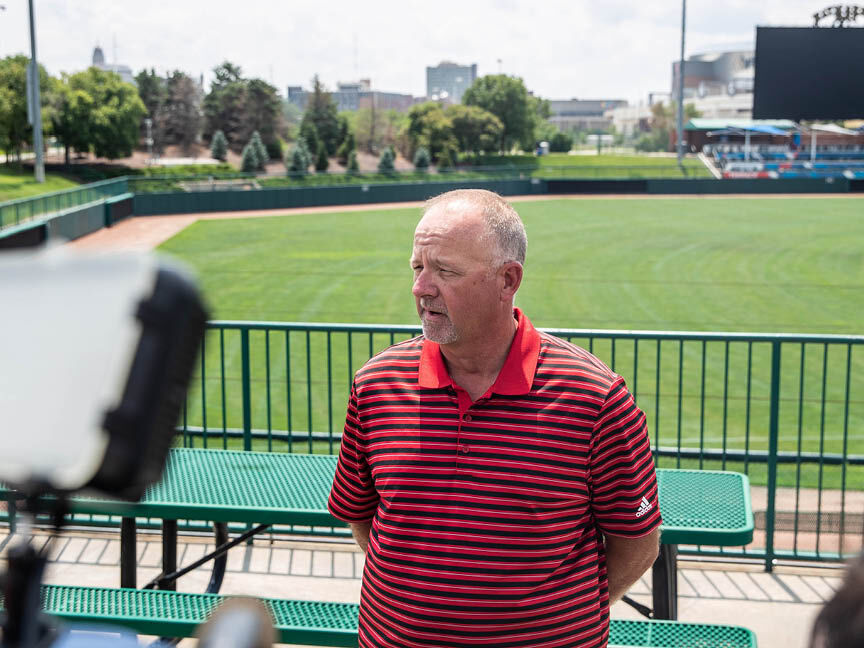 LINCOLN — On a hot and sunny afternoon perfect for baseball, Rob Childress made the short walk he took countless times at Haymarket Park a lifetime ago.
But this wasn't 2005 — the last of Childress's eight seasons as a pitching guru of an assistant coach at Nebraska — when he would stroll 30 yards across the left-field concourse from the coaches offices to the bullpen. On Tuesday, NU's new director of player development wore a loose golf polo and shorts and appeared at ease, stopping just shy of the field for a casual conversation with media members on his first official day on the job.
The location is symbolic in that Childress isn't in Lincoln to be a hands-on coach this time. He will be a liaison between players and NU's various support structures. He will watch practice. He will collaborate with — and perhaps mentor — coach Will Bolt and assistants Jeff Christy and Lance Harvell, all of whom worked for him at some point during Childress's 16-year head coaching career at Texas A&M that included 13 straight regional appearances and a pair of College World Series trips.
Is this a pit stop for the 52-year-old or something longer lasting?
"My sole focus is the here and now, being here with Will and Jeff and Lance and doing my very best to help these guys in every facet I can," Childress said. "And not looking out over the horizon."
The position is one Bolt originally created for former Husker Tanner Lubach upon his hire in June 2019 before Lubach left to join the Houston Astros organization in February 2020. Evan Helman had held the role since then after Bolt initially brought him aboard as a video and analytics intern.
Bolt said his vision is for the job to be for someone who has been involved in college baseball, whether as an up-and-comer or a veteran.
"We got the latter there with a former head coach and a guy who's won a lot of games," Bolt said.
The hire — which Childress accepted over multiple other offers — is the latest positive sign for a program that already had momentum coming off a Big Ten title. Bolt received a raise and contract extension earlier this month and Nebraska's entire top-40-ranked incoming recruiting class survived the major league draft.
The next step in Big Red's rise to more of a national player might be a closer look at facility upgrades. Childress, who has coached in SEC venues for more than a decade, said Haymarket Park and its playing surface are "as good as there is in the country." But room for improvement exists from an off-field, operational standpoint, he said.
What might that include? Office space, for one thing. Bolt noted that Childress is sharing a desk with longtime baseball secretary Renee Brinkmann. It would be ideal to have the team trainer and strength coach in the same building instead of split between the park and Memorial Stadium. Having nutrition options at their home base would be nice, too.
Not that the Huskers don't already have everything they need to be successful, Bolt said. But the facility is 20 years old — Bolt was a senior infielder for NU's first team there in 2002. There are things they could build, upgrade or reorganize to "streamline" what they do. The open area around and beyond left field is a blank canvas for the right vision.
"We've got plenty of space over here to do some things," Bolt said. "I'm not a very good artist, but I've sketched a few things after the season."
Other notes from Tuesday's media availability:
» Bolt confirmed that catcher Gunner Hellstrom and relief pitchers Trey Kissack and Max Schreiber have moved on from the team. All three have graduated but could have theoretically returned next season because of the extra year allowed by the NCAA after the pandemic. Hellstrom may stay on as a student assistant coach in the fall and possibly into the spring as well.
» Nebraska coaches were quietly thrilled with the draft in which three players were selected. Two of those — pitchers Cade Povich and Cam Wynne — were lightly recruited in-state prep players who developed at the junior college level before breaking out this spring.
Meanwhile, the Huskers protected their entire 2021 recruiting class. Perhaps the best surprise was South Dakota outfielder Chase Mason, a physically elite prospect who didn't pop onto professional radars until late because of a mix of geography, the pandemic and an ACL injury suffered during football season last fall.