LINCOLN — Nebraska players gathered under a cloudless sky Tuesday afternoon on the Haymarket Park grass. Though the weather still looked and felt like summer, fall ball had officially arrived.
The new group of Huskers — 18 newcomers and 20-plus returners — stretched on the field while music blared from the speakers. Leather popped as pitchers Dawson McCarville and Ethan Bradford threw in the bullpen.
"What a great day to play baseball," said a mustached Colby Gomes to no one in particular as he and the rest of the pitchers gathered for a short meeting.
Nebraska's first organized team practice in three months since wrapping up its season at an NCAA regional in Arkansas begins a five-week stretch of workouts culminating with the annual Red-White series running Oct. 11-13.
Among the key takeaways from the reigning Big Ten champions: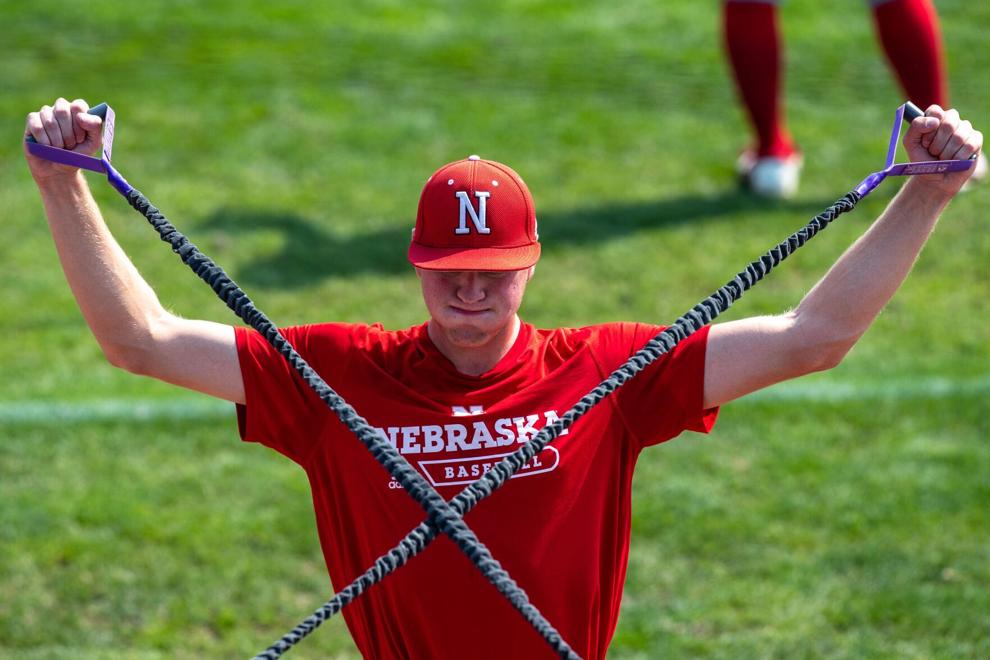 The new guys have arrived. Nebraska is incorporating a recruiting class that avoided any draft attrition and is ranked 35th nationally — its best in seven years — by Perfect Game. That includes 15 freshmen, two right-handed pitching transfers (Mason Ornelas and McCarville) and a junior college catcher (Nick Wimmers).
"They're really competitive guys, so they fit in well with the team," infielder/outfielder Cam Chick said. "They jell pretty well, they have good character, joke a lot."
Individuals are still trying to find their voices within the collective, coach Will Bolt said, which is natural this early. All are working at a "really high level," though, as they prepare to make contributions as early as next spring. It could come in the form of a regular role or a few helpful at-bats or innings as needed.
"I think you'd ask any of those guys, their expectation is to make an impact," Bolt said. "What that looks like remains to be seen. ... They came here with the expectation that they were going to have a chance to help a championship club."
Injury update. One of the most touted of the new freshmen, outfielder Chase Mason, will be limited this fall, Bolt said, after the South Dakota product suffered "a little bit of a setback" in the summer. He wore a knee brace on his left leg and didn't go through all the team drills Tuesday.
A few pitchers may also be less than full go right away this fall, including left-hander Kyle Perry. Another former starter and reliever, Gomes, is on track to pitch at some point this fall after missing the spring recovering from shoulder surgery.
Chick received medical clearance this week to be unrestricted after rehabbing from a knee procedure in the summer.
Opportunities in the outfield. Bolt called the outfield competition "wide open" after the Huskers graduated a slew of multiyear veterans including all three regular starters. Mojo Hagge won't be back for his 10th year of eligibility, the coach joked.
Chick said he will likely continue to swing between second base and the outfield — he started 12 times in left along with 15 apiece at second and designated hitter last year — and Leighton Banjoff also has experience there.
Bolt alluded to redshirt freshmen Tyler Palmer and Garrett Anglim as two favorable options coming off strong summers as well as junior Luke Sartori, who fought injuries last year. Mason will also be a candidate to watch when healthy.
The Childress Effect. Former Texas A&M coach Rob Childress drew more praise Tuesday as NU's director of player development settles in from his summer hire. Perry called him a "baseball genius" whose brain everyone wants to pick.
Bolt said it's been great seeing his mentor every day, even if he's getting some trash talk from Childress for not beating him to the office some days. Players are already being challenged, encouraged or otherwise engaged depending on what Childress sees from them on and off the field.
"We didn't bring him in here just to throw BP," Bolt said. "He's here to help us win, and that's what he's done since he's been here."
What of the rotation? Bolt said Nebraska will scrimmage three days a week right away after doing so twice a week last fall. That's largely because the team has enough pitchers who can throw two or three innings — maybe seven or eight such players — to make matchups competitive. That includes Ornelas and McCarville along with a host of returners.
At least two rotation spots are available along with the closer role and multiple setup jobs.
New coach, familiar face. Former NU catcher Gunner Hellstrom will serve as a student assistant this year, forgoing his final year of eligibility to focus on finishing his degree and starting a career in coaching. Bolt said the Californian has been like a sponge already.
"He's Coach Hellstrom now," Bolt said. "Good to have him back."​
---