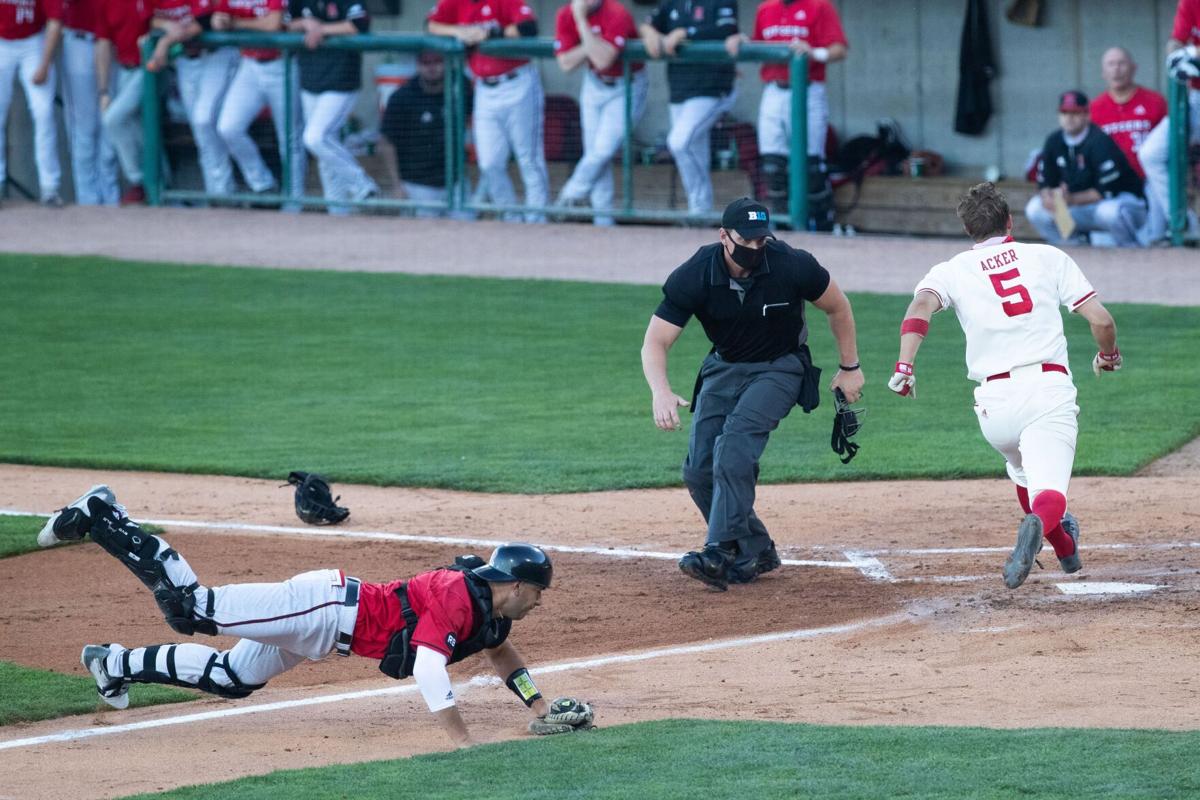 LINCOLN — Will Bolt didn't sense anybody playing tight. Cade Povich felt everyone approached the evening like any other game.
But playing in front of its biggest crowd of the season and in the top 25 for the first time in years, Nebraska faded late in a 9-4 loss to Rutgers. The bullpen's lengthy scoreless streak ended in emphatic fashion as NU lost on a Friday for the first time in more than a month.
"It just was a sloppy finish to a game where we had the lead," NU coach Will Bolt said. "We had a shot to go finish it off with the guys that have finished it off so well for us this year. And it just didn't happen today."
No. 22 Nebraska appeared primed to continue its winning ways as it took a 3-2 lead into the eighth inning. But two walks and two hit batters tied the game, and the visitors added a sacrifice fly, RBI double and run-scoring groundout to halt a shutout stretch by NU relievers at 24 2/3 innings.
The three-game series continues Saturday at 4 p.m. The Huskers (20-8) remain in first place in the Big Ten, a full game up on idle Michigan.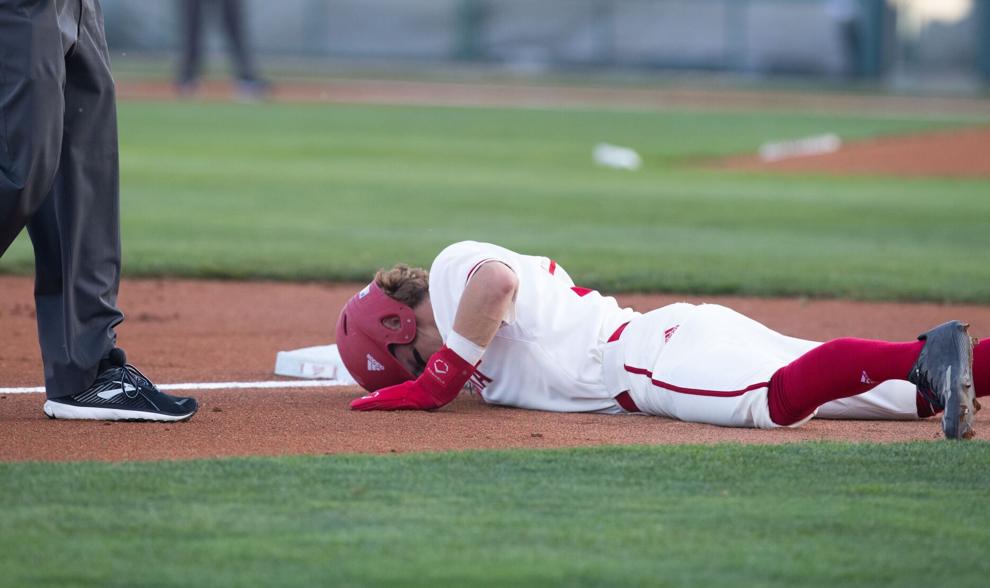 Rutgers pitching made sure NU's lineup didn't get right after a strikeout-heavy, anti-clutch weekend at Michigan State. The Huskers were 0 for 6 with runners in scoring position Friday, getting one run via a two-base Scarlet Knights throwing error and a pair on solo homers by Joe Acker and Jaxon Hallmark. They managed just a walk and a hit batter across the next four innings before a modest uprising in the ninth.
RU (15-13) added three insurance runs in the ninth on another unsightly sequence that included a fielding error, a single off pitcher Max Schreiber and a hit batter along with three singles.
Nebraska had been 13-0 when leading after seven innings.
"It was just one of those days," Nebraska starter Cade Povich said. "I don't think the next two days will be like they are today."
A Haymarket Park crowd of 5,013 had plenty of reason to roar earlier in the evening as Nebraska took the lead just two batters into the bottom of the first. Acker drew a walk off a full count and Hallmark laid down a bunt that Rutgers pitcher Harry Rutkowski threw wildly into right field to score a run. Still the runner at third base eventually ran into an out on a bouncer to third base and NU didn't score again in the frame.
Rutgers went in order for two innings against Povich before taking a 2-1 lead in the third. It could have been worse for NU's left-hander — the visitors began by walking and singling twice to load the bases with no outs. A crisp RBI hit to left by freshman Ryan Lasko briefly tied the game, then Chris Brito singled to the same spot to drive in another. But leftfielder Mojo Hagge threw a strike to the plate and catcher Griffin Everitt's swipe tag grazed the foot of the trail runner in a sequence that helped prevent any further damage.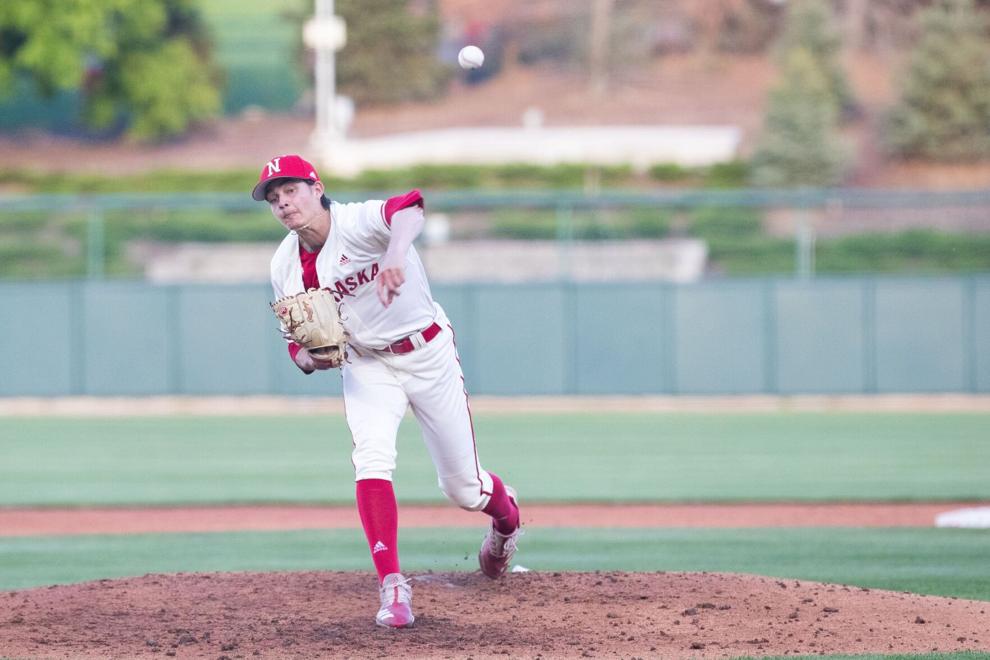 The Huskers immediately answered in the bottom of the frame when Acker swatted a liner that landed in front of a diving centerfielder and rolled to the wall for an inside-the-park home run. Big Red — which had pounded just one homer in its previous two series combined — went ahead in the fifth when Hallmark deposited the first pitch he saw over the wall in left-center.
Pitching took over from there for a time. Povich finished his five-inning start — giving up six singles and one walk against one of the Big Ten's best power lineups — and gave way to Jake Bunz, who went two-plus effective frames. The hard-throwing lefty hit a snag in the seventh when he issued two walks but coaxed a 5-3 double play to preserve the lead.
Then disaster struck in the seventh. Bunz issued a walk to start, and Cam Wynne came on to allow three more runs as Rutgers capitalized on free passes and put the ball in play with men on. Schreiber allowed three runs in the ninth — one earned — on two more hits and a plunked batter.
Rutkowski went six innings and 100 pitches for Rutgers, fanning seven in his 40th career start. Three relievers kept the Huskers at bay from there until a Hallmark sacrifice fly in the ninth.
The Scarlet Knight defense — pressured by not only NU's offense at times but also the crowd after having not played before an announced gathering greater than 505 this season — committed three errors.
Bolt said he is "a thousand percent" confident Nebraska will bounce back the rest of the weekend as it endeavors to win an eighth straight conference series.
"I have no doubt; I have no doubt whatsoever," Bolt said. "… Win or lose (Friday), we know we've got to come out and play a competitive brand of baseball (Saturday)."​
---