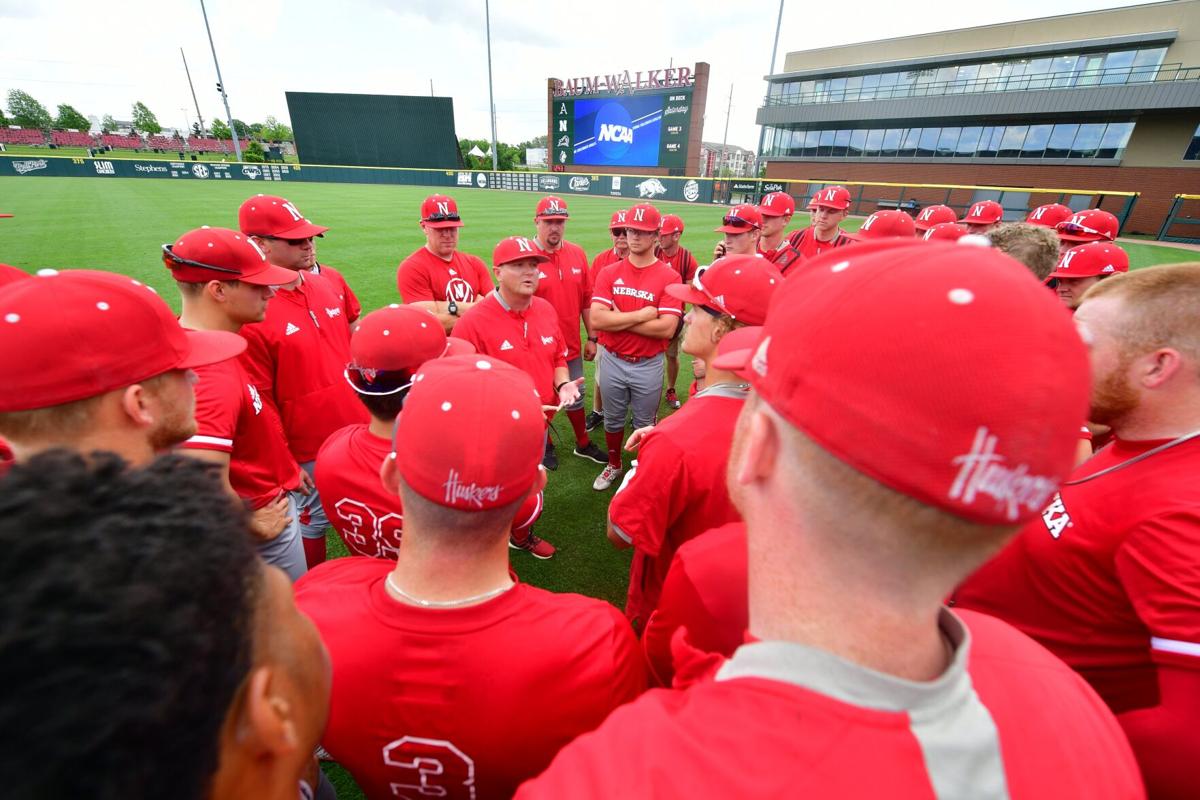 Nebraska vs. Northeastern
Fayetteville, Arkansas (Regional)
Radio: Husker Sports Network
2 p.m. Friday: Arkansas vs. NJIT
7 p.m. Friday: Nebraska vs. Northeastern
2 p.m. Saturday: Arkansas/NJIT loser vs. Nebraska/Northeastern loser
8 p.m. Saturday: Arkansas/NJIT winner vs. Nebraska/Northeastern winner
**Sunday games at 2 p.m. and 8 p.m. Monday game if necessary at 6 p.m. (time subject to change).
Scouting Nebraska (31-12 Big Ten): The Huskers did pretty much everything they could within the Big Ten's league-only mandate this spring, winning the conference title by 3 1/2 games and entering regionals triumphant in 11 of their last 13 contests. The takeaway from their haul of B1G individual honors is that it was a team-wide effort. Thirteen different players made double-digit starts in the lineup while the rotation stayed consistent ahead of a solid bullpen. Big Ten Freshman of the Year Max Anderson broke out with a .337 average and seven homers while senior Jaxon Hallmark led the team with a .341 mark and 16 steals. B1G Player of the Year Spencer Schwellenbach drove in an NU-best 35 RBIs while playing nearly flawless at shortstop and collecting nine saves with a 0.71 ERA as the lights-out closer. … Big Red remains among the best in the country in key areas like ERA (3.77, 22nd), fielding percentage (.982, seventh) and scoring (7.0 runs/game, 39th). It ranks as above average by most statistical measures, with mostly harmless exceptions like sacrifice flies (nine, 265th), triples per game (0.16, 192nd) and hit batters (45, 207th). … Lefty ace Cade Povich will start Friday as usual, with coach Will Bolt saying Thursday the team was "convicted" in keeping him on regular rest. The Bellevue West grad has a 2.82 ERA and 79 strikeouts in 73 1/3 innings while walking 19. NU hasn't announced starters beyond that but has previously followed with regular Saturday hurler Chance Hroch and the combination of Kyle Perry and Shay Schanaman for a potential third game. Bolt said Nebraska will also look to "maximize" Schwellenbach on the mound, perhaps in more unorthodox roles as needed.
Scouting Northeastern (36-10, 20-3 CAA): The Huskies dominated the Colonial Athletic Association regular season and rallied to win the tournament too, taking the last three games after dropping the second of the weekend. The clincher came when Max Viera hammered a walk-off homer in the 10th inning to break a 10-10 tie, sending the program to its second regional in three full seasons. … Notably, neither ace Cam Schlittler (1.72 earned-run average) nor Saturday starter Kyle Murphy (3.86) will start against Nebraska after both threw twice in the CAA tourney last weekend. That job will fall to redshirt freshman right-hander Sebastian Keane, who was drafted in the 11th round of the 2019 MLB draft but opted for college. Across 11 starts and 66 1/3 innings, Keane owns an ERA of 3.93 with 69 strikeouts and 19 walks. The staff ERA of 3.12 is third nationally, with arms like Brian Rodriguez (1.32) and Brandon Dufault (3.94, five saves) anchoring the bullpen. The group walks just 2.86 batters per inning, ninth best in the country. … Northeastern's offense runs on speed. Only two teams in Division I average more steals per game (2.57) and six different players have swiped double-digit bags. The big power threat is third-year outfielder Jared Dupere, whose 21 homers are third-most nationally. His .351 batting average is also tops on the team followed by Danny Crossen (.345), Jeff Costello (.342) and Viera (.341). The Huskies will also sacrifice bunt (23, 93rd nationally). … Northeastern has allowed just 25 unearned runs in 46 games. Its fielding percentage (.980) ranks 14th among DI schools.
Scouting Arkansas (46-10, 22-8 SEC): The superlatives are all there for the Hogs, who have been the top-ranked team for months and are the No. 1 overall national seed after sweeping the SEC regular-season and tournament titles. Want offense? The team is scoring at a clip of close to eight runs per game (16th nationally) and outscoring foes by an average of 3.5 runs per contest. Pitching? The staff ERA of 3.80 is 24th, led by ace lefty Patrick Wicklander (2.19 ERA) and college baseball's best pitcher in closer Kevin Kopps (0.81 ERA, 10 wins and 10 saves in 66 1/3 innings with 105 strikeouts and 15 walks). What about defense? It's a top-10 fielding percentage team highlighted by an electric double-play combo of shortstop Jalen Battles and second baseman Robert Moore up the middle along with catcher Casey Opitz. … Arkansas's considerable depth could be tested a bit following a rash of recent injuries. The team's top hitter, Brady Slavens, is on the regional roster but may not play following an ankle injury in the SEC tourney. Starter Peyton Pallette is also out following an arm injury late in the regular season while a bicep cramp last weekend will keep swing pitcher Zebulon Vermillion out for the regional. … The Razorbacks take a major-league approach to scoring runs, working walks (321, third nationally) and hitting homers (1.66 per game, fifth). They don't sacrifice bunt (10, 246th) or risk much on the base paths (0.73 steals per game, 206th). Five Hogs have double-digit long balls including Cayden Wallace (.291, 12), Christian Franklin (.286, 12) and Moore (.278, 13). … The Hogs are starting righty Caleb Bolden against NJIT and coach Dave Van Horn indicated ace lefty Patrick Wicklander or southpaw Lael Lockhart would start Saturday's second game.
Scouting NJIT (26-22, 25-18 America East): The Highlanders lost 12 of their 15 games to begin the season and completed an improbable rebound into a regional when inclement weather halted the conference tournament last weekend. As the only undefeated team remaining, the school was awarded the auto bid, which they learned of and celebrated in a parking lot. … Ace Tyler Stafflinger will throw Friday, with the righty bringing a 3.77 ERA in 7 2/3 innings. The staff's collective ERA (4.66, 94th) has been aided by a low walk rate (3.24 per nine innings, 24th), though the Highlanders don't strike out many (6.5 K/9, 276th). … Only one player, Julio Marcano, owns more than six homers this year. The senior has 10 with 42 RBIs and a .333 average. … Fielding has been an adventure for the New Jersey Institute of Technology, with a .961 fielding percentage (238th). That translates to 61 errors and 37 unearned runs in 48 games.
Dugout chatter: Northeastern coach Mike Glavine is the brother of former MLB pitcher Tom Glavine. Another random regional fact: Arkansas senior catcher Casey Opitz is the younger brother of former Husker player Jake Opitz, who is now a minor league coach in the Colorado Rockies organization. … Bolt and Van Horn chatted Thursday as their teams went through workouts. Bolt said the men talked about their seasons and the ballpark a bit. Said Van Horn: "I don't particularly like playing former players and friends and coaches because there's always one of us that ain't going to be real happy at the end of the day. But more than anything, just happy for them and their families that they're in the position that they're in." … Northeastern and Nebraska have never met. The Huskies are based in Boston, with their field a mile away from Fenway Park. Glavine said the word his staff kept using the word "balanced" to describe what they saw while scouting the Huskers. "We're not worried about one guy beating us," Glavine said. "They just have too many guys." … Only five teams enter regionals in the top 40 nationally in scoring, ERA and fielding percentage. Three of them are in the Fayetteville Regional in Arkansas, Nebraska and Northeastern.