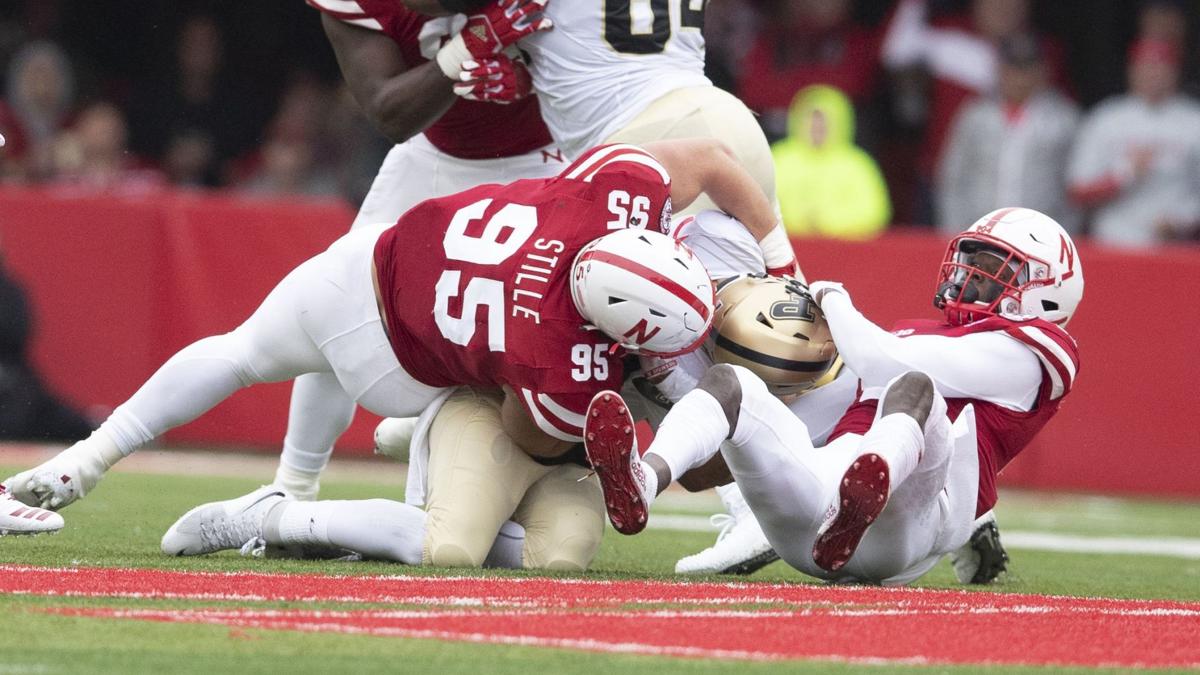 LINCOLN — Nebraska added four new Blackshirts this week, bringing the team total to 12 coming off the Huskers' first win of the season.
Defensive coordinator Erik Chinander said safety Tre Neal, cornerback Lamar Jackson and defensive linemen and brothers Carlos and Khalil Davis all earned the honorary practice jerseys coming off the 53-28 outcome against Minnesota.
"We wanted to get all the starters," Chinander said. "Waiting for an opportune time, obviously. Not a good time when you lose a football game. Guys have learned how to practice, learning what we want out of the defense. This game, not doing their own stuff, everybody's kind of playing within the defense. So it was a good time to get the starters in the Blackshirts."
Sophomore defensive end Ben Stille was also offered a Blackshirt, but the Ashland-Greenwood graduate turned it down because he didn't believe he practiced well enough.
Jackson, a junior, had previously held a Blackshirt and received one this week coming off a pair of strong showings. Chinander said the corner is employing better fundamentals, such as turning his head and looking for the football on certain pass plays.
"It means my hard work is paying off and stuff like that," Jackson said. "And that my coaches, I'm getting the respect of my coaches, as well as my teammates in the locker room. So I'm in a good place right now. I'm happy I got it. I plan on keeping improving."
Neal, a senior and UCF graduate transfer, joins the Davis twins who both wore the jerseys last season. They spoke together after practice that it took a little extra effort to acquire them this time.
"It's an honor to get it back," Khalil Davis said. "Like a coach told me before, you earn the Blackshirt way before you get it. Now once you get it, you keep doing the same things you've been doing but just with that little edge, work a little harder to keep it."
Seven defenders received the coveted practice jerseys after the Colorado game in linebackers Luke Gifford, Tyrin Ferguson, Dedrick Young and Mo Barry, linemen Mick Stoltenberg and Freedom Akinmoladun and cornerback Dicaprio Bootle. Safety Aaron Williams landed one following the Troy game.
"I think a couple cool things happened this week," Frost said during his weekly teleconference. "We hadn't given out Blackshirts for awhile, and the defense played well enough to get us a win. We decided to give them to the entire starting defense and I think that hopefully lifts the spirits and make some of those guys wanna go out and play even harder."
Domann's versatility helps
Jovan Dewitt and Travis Fisher stood only a few feet apart talking to reporters inside the Hawks Center following Tuesday's practice. But the assistant coaches' vision for JoJo Domann's role is something they're playfully split about.
Domann appeared on Monday's depth chart as a co-No. 2 outside linebacker for the first time after having played exclusively as a defensive back previously. The 6-foot-1, 225-pound sophomore also makes an impact on all four punt and kickoff units, coaches say, despite recording just one tackle in three games this fall because of injuries.
"JoJo is a DB at heart," said Fisher, the defensive backs coach. "But JoJo is a good football player. So all those positions that you see down, that's a DB. That's just like a down safety, just like a nickelback. So it's the same position."
Dewitt said Domann's versatility allows Nebraska to import different personnel groupings instead of changing schematically in certain situations. He's good covering the slot and can move closer to the line of scrimmage if necessary. The Huskers could also use him in nickel packages.
"He's got to get a little of that DB out of him yet in terms of when we're going down in the box," said Dewitt, who coaches outside linebackers. "But it's coming along."
Frost said Monday that the move also shores up depth at outside linebacker, especially with Ferguson fighting nagging injuries.
Said Frost: "That's just a guy that knows safety that can also play nickel for us."
Quick hits
» Chinander said the Blackshirts are still "a country mile" from playing a perfect game. They can't give up big plays because of fatigue or lose technique as they have. The pass rush hasn't been great in part because not everyone is doing it consistently.
Still, the coordinator said, Saturday was an example of what Nebraska wants to see overall. Rather than get in a shootout or keep the defense on the field for extended snaps when the offense is struggling, the Huskers jumped to a quick lead and were free to be more aggressive.
"This game, we got some stops early. The offense was scoring like crazy. They were doing an unbelievable job," Chinander said. "That's kind of how the whole system works."
» Tight ends coach Sean Beckton spent part of Monday recruiting in Georgia while Dewitt was in Florida for part of the day.
» The Bethune-Cookman attack has similarities to Nebraska's, Chinander said. The quarterback is mobile and can throw. Run-pass options are prevalent, too.
"This is a good football team we're playing," Chinander said. "It's gonna be a good game for everybody to watch. We've got to be assignment-sound."
» Dewitt, who also coaches special teams, said the Huskers have gotten "dramatically" better at things like understanding leverage and where to be on the field and executing tackles. But there's still progress to be made.
"The big thing obviously is still, when you have unblocked players to the ball carrier, you gotta make the tackle," Dewitt said. "On the one big return (Minnesota's kickoff return of 87 yards in the fourth quarter), we had two unblocked players, and one kid fell down and one guy missed the tackle."
Nebraska football's 25 most common opponents
Who are the Huskers' biggest gridiron rivals? Check out a photo collection featuring Nebraska's 25 most-faced opponents, and be sure to follow Husker History on Twitter for more tidbits about NU's storied football history.