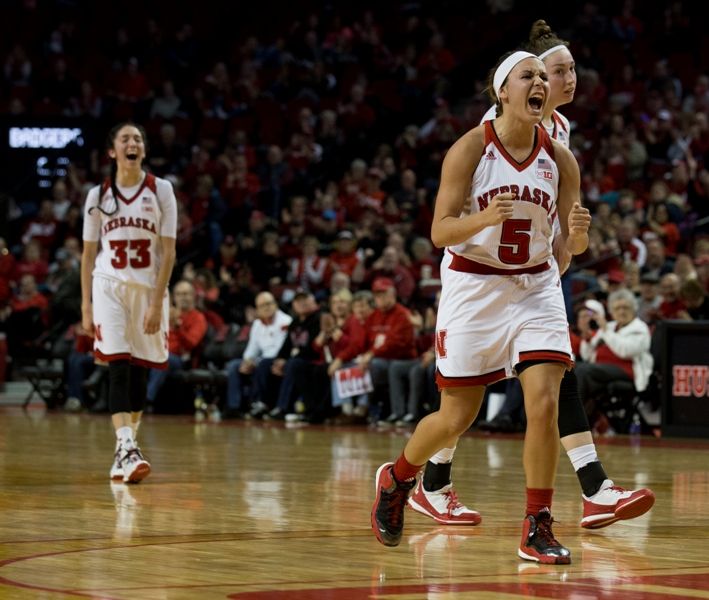 LINCOLN — One of the top players on the Nebraska women's basketball team said that abuse and mistreatment allegations against former coach Connie Yori are false and the result of the team's immaturity.
Natalie Romeo, who set the school record for 3-pointers this season and landed second-team All-Big Ten honors, told The World-Herald she asked to be released from her scholarship Wednesday, one day after Yori resigned amid a two-month investigation into the program. She also supported Yori, who resigned Tuesday and received a $1.2 million settlement package.
"None of the allegations are true," Romeo said. "Coach Yori is one of the best coaches I ever played for."
Romeo said she hasn't firmly decided to transfer, but she's considering playing on the West Coast. She's originally from Martinez, California. She'll wait to see who Nebraska hires as its coach.
Marc Boehm, executive associate athletic director at NU, confirmed Romeo was granted permission to contact other schools with the intent to transfer.
"We appreciate the hard work Natalie put into our program the past two years," Boehm said. "We wish her the best in the future."
Romeo said the last several days have been difficult. She said the university's investigation — which included a lengthy interrogation session with compliance and administrators watching practice — played a factor in the team's struggles at the end of the season, as players knew some supported Yori and some didn't.
"It kind of tore us apart," Romeo said.
The 5-foot-7 point guard averaged 16 points, 3.0 assists, 2.9 rebounds and a team-high 35.1 minutes, while making a school record 104 3-pointers. Romeo said she never witnessed players being treated poorly by Yori or her staff.
Practices this season, Romeo said, were "extremely, ridiculously easy" — far easier than they had been in a previous year. Frustrations over small, inconsequential things — such as being disciplined for not hustling in practice — bloomed into full-blown complaints.
"It just started as small talk, and it grew and grew from there," Romeo said. "It was an issue of immaturity on the team. It wasn't an issue with the coaches."
Romeo is one of two Huskers to receive transfer releases. The other is guard Jasmine Cincore, who, according to her AAU coach Tom Jackson, is already looking at schools, including Georgia State.
Jackson said Cincore told him her interest in transferring was unrelated to player abuse, but related more to the "interpersonal skills of the head coach," who paid "lip service" to Cincore on playing time and her role on the team.
"It was just a difference of opinion," said Jackson, who added that the assistant coach who originally recruited Cincore, Shimmy Gray-Miller, took a job at Florida after her freshman year.
Romeo's comments, the first from a current member of the team, were similar to those made by Nathan Schlautman, who practiced with the Huskers the last four seasons and went to more than 300 practices. Schlautman said practices were easiest this year out of the four seasons, and players were unwilling to be coached. Schlautman said players were "soft," "entitled" and "uncoachable."
The World-Herald has made calls to other players, but none have commented. The World-Herald on Thursday called NU women's basketball trainer Julie Tuttle, who said "can't talk, won't talk" and hung up.
Nebraska continues its search for a new coach. South Dakota coach Amy Williams is the leading candidate for the job, according to a tweet from Sioux Falls sports talk radio host Jeff Thurn. Williams is a former Nebraska player who just led USD to the WNIT championship.