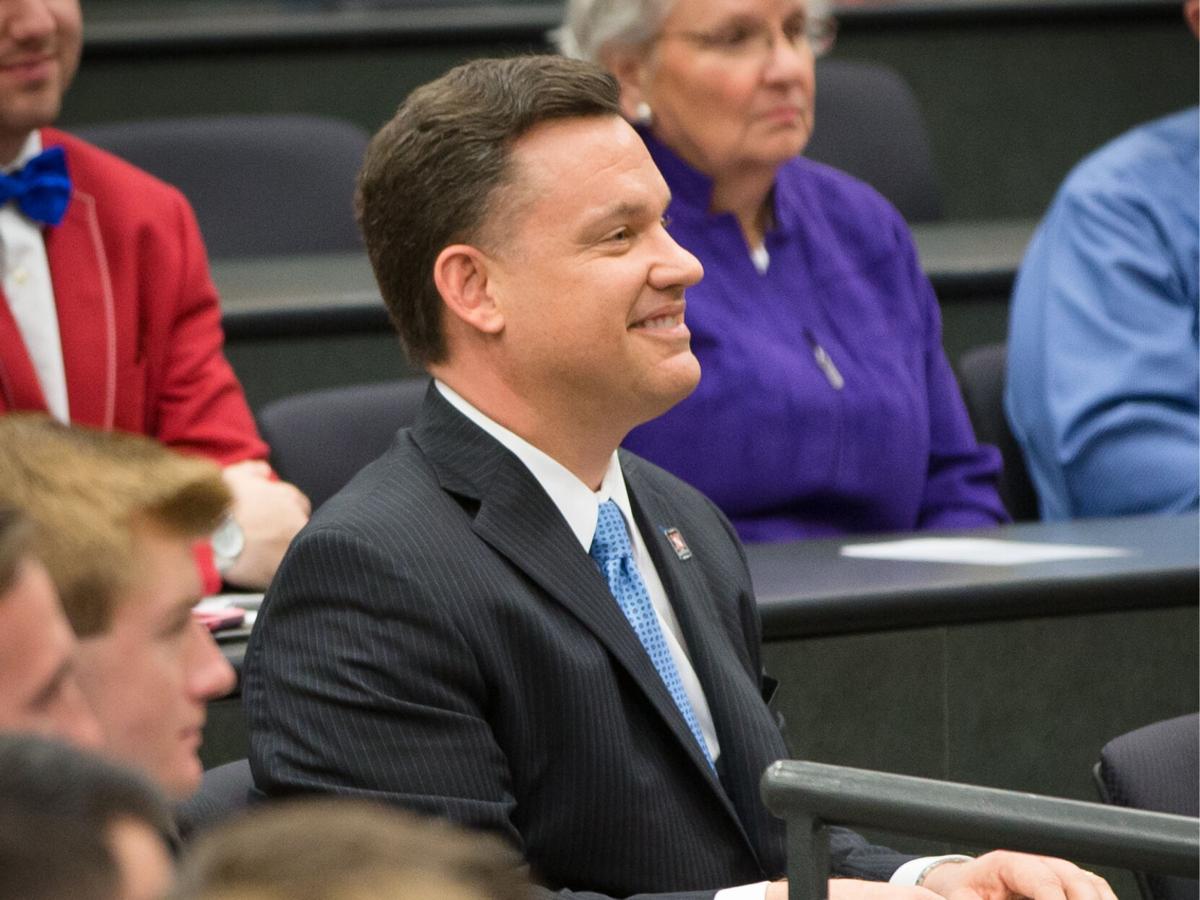 LINCOLN — Nebraska's former attorney general has formed a new limited liability company designed to help Husker football players, and perhaps other NU athletes, earn money in the NIL era.
Athlete Branding & Marketing LLC (ABM for short) was registered July 13, 2021, with the Nebraska Secretary of State's office and is owned by Jon Bruning, the former attorney general.
Former Nebraska football chief of staff Gerrod Lambrecht, who left NU earlier this month, shared in a tweet Friday that ABM is now live. A call to Lambrecht — whose title with ABM is not known — was not immediately returned. 
"I'm going to miss him, but he had another business opportunity that he wanted to go try," NU coach Scott Frost said Aug. 6 of Lambrecht's departure. "He loves these players dearly, too, and the guys know that. I think part of the reason he's leaving is looking for an opportunity to be able to help them in a different way."
ABM's first two clients are Adrian Martinez and Cam Taylor-Britt. College athletes are now allowed to profit off their name, image and likeness (NIL). Dozens of Husker athletes have announced various partnerships with companies over the last couple months.
The state of Nebraska said Thursday that Bruning provided the minimum amount of information required to set up the LLC, so it's not clear how many employees it has or how the agency will function.
In February 2019, Bruning briefly served as legal counsel for former Nebraska football player Maurice Washington. A different attorney eventually represented Washington through his court proceedings.
Bruning is a longtime friend of Nebraska football coach Scott Frost and Associate A.D. for Football Matt Davison. A message left at Bruning's office Friday was not returned.
NU has billed itself as being on the cutting edge of the NIL movement through its partnership with Opendorse — a Lincoln-based company specializing in athlete endorsements — but other schools have appeared to move more quickly for bigger bucks in the NIL arena.
A protein bar company in Utah, for example, signed up the entire BYU football team, and is providing the cost of tuition for walk-ons. A gym owner in Miami, Florida, offered all Hurricane players an NIL deal in July, and Miami QB D'Eriq King signed a deal with the NHL's Florida Panthers. At Michigan, fans can purchase the name and number of their favorite players through the university's official clothier. Alabama coach Nick Saban said his quarterback, Bryce Young, has NIL deals netting him nearly $1 million.
Nebraska players have announced NIL deals in fits and starts. Martinez appears to have had the biggest ones among football players — a partnership with Degree deodorant is one of his endorsements — and volleyball player Lexi Sun has partnered with Borsheims.
But the majority of financial supporters have been small, local businesses such as Muchachos, a New Mexican BBQ fusion restaurant that sponsors members of the Husker offensive line, or Tavern 180, which sponsors a podcast with basketball players Bryce and Trey McGowens.