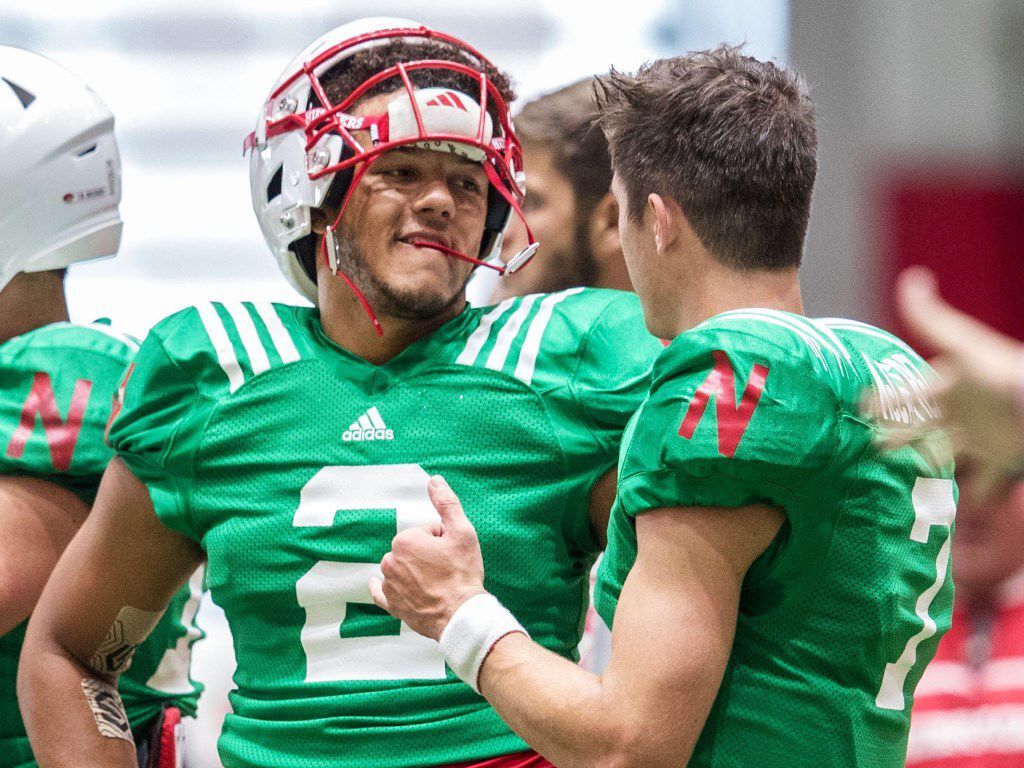 The extended, disjointed offseason has been reflective for Adrian Martinez.
Nebraska's junior quarterback joined a podcast in June and explored how football could control how he felt about himself. In August, one day before the Big Ten postponed the football season, he spoke about appreciating what he has and staying in the moment.
On Thursday, NU's two-year starter acknowledged that he is in a quarterback competition with redshirt freshman Luke McCaffrey. And this version of him is actually quite happy about what he sees as the next natural step in his progression.
"When I was recruited, I was told it was an open competition — and that's the case regardless of what year it is," the 20-year-old Martinez said. "The best quarterback is going to play. Period. Luke's been pushing me and I love it.
"I'm here for the competition. He's a talented guy. He gets after it, I get after it. I think that's definitely helped me progress as a player. It's gotten some fire out of me and I think it's great for both of us and it's great for this team."
Scott Frost said earlier in the offseason that Martinez might have put his preparation on "cruise control" last year as the no-doubt starter. Amid multiple injuries and surrounded by an inconsistent supporting cast, he threw 10 touchdown passes against nine interceptions while completing 59% of his passes.
Thursday's interview — which also included McCaffrey and quarterbacks coach Mario Verduzco — did little to change the notion that the job is still Martinez's to lose, though all participants agreed the gap between the two quarterbacks has shrunk since last year.
Verduzco didn't commit to a clear-cut leader in the fall evaluation and he responded to questions comparing the two with considerably shorter answers. The difference in experience isn't a huge factor, he said, considering McCaffrey has gotten a "boatload" of reps with NU's top offense in recent weeks. Their physical skills are "very similar," too. Saturday's live scrimmage "will be a factor, but I don't know if it will be the overall major factor," he said.
Any decision ultimately falls to Frost, whether it's navigating some kind of two-quarterback system or getting both players on the field at the same time — which happened when McCaffrey lined up at receiver against Maryland last year.
"When you have that availability," Verduzco said, "it certainly helps you."
Coaches have confidence freshman Logan Smothers and sophomore walk-on Matt Masker could execute the offense if needed. But since last year, former backup Noah Vedral transferred to Rutgers and McCaffrey elevated his game enough to be at least a solid No. 2 option in a spread system that frequently asks its quarterbacks to run.
McCaffrey's throwing motion and thrust on the ball have been among his biggest offseason improvements, he and his coach agreed. What the 19-year-old missed in spring reps, he gained by spending extra time back in Colorado with his family. That included his older brother, Carolina Panthers running back Christian McCaffrey, and seeing firsthand his daily work ethic.
Listed at 200 pounds last year, McCaffrey said he's up to a healthy 205 now. He called himself still a "young guy" on the team, learning when to be vocal and when to defer.
He appeared in four games a season ago. One was a single snap in an emergency role against Northwestern, and one was for two drives against Iowa that included a 39-yard touchdown pass. The others were against Maryland — when he played receiver before moving to QB in mop-up duty — and Indiana, when he completed 5 of 6 passes for 71 yards and a score and ran for 76 more yards.
Martinez has played a key role in helping him settle in since he arrived on campus 22 months ago.
"I'm so thankful to have a guy like him, a leader like him, who's ahead of me that I can look up to," McCaffrey said. "Since the first day I've been on campus he's welcomed me with open arms and shown me the way of the road here."
Frost was noncommittal about the quarterback battle during his monthly radio appearance Wednesday. Offensive coordinator Matt Lubick last week called Martinez the starter "as of today" in a "friendly competition."
Nebraska is 9-12 when Martinez starts — and 0-3 when he doesn't. Injuries have also hampered him, including a knee sprain in the 2018 opener against Colorado and a knee injury against Northwestern last year that cost him two games. He returned against Purdue and injured his nonthrowing left shoulder, which he had surgery on in the offseason.
Maybe it was all part of his evolution as a quarterback. Martinez said Thursday that he feels fully healthy and ready to focus on the details of bouncing back in the weeks to come.
"I would say I'm feeling as good as I have in a while," Martinez said. "That's obviously exciting for me and I'm ready to get out there and show it."