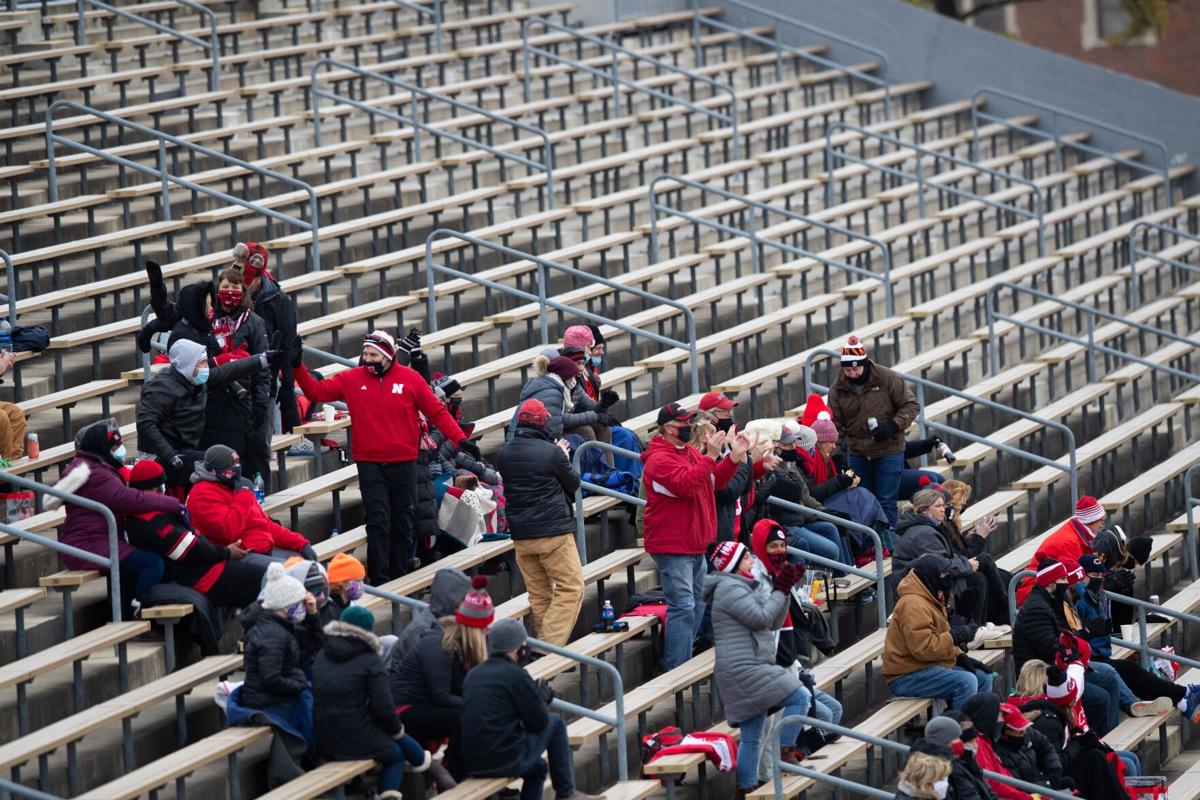 Shane Smothers was upset with himself. The last thing he wanted to do at a cold and blustery football game was drop his popcorn.
The father of Nebraska true freshman quarterback Logan Smothers imagines the sequence would have played out differently under normal circumstances in a crowded stadium. No one would have noticed or cared about fumbled concessions. Just part of the chaos of a standard game day.
The moment passed differently on a gray early afternoon Dec. 5 in West Lafayette, Indiana, toward the end of a Big Ten season played with only family in the stands amid a pandemic. Smothers – who had driven from his home in Alabama with wife, Amy, and two younger sons – watched his spilled popcorn scatter and slowly blow toward another group sitting a few rows ahead as the Huskers and Purdue clashed on the field.
Retelling the story this week, the couple needed a few minutes to recall which NU player that family was supporting. Was it Ben Stille? Austin Allen? Will Honas?
Nope, Shane Smothers finally remembered. They were there for Jack Stoll. Smothers warned them of the impending snack wave headed their way. They laughed. A while later, one of them insisted on buying him another popcorn.
"After that we started talking," Smothers said. "They were awesome too."
Countless such exchanges occurred throughout seven Nebraska games in 2020 – Rutgers didn't allow anyone to attend the season finale – as a small band of parents from around the country bonded from metal bleachers while watching their sons in red. They were the entire Husker crowd. They were the cheer section.
And while all want nothing more than a return to normalcy next season, they agreed those spaced-out weekly gatherings brought them closer than they ever would have thought.
Deeper connection really began in August, when eight Nebraska players sued the Big Ten and parents formed their own group to protest the league's postponement of football season. Many parents of 2019 NU signees that were part of their own text group saw that expand to moms and dads of the entire team in a massive chat called "Husker Family." They coordinated with parents from other Big Ten schools, trading emails and Zoom calls.
"Each other is all we had," said Leisa Piper, whose redshirt freshman son, Ethan Piper, moved into a starting role at left guard this year.
When the season finally arrived in late October, the parents left their respective bubbles to gather with a sense that they had already accomplished something together.
Teddi Domann – mother of senior outside linebacker JoJo Domann – said the season opener at Ohio State felt like seeing school friends again after a long summer. Parents from both teams waiting in line to enter through the same doors enjoyed a sort of impromptu reunion. Hey, everyone looked the same in person as they did on Zoom!
"We were united around what really mattered, and that was our boys being able to play," Domann said. "Midwesterners unite around things that don't seem right."
Once the games started, those felt odd too. Domann, who has a background in marketing, was struck by the oddity that someone had to learn the nuances of piping fake crowd noise into a mostly empty stadium. She never realized how focused she was on her son's game until she looked around, almost startled, at a sea of empty seats broken only by cardboard cutouts of fans flapping in the breeze.
"I was like, 'Oh yeah, I'm in a pandemic,'" Domann said.
JoJo's mom said she never really got into the chants before this year – fans and cheerleaders did that, she said – but earned a reputation this season among her peers as one of the loudest and a leader for standard cries of "Go Big Red!" and "Defense!" Especially at home, where Nebraska's ongoing NCAA-record sellout streak was put on hold, parents embraced that they had to pick up the slack. On the road, they did everything they could to compete with the incessant Wildcat roars at Northwestern and locomotive whistles at Purdue.
Many families made themselves heard – those supporting players like Simon Otte, Christian Gaylord and Stille were popular nominations from other parents. Les and Leisa Piper, who went to five games, were boisterous contributors too. So much so that during one game, Nebraska offensive line coach Greg Austin asked his players if they knew who was yelling so loudly.
"Ethan didn't say a word," Leisa Piper said. "He knew it was us."
Perks came with the extra vocal duty. Most Husker families who went to Ohio State in 2018 and walked two-plus miles from their cars to the Horseshoe parked right outside the stadium this time. Aside from the road game at Iowa – where visitors had to sit beyond the north end zone – prime seats were always available around the 50-yard line. There was room to stand and stretch. No lines at the concession stands or bathrooms either.
For almost everyone, game days were the only time they saw their sons in person all fall. The Pipers sat in their car and visited with Ethan and his teammates at a distance, a departure from the typical congregations outside the North Stadium locker room in seasons past. For road games, parents got to chat with their sons for about 20 minutes – with everyone masked and apart – before the team bus left.
Chris and Holli Nelson, parents of sophomore outside linebacker Garrett, were always sure to wave. They didn't find out their boy had lost two teeth from the Penn State game until a week later.
"The parents were very good about following protocol," Holli Nelson said. "They didn't want to ruin it for anyone."
Shane Smothers, who is a high school football coach, drove with his family for 10 hours through the night following a Friday road game to the opener at Ohio State. They arrived less than an hour before kickoff, exhausted but thankful to be there to see Logan run out of the tunnel in his Husker debut.
"It was worth it, believe me," Shane Smothers said. "Amy and I cried a little bit, which is okay. It was what we always wanted."
All the while, parents continued to meet. The Smothers got to know Dale Robinson (father of receiver Wan'Dale) as well as Rick and Micki Hixson (parents of offensive lineman Trent). The Nelsons met with a few NU couples at Gate 25 in Lincoln for a breakfast burrito before home games. The Pipers listed nine parental groups they became friends with, including those belonging to safety Noa Pola-Gates (from Arizona), right tackle Bryce Benhart (Minnesota) and linebacker Garrett Snodgrass (York, Nebraska).
The parents of receiver Alante Brown, who live a short distance from Northwestern's field in the Chicago suburbs, hosted some Nebraska families for a half-hour pregame party before the Nov. 7 contest. They left with an invitation to park on their lawn when the Huskers return in 2022.
Phelton and Johnnetta Payne were among the new regulars in 2020 after their son, outside linebacker Pheldarius, transferred in from junior college. The couple from Suffolk, Virginia, attended every game but had to scale back from their typical group size of 15-20 that would usually travel.
"Coming from juco, Pheldarius probably thought it was still a big crowd out there," Phelton said with a laugh.
The Paynes' experience with the Nebraska fan base came through social media, where they were flooded with well wishes when Phelton would post a picture from the airplane. Johnnetta is proud to already have a full 2021 pregame calendar thanks to invites from other Husker families. The parents of linebacker Jackson Hannah, for example, own a house in Lincoln's North Bottoms neighborhood just north of Memorial Stadium that was a popular 2019 gathering spot for NU family.
"I was like, 'Oh my God, these Nebraska people are super cool,'" Johnnetta Payne said. "I have never been to a tailgate before but, shoot, the way they talk, we're all family."
These select few who attended games during the pandemic already vow to appreciate game-day elements they took for granted whenever crowds can return. A packed Haymarket and downtown Lincoln. Bands and cheerleaders. Parking hassles and open restaurants on the road.
Mostly, they want their sons playing in front of packed stadiums again, making memories in ways that were harder to describe before they were taken away. But the parents agree – if the burgeoning friendships amongst themselves last into next season and beyond, then the legacy of 2020 will have a significant silver lining.
"It'll obviously mean even more when we get back to normal," Chris Nelson said.
Added Holli Nelson: "Even the people that scream at the Big Ten refs, I'm ready to hear it again."
---
Our best Husker football photos from the 2020 season