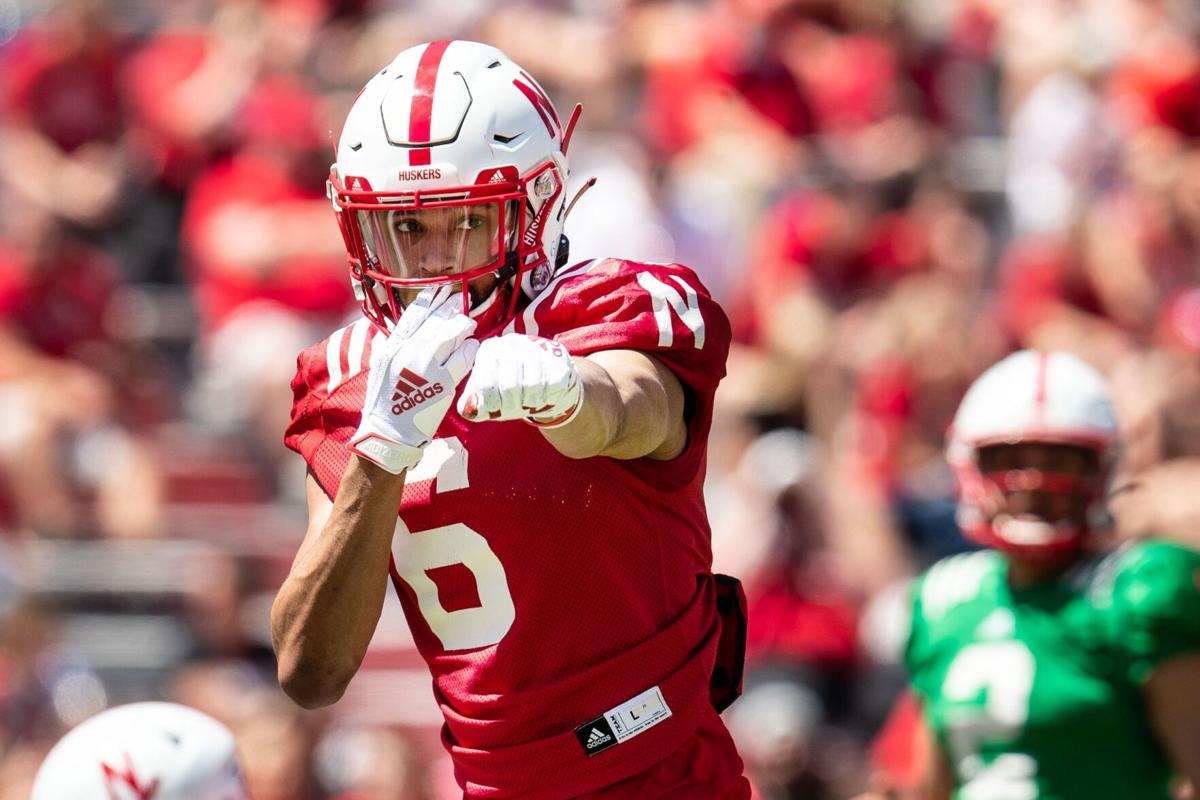 LINCOLN — Connections help in recruiting, and Nebraska offensive coordinator and receivers coach Matt Lubick leaned on an old friendship with Montana head coach Bobby Hauck to land the receiver, Samori Touré, who could lead the Huskers in catches this season. 
The FCS All-American with the Grizzlies had already decided to move on to the FBS level of football, while the Huskers were looking for another pass-catcher to add to their group. Talking on the Husker Sports Network Wednesday night, Lubick said worked through Montana's coaches, who put in a good word for the Huskers. 
"I didn't want to step on their toes, so it was very out in the open," Lubick said. "We talked about 'Are you comfortable with him leaving?'"
Montana was OK with it. The Griz put in a recommendation for Nebraska. 
Lubick said he noticed Touré's maturity in a phone call — "he talks like he's a senior" — and became more impressed by Touré's work ethic and approach once the receiver arrived at Nebraska in the spring. 
"He picked up it way faster than I thought he would and had a great spring," Lubick said. Other Husker receivers already see Touré as a leader because of his "extra drive to be good," Lubick said.
Lubick said the 6-foot-3, 190-pound Touré can play in the slot — where he's likely to start this season — and an outside spot. NU asks its slot receivers to do a lot, including block linebackers.
"It just seemed a natural fit for him because he kept on making plays," Lubick said.
Another receiver to watch will be Omar Manning, the top junior college receiver recruit in the 2020 class. Manning played in just one game last season as he worked on his health. 
"He was playing with a lot more confidence," Lubick said. "The more you're out there, the more confidence you're going to have. And he's been working really good, not just in the spring, but carrying that on to the offseason workouts." 
Bellevue West graduate Zavier Betts had a couple "nagging injuries," Lubick said, but had a good spring camp and is "a tremendous talent." 
The talent in the room, cumulatively, is the best it's been, Lubick said, and should help quarterback Adrian Martinez. 
"Even when I was around guys like Justin Herbert and (Marcus) Mariota," Lubick said of the former Oregon quarterbacks, "they were great players, but they had great players around them. I think, the more we can upgrade the talent around (Martinez), the more he's going to flourish. And we are more talented. We have to show it on the field, but we're more talented than we've been last year. And we've improved. And that's definitely going to help Adrian." 
» Nebraska placed both senior Levi Falck and sophomore Wyatt Liewer on scholarship. Falck chose to return for another season — allowed by the NCAA under its COVID rules — "practices to get better every day" and has the toughness and ball skills Lubick likes. 
"Other guys look to him as a leader because of how hard he works," Lubick said. Liewer, Lubick said, fits the same category and his 6-foot-3, 190-pound frame is one Nebraska wants in the program.  
» Freshman Alante Brown missed most of spring camp with a shoulder injury but "should be full go" for the season. Brown had a strong three days of spring camp before getting injured.
» Freshman Will Nixon has "diversified skills" that could help land him on the field at a number of spots, Lubick said. Nixon missed last season with a knee injury that put him on the sideline. 
» Lubick met all three of his 2021 receiver signees on Zoom, and Shawn Hardy, Kamonte Grimes and Latrell Neville "blended in so well" with their teammates once they arrived at Nebraska. Until the trio had enrolled, none had taken a long, official visit to the school. 
"They're all self-starters," Lubick said. "That's worth its weight in gold."