LINCOLN — Though Ryan Greenhagen doesn't consider himself a stats guy, the Fordham linebacker has a knack for posting big numbers.
And he collected a historic one for the Rams in their 52-7 loss to Nebraska on Saturday in front of 85,938 at Memorial Stadium.
The biggest crowd to ever see a Fordham game also saw the biggest number of tackles by a single player against Nebraska. The 6-foot-1, 245-pound senior from Sparta, New Jersey, had 30 tackles — 13 solo, 17 assisted — to tie an NCAA record since 2000, when defensive statistics became official.
"I got a little winded at the end today," Greenhagen said. Understandable.
But Greenhagen's number didn't surprise Fordham coach Joe Conlin.
"Even I noticed from the sideline he was all over the place," Conlin said. "I would be more surprised if it was someone other than Ryan. That's the kind of player he is. He's the leader of our defense, a great kid. That's how he prepares, that's the way he plays every game.
"He's very smart, he understands the offensive scheme, he knows where the ball is going to go. He watches a lot of film. He prepares, he practices like he plays every day. It's special to go to work and coach him every day."
Those 30 stops also tied the Memorial Stadium record of former Nebraska strongside linebacker Clete Pillen, who recorded that number against Oklahoma State in 1976. It was also the first time an FCS player reached that milestone against an FBS team.
NU players were stunned when told of the tackle tally. 
"Respect," outside linebacker JoJo Domann said. 
Said running back Markese Stepp: "Are you for real? Thirty? Wow. Thirty tackles. Where's the stat sheet? Dang, that's a lot.
"He's a monster, I ain't gonna lie." 
Nebraska coach Scott Frost was thankful he still has enough athleticism to get out of the way of Greenhagen, which he did near the end of the game.
"He's a guy," Frost said. "I saw Logan (Smothers) scramble there at the end of the game and that kid came over and got him pretty good. I had to dodge out of the way to not get hit by him, or he would have had 31 tackles, including one on me."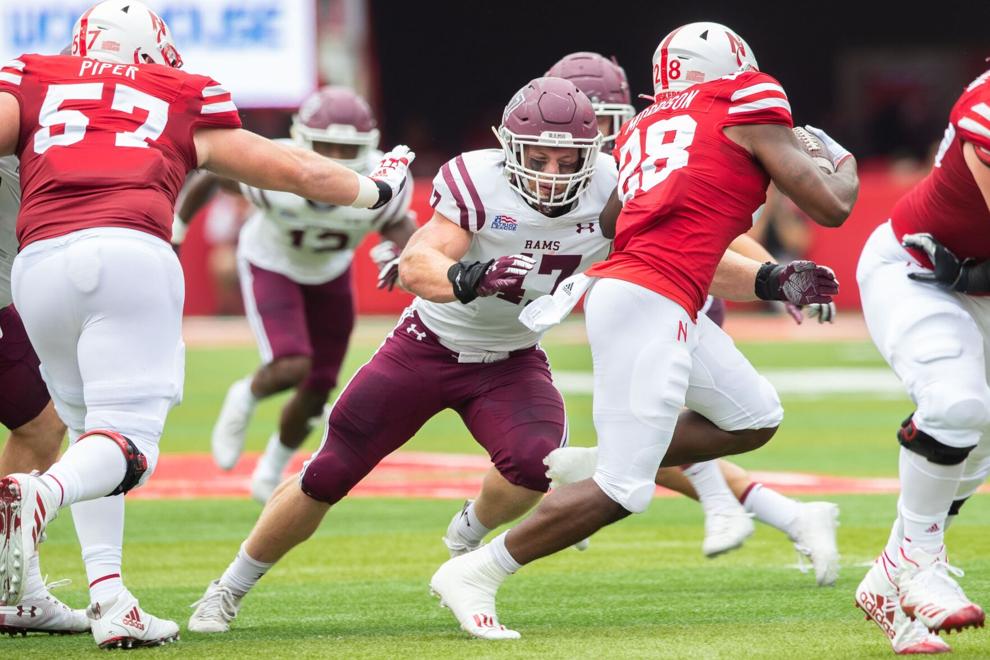 Greenhagen and the Fordham defense spent more than their share of time on the field against Nebraska. The Huskers had 95 plays from scrimmage while limiting the Rams to 58. The time of possession was equally lopsided — 36:21 to 23:39 in Nebraska's favor.
Conlin said those numbers eventually took their toll on the Rams, especially when the offense had trouble sustaining drives.
"Defensively, I thought the effort in the first half was great, saw a lot of strip attempts, things like that," Conlin said. "In the second half we got the ball and tried to get things going a little bit.
"We stalled out, we didn't generate first downs for probably about a quarter-and-a-half. That's too much for the defense to shoulder the load."
Greenhagen, who made 32% of Fordham's defensive stops, practices at the same speed he plays, his coach said. And he watches more film than the average player.
Greenhagen agreed that the off-field work is something he takes seriously, as it leads to success on game day.
"I like going over film personally," Greenhagen said. "At the end of the day we just read our keys and play fast to the ball. They did a really good job up front, but just try to get off blocks and get to the football."
Greenhagen got more productive as the game progressed. He had seven tackles (four solo) in the first quarter before finishing the first half with 12 stops (seven solo). He may have been tired at the end, but Greenhagen was a one-man wrecking crew on Nebraska's final scoring drive.
Nine of his tackles, including three solo stops, came on that 15-play, 62-yard scoring drive.
"The key to being a linebacker is the relentless pursuit to the football," Greenhagen said. "I think the key to being any good football player is if you're around the ball you're probably doing something right. That's something that we preach here. Pursuit to the ball is No. 1 for our defense."
Besides the historic feat, Greenhagen said he'll cherish something else: Being a member of the team that played in front of the largest crowd in program history.
"It's a little bit of an energizer, which is awesome," Greenhagen said. "It's what kids dream of growing up playing football. You guys have a great fanbase. At the end of the day, when you're on the field, it's just 11 guys and 11 guys. You have to focus in on that, but it was a great experience. I'm glad that we got a chance to do it."
---