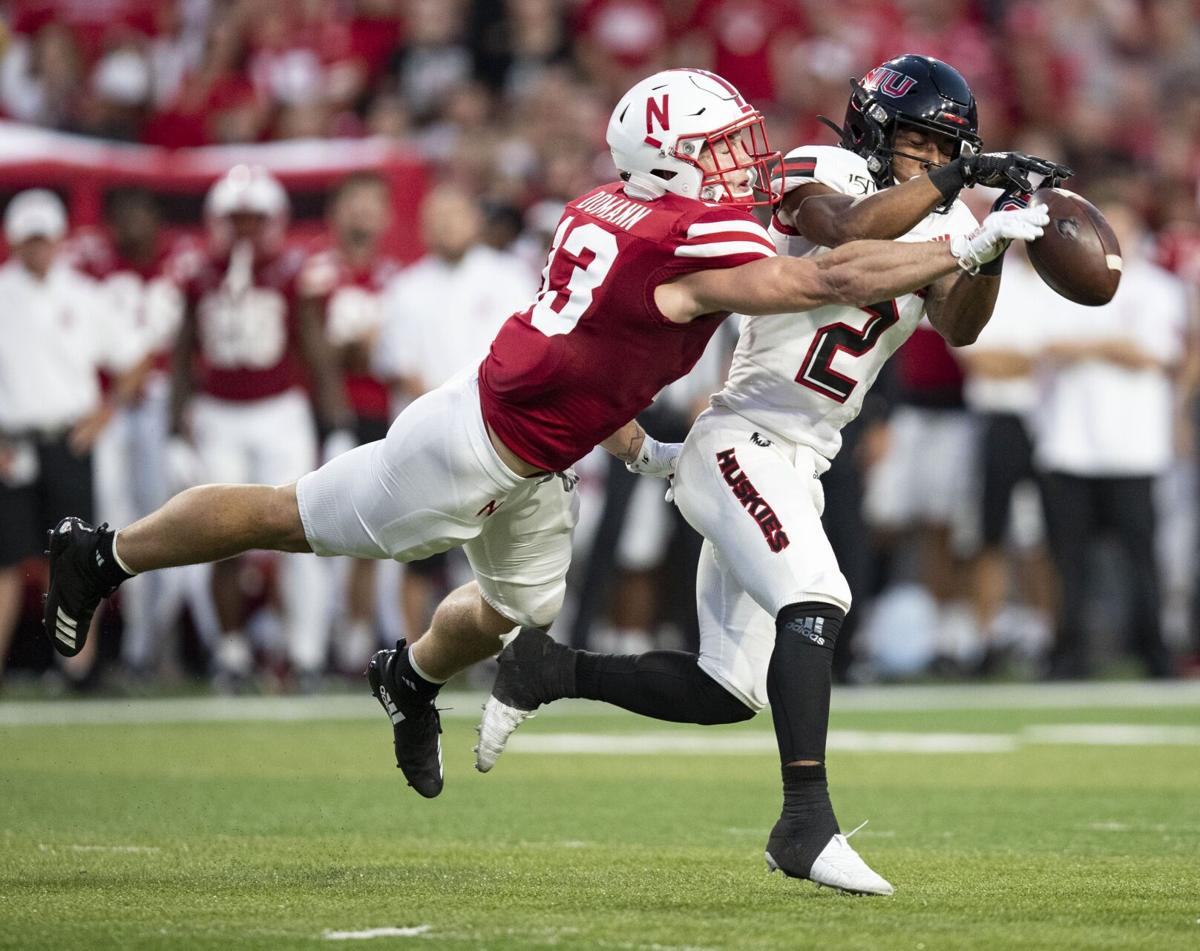 LINCOLN — JoJo Domann's mind races. The man with as much experience as anyone on the football roster also has the most questions about what the next month has in store.
This may be the sixth fall camp for the outside linebacker — he turned 24 this week — but the August unknowns tug at him most as the team begins preparations for its season opener at Illinois and beyond. A defense returning nine starters tickles his imagination more for its potential than what it was in 2020.
What will be the Blackshirts' niche? What defensive schemes will they be best at executing? What weaknesses may need to be addressed?
"This isn't a time to be complacent," Domann said. "That's not what we're looking to do."
Familiar lineups will roll out across college football more than usual this year after a pandemic season that didn't count against eligibility. The Huskers are a clear example of that run-it-back theme — they return their top eight tacklers, the majority of their offensive line and a quarterback entering his fourth year as starter. They have established veterans at tight end and the reigning Big Ten kicker of the year, too.
What, then, do Nebraska players hope to work on with another full month before games? Quite a bit, as it turns out.
Ask third-year starting center Cam Jurgens, and it's all about intangibles. Setting an example for other offensive linemen — and stepping in to correct something if necessary.
Bryce Benhart, who took over the starting job at right tackle last season, wants to know who the ballers are.
"We have a lot of young guys that came in and can do a lot of damage," Benhart said. "We have a lot of old guys that can do a lot of damage. It just all depends on who wants to step up and play and do their job right."
The Huskers will also look for answers at ongoing position battles.
Running back is the headliner — a wide-open race between six scholarship players — though starting spots at cornerback, right guard and kickoff specialist are seeking clarity, too. Coach Scott Frost said he hopes to make those determinations earlier in camp than in the past, likely within a couple of weeks.
Receiver Samori Touré wants to see how the offseason grind translates to the practice field once the pads come on. Tight end Travis Vokolek sees more opportunity for the offense to become second nature — "Knowing the plays, mastering the plays, studying the plays," he said.
Cornerback Cam Taylor-Britt said the defense must use August to grow closer together. Third-year redshirt freshman Ty Robinson agreed. Every defense busts from time to time — he missed a few gap assignments last year that led to big plays, he said — and it's easier to recover from a mistake or support a teammate if the relationships are strong.
"I think it's just more of a trust thing that I think we need to get even better," Robinson said. "That's something we can always work on."
Starting safety Marquel Dismuke has played in 40 games at NU, and said the first day of fall camp should feel more like the 20th considering how many veterans remain in the fold. But even he plans to dive into film and benefit from the added attention to detail.
Domann said that while expectations of on-field roles are as clear as ever, there are still "millions" of scenarios and contingencies to work on as a defensive unit. And while he wants to again be one who sets the standard for the Blackshirts, that's a job he can't really do until he's alongside teammates grinding through practices that count.
The countdown to the season is on. And as established as the Huskers are, there remains much to do.
"You can't just assign me to be a leader," Domann said. "I want to earn that trust. I want to earn that respect. And that's what this fall camp for me is."
---