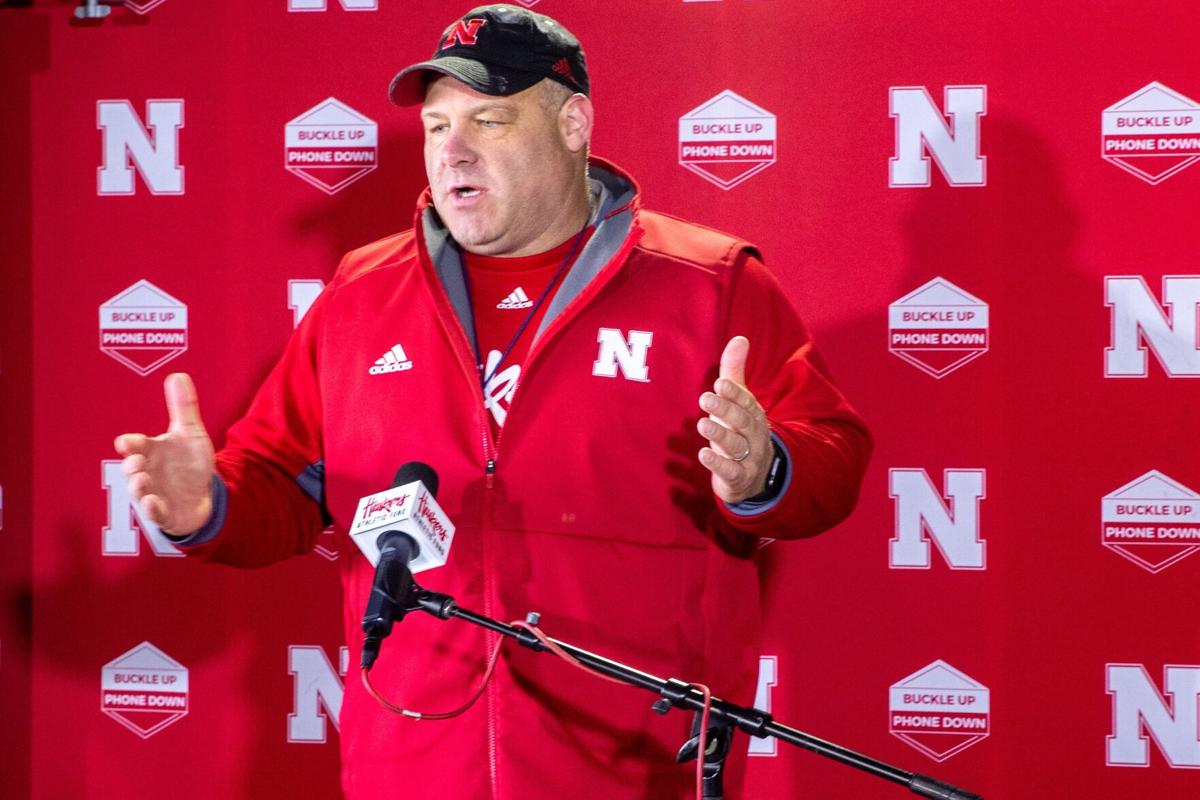 LINCOLN — They say the film doesn't lie, or at least they used to.
Nebraska hasn't reviewed its performance on film in years. They use digital cut-ups these days, one of many technological advancements that outside linebackers coach Mike Dawson has adapted to over the years.
Most changes have been helpful. Dawson said Nebraska can track its players' speed, how often they're moving and how often they get hit in practice due to GPS systems. And ditching film has helped the Huskers "maximize" their meeting times.
They've also learned how to maximize players' fitness thanks to advancements in sports science. Players no longer just workout, go to practice and head home. They also take supplements, receive massages and soak in hot tubs.
Dawson learned these advancements while serving as the Philadelphia Eagles' defensive quality control coach under Chip Kelly. Before then, Dawson didn't realize the impact workout recoveries, diet and sleep could have on players. But just like with the film, he's adapted.
"You've got to be mindful of (the science) nowadays because everybody's doing it," Dawson said Thursday on Husker Sports Nightly. "To be able to keep up and maximize your ability, you've got to put that piece of it into the game as well."
» Garrett Nelson has come a long way since joining the Huskers two years ago. Nelson ranks third in the Big Ten in tackles for loss (eight) through seven games, which is 2.5 more than he had in his career entering this season.
The secret: patience. Dawson used to call Nelson the "Tasmanian Devil" early in Nelson's career a nod to the linebacker's desire to make every play.
But this season, Nelson has refined his approach. And the more he follows his assignment, the more plays he makes.
"It's okay to do your job," Dawson said. "That's how (Nelson) has made the plays (he's made). When you press and try to get of your lane, try to do too much, that's when you make mistakes."
» Pheldarius Payne no longer splits time between the defensive line and linebacker groups in practice. He's a full-time linebacker.
Dawson said that change is a product of Nebraska's change from an odd front to an even front. Payne began his career as an interior rusher, but Nebraska has moved him to the perimeter.
"It's a better fit for him to be on the edge," Dawson said. "He's had a little bit of flash as far as making plays, but he's another guy that, when he's in the game, his motor goes and he's running and it's a million miles an hour with him."
» Dawson feels his excitement build every time he walks past Nebraska's Go B1G project, which will provide future Huskers with upgraded athletic facilities.
Construction is still in progress, but Dawson said it helps to show recruits tangible progress instead of a blueprint. And he knows Nebraska's upgrades will help it gain an edge in future recruiting battles.
"It's almost like an arms race where you're trying to keep up (with facilities)," Dawson said. "It matters, it makes a big difference and to be able to have something like this to look forward to is really special to me."
» One more note on football's evolution. In the old days, one caller said, defenders were taught to "stick your face in the numbers and drive on" when making tackles. Now leading with your helmet behavior is a penalty — often a controversial one.
But Dawson makes it simple for his players. If they touch an opponent's head with any body part, it will be a penalty, especially if they're hitting a quarterback.
To avoid those mistakes, Dawson tells the Huskers to tackle with their heads and eyes up. The goal is to hit with the top of their numbers and avoid the opponent's head at all times.
The game used to be so much simpler.