LINCOLN — It started with a game that left Tom Osborne openly embarrassed, on the wrong end of one of the worst losses in his career, but it grew to such importance in the Nebraska football tradition that, when an athletic director tried to end it, he had to reverse course two days later.
Shawn Eichorst learned the hard way not to mess with Nebraska's tradition of playing on Black Friday. And he, along with then-coach Mike Riley, absolutely tried to end it in 2017, when the third of NU's Black Friday partners, Iowa, was paired with Wisconsin for two seasons, while the Huskers got Minnesota.
"If you polled 99% of football people across the country, they would rather not play on a short week," Riley said in September 2017. "That's a fact."
Eichorst was back-tracking 48 hours after that, promising to attempt to restore the tradition.
"I will let you know I do make mistakes," Eichorst said, "And I'm not perfect."
He got fired. So did Riley. And the Big Ten restored the Black Friday tradition. Even in the COVID year, Nebraska and Iowa played in an empty Kinnick Stadium on Black Friday.
Before 1990, NU had played a few games on the day after Thanksgiving, including two of the most memorable Nebraska-Oklahoma games: The 1976 original "Sooner Magic" win in Lincoln, featuring a double-pass and a hook-and-lateral; and the 1982 Husker win when fans tossed oranges on the field and tore down the goalposts.
But the tradition began in earnest in 1990. Nebraska lost ugly, 45-10, to Oklahoma.
"I'm embarrassed for myself and for our football team," Osborne said. "I thought we had a better football team than that."
NU would show better one year later in a thrilling 19-14 comeback win to clinch an Orange Bowl bid. The Huskers may have switched opponents from OU to Colorado in 1996, but they won the next ten Black Friday games, 1991-2000.
Until 2001. We all remember that one. And since that 62-36 loss to the Buffaloes in Boulder, NU has been just 9-12 on Black Friday. Currently, the Huskers are on a seven-game Black Friday losing streak to rival Iowa.
NU will have a chance this week to break that streak, but we wanted to look back at the 32 games since the tradition officially began. With the new Big Ten TV contract expanding two Black Friday games, it'd appear Nebraska isn't playing anytime else but the day after Thanksgiving. And no athletic director is going to mess with that, either.
We've crafted a touchdown-style ranking of the top seven Black Friday games based on excitement and importance, with categories for the rest. Four coaches have been fired after a Black Friday game. Conference titles have been clinched. Kisses have blown. Hats have been swiped. Orders have been restored.
---
HERE'S HUSKER BLACK FRIDAY IN ALL ITS GLORY AND PAIN
---
1. 2008 Nebraska 40, Colorado 31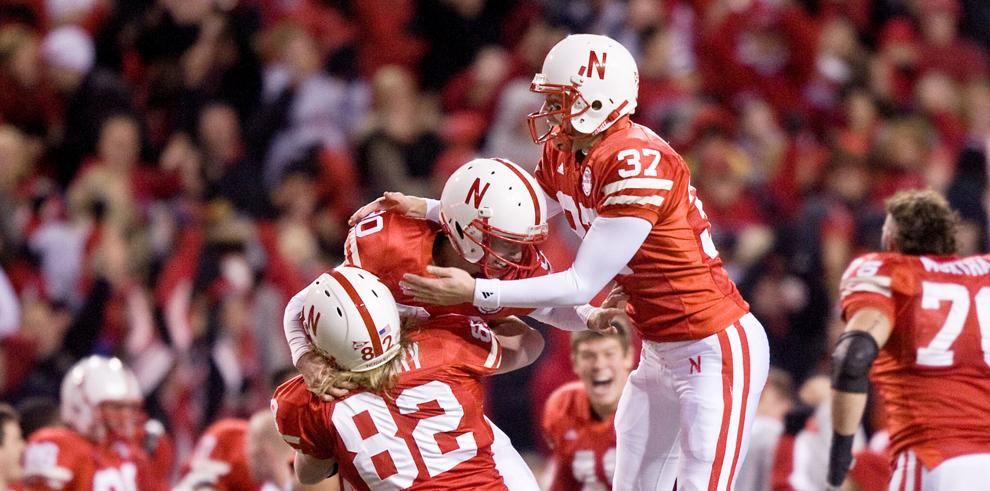 Memorial Stadium has perhaps never been louder on a Black Friday as when Alex Henery hit a 57-yard field goal to give mistake-prone NU, in Bo Pelini's first year, a two-point lead over the Buffaloes.
When Ndamukong Suh picked off a pass and returned it for a touchdown a few plays later, the building shook in delirium.
2. 2001 Colorado 62, Nebraska 36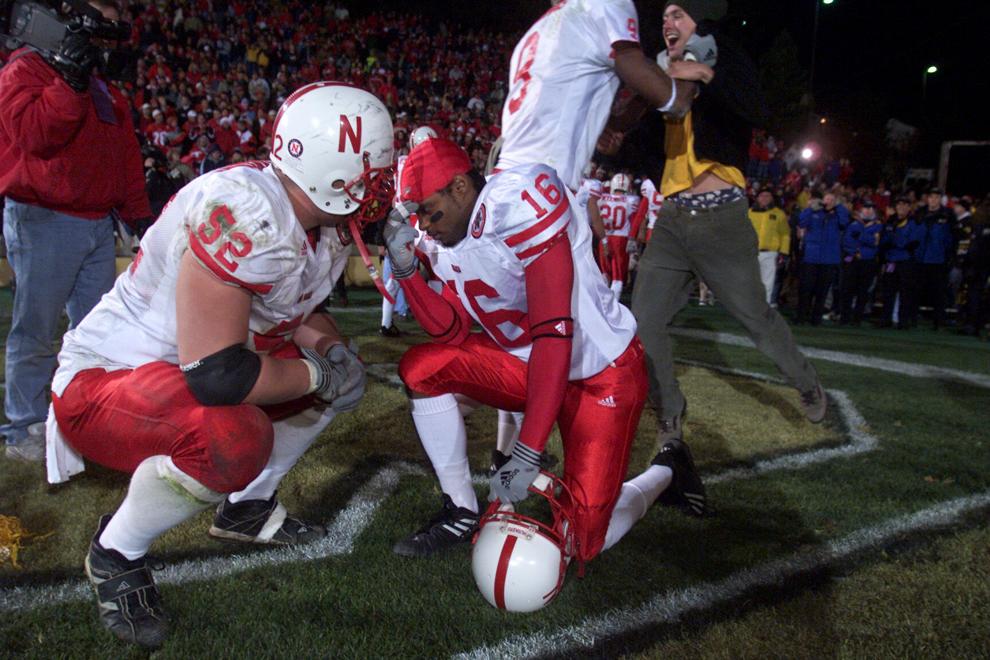 The game that many believe turned the tide of Husker football.
CU gutted NU's run defense in the first quarter, a spirited Husker comeback fell short in part because of a goal-line fumble, and CU running back Chris Brown piled it on late with six touchdown runs.
NU only had 30 fewer yards, but it felt like 300.
Nebraska somehow still made the national title game where Miami merely reinforced that Nebraska was in decline.
It makes the top seven for its sheer importance in the history of the program.
3. 1999 Nebraska 33, Colorado 30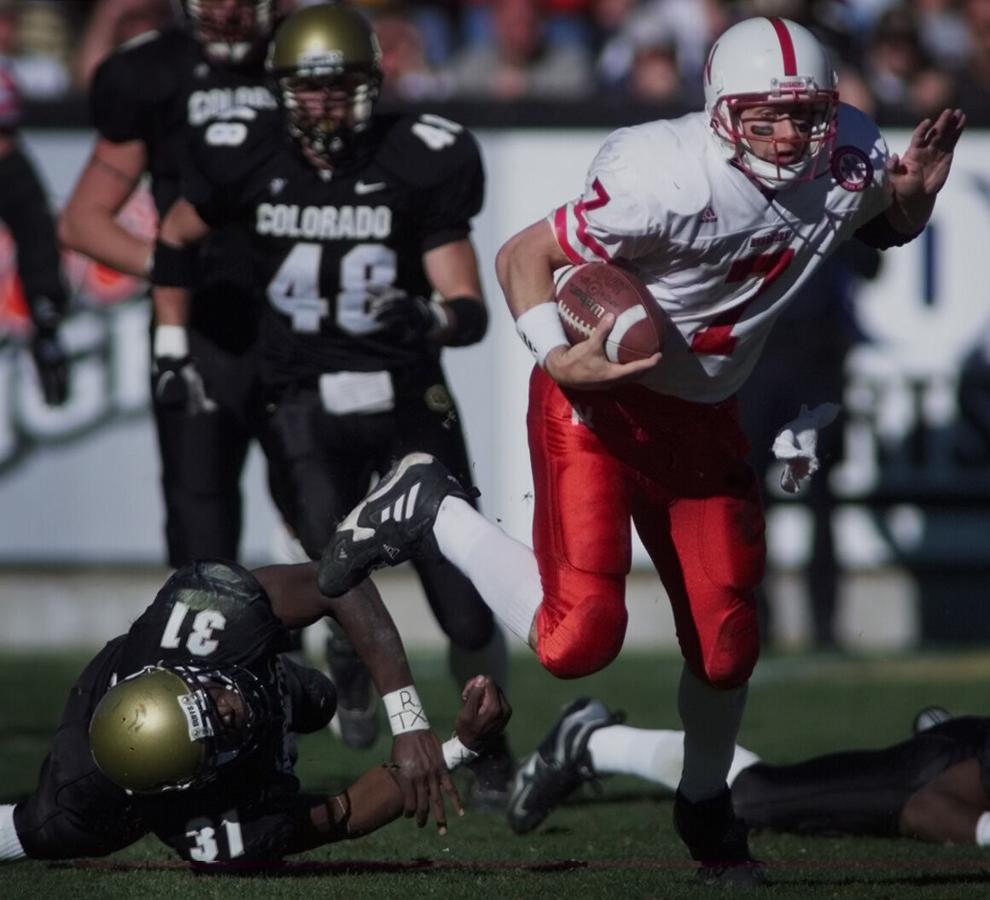 The wildest Black Friday game of them all — and that's saying something.
NU scored on the first play, ran up a 27-3 heading into the fourth quarter, then allowed 24 straight points to CU, which had a chance to win at the gun with a 34-yard field goal. Colorado missed.
NU quarterback Eric Crouch — generally clutch in this series — scored a one-yard touchdown to clinch the win.
The 1999 team — which won the Big 12 title — was up, down and all around, and that CU game was a whole season in three hours.
4. 2014 Nebraska 37, Iowa 34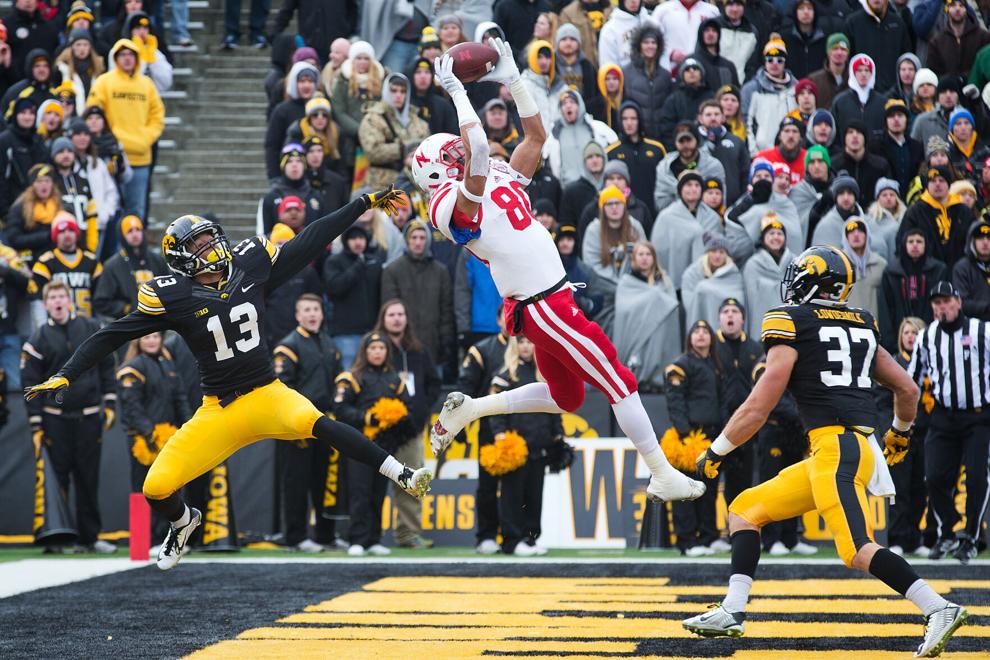 A wild game that changed the trajectory of two programs and an athletic director.
Thanks to De'Mornay Pierson-El's 80-yard punt return for a score.
NU overcame a 24-7 deficit to pull off a wild overtime win.
Bo Pelini won his ninth game of the season, and still got fired two days later by Shawn Eichorst.
Iowa, meanwhile, used that game — and that 2014 season — to change how it practiced and played games.
It's the last time NU has beaten Iowa, which has won five one-score games against the Huskers since then.
5. 2000 Nebraska 34, Colorado 32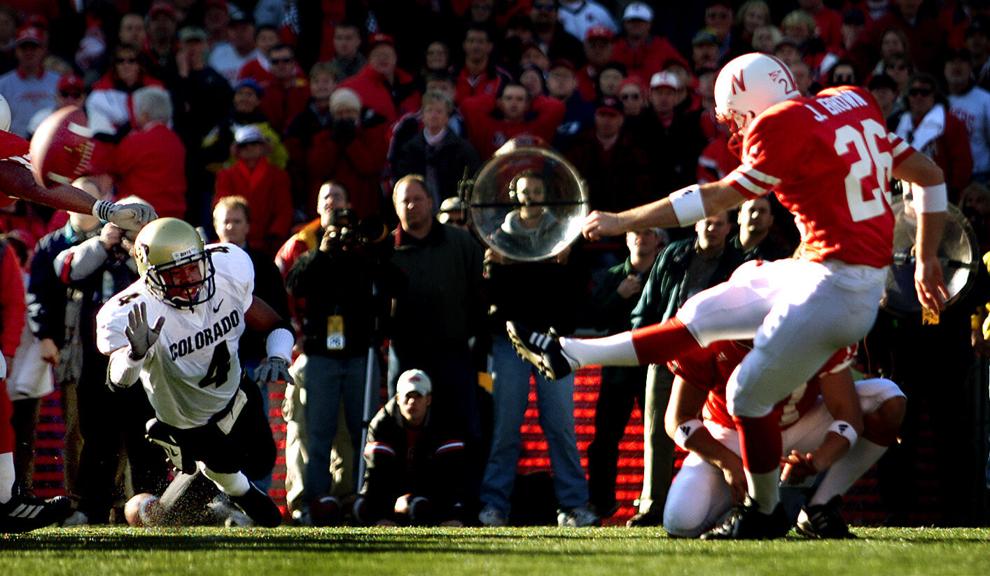 Another wild one, with CU taking a dramatic 32-31 lead with 47 seconds, only for NU, thanks in part to a botched squib kick, use two Crouch throws to get it in field goal range for Josh Brown, who made a 29-yarder as time expired.
Brown got carried off but Crouch, with two laser passes to Bobby Newcombe, was the real hero getting NU in field goal range.
6. 1991 Nebraska 19, Oklahoma 14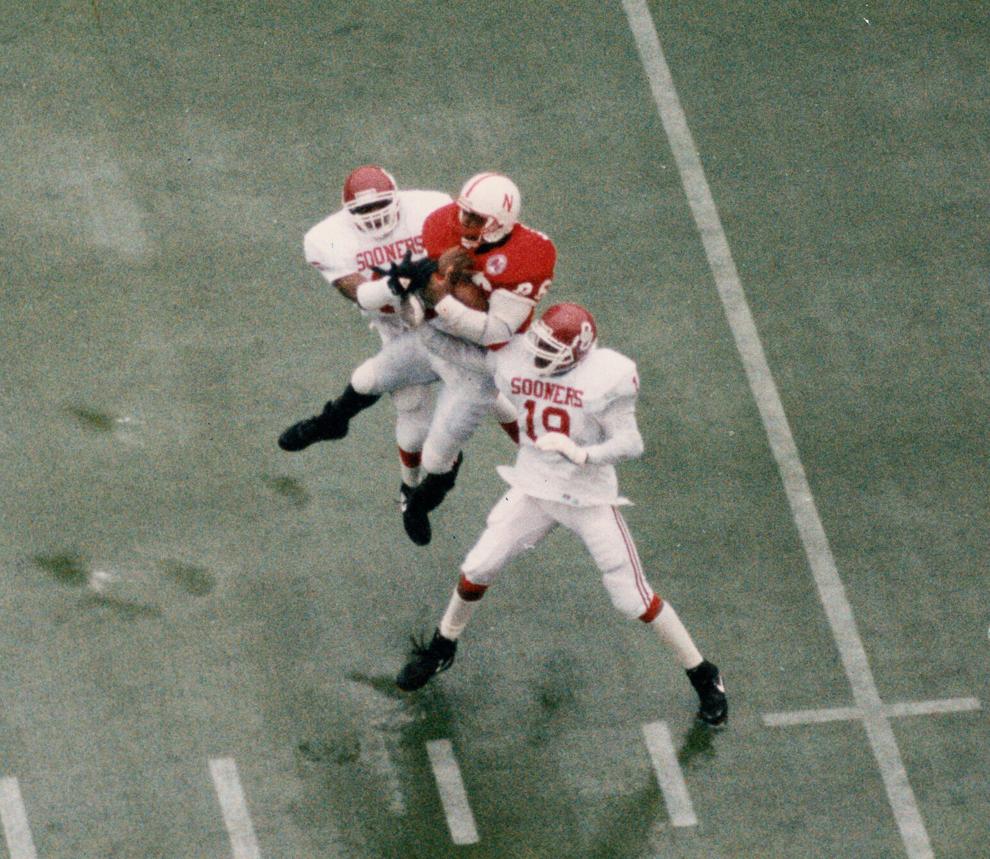 Husker magic in the sleet and rain.
NU spotted OU a 14-3 halftime lead, then, through passes to Johnny Mitchell and power runs, bludgeoned its way back into the lead with a Calvin Jones touchdown run. Just before Jones' score, coach Tom Osborne chose to go for a fourth down instead of kicking a field goal.
7. 2005 Nebraska 30, Colorado 3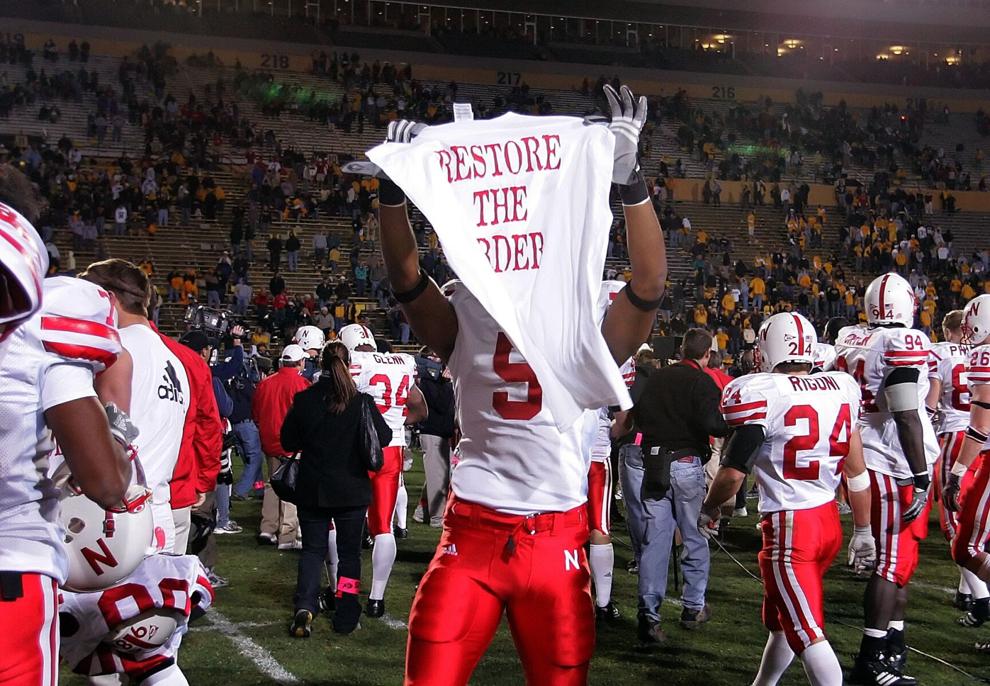 The high-water mark of the Bill Callahan era as NU spanked the Big 12 North champs and had athletic director Steve Pederson celebrating and taking calls on the field.
Zac Taylor, Todd Peterson, Cory Ross and Co. played terrific football as Nebraska, a big underdog, stunned everyone with a complete win.
---
B-SIDE THRILLERS
---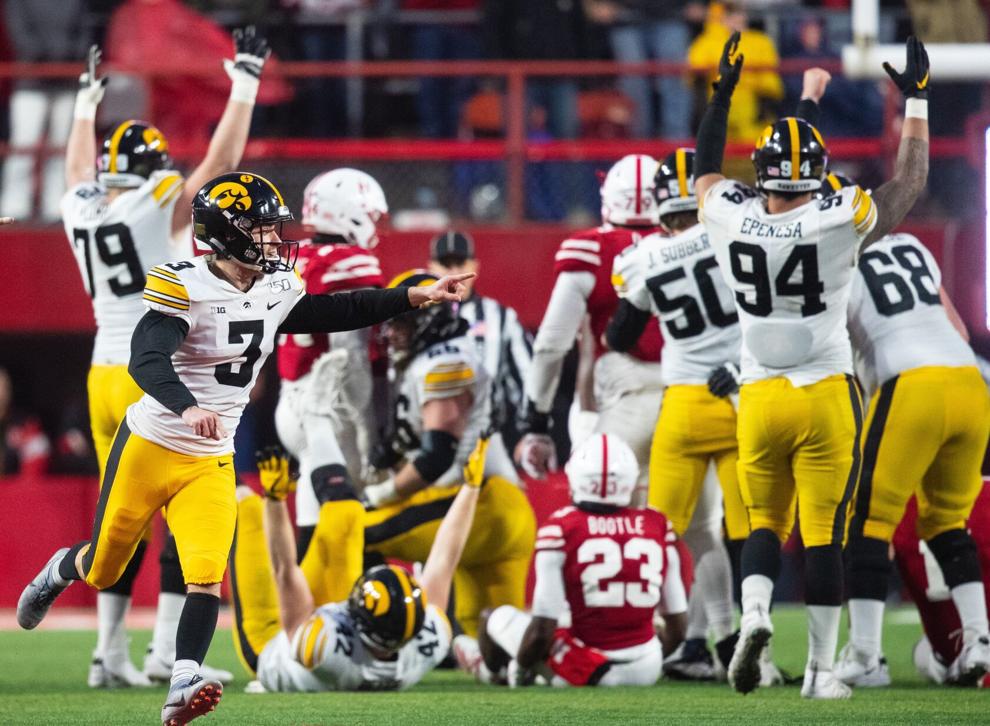 1997 Nebraska 27, Colorado 24: The Huskers, with zero room for error, staked a 27-10 lead going into the fourth quarter and just held on against a fast-charging CU team. An offensive pass interference call — rare in those days, but legitimate — stopped Colorado's final drive near midfield. NU survived and eventually won the last of five national titles.
2018 Iowa 31, Nebraska 28: Remember how that game felt more like a win than a loss — how the Huskers' dynamic offense took the Hawkeyes to the wire? Iowa needed a field goal right at the gun to stave off NU, which launched a second-half comeback behind quarterback Adrian Martinez. Heads were nodding hard after Martinez's final touchdown of that game. The future was bright! (Or not so much.)
2019 Iowa 27, Nebraska 24: One year later, as NU missed a bowl game because of a botched final drive, the future seemed a lot murkier. The Huskers' offense used three different quarterbacks — by design! — and two on that final drive, as Adrian Martinez and Luke McCaffrey toggled snaps with each other. NU's hideous special teams — in the form of a Iowa kick return for a score — was on display, too. The Hawkeyes' kicker blew kisses to the crowd when he made the game-winner. That was fun.
---
FIRINGS
---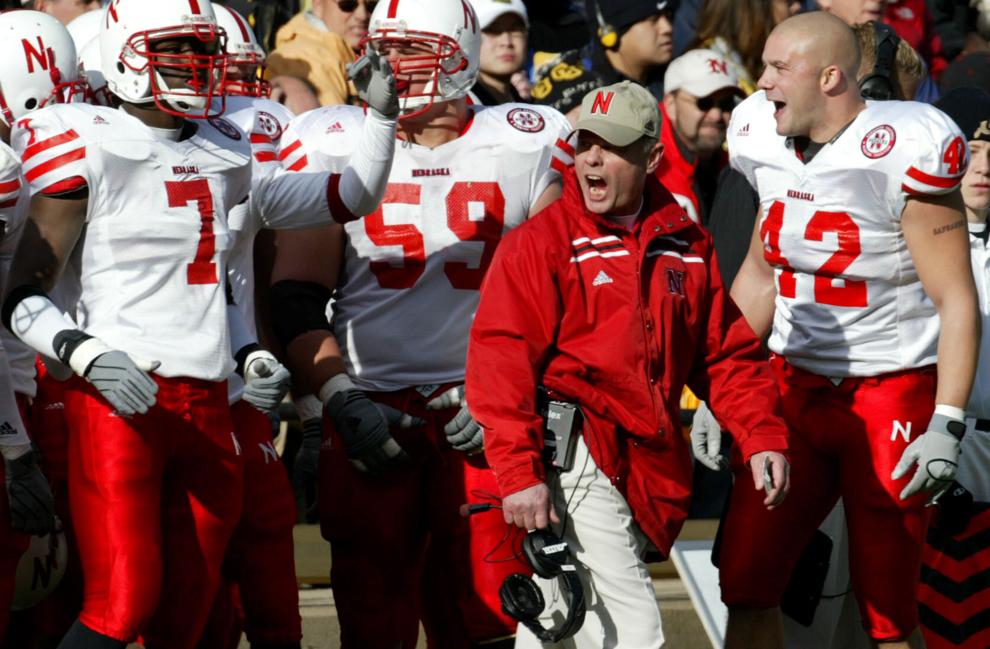 2003 Nebraska 31, Colorado 22: Frank Solich coached one of his best games — going for fourth downs, pulling on special teams trickery — and it didn't matter. Steve Pederson had already decided to fire him after winning a ninth regular-season game. It'd turn out to be the decision that sunk Pederson, too. Had he waited one year — to see if Solich could win nine again in 2004 — it might have made all the difference in the search.
2007 Colorado 65, Nebraska 51: A silly football game, frankly, in which Bill Callahan's fate was sealed when CU corner Jimmy Smith returned an interception 31 yards in the first of five straight Buffalo touchdowns. Callahan got fired the following morning by Athletic Director Tom Osborne.
2014 Nebraska 37, Iowa 34: A wild game that changed the trajectory of two programs and an athletic director. Thanks to De'Mornay Pierson-El's 80-yard punt return for a score. NU overcame a 24-7 deficit to pull off a wild overtime win. Bo Pelini won his ninth game of the season, and still got fired two days later by Shawn Eichorst. Iowa, meanwhile, used that game — and that 2014 season — to change how it practiced and played games. It's the last time NU has beaten Iowa, which has won five one-score games against the Huskers since then.
2017 Iowa 56, Nebraska 14: The die was cast for Mike Riley — he was out, and Scott Frost was soon to be in — so all the Huskers had on Black Friday was pride. For a half, they showed it, forging a 14-all tie at the break. The Hawkeyes scored 42 straight in the second half underlining why Riley had to go.
---
RECKONINGS
---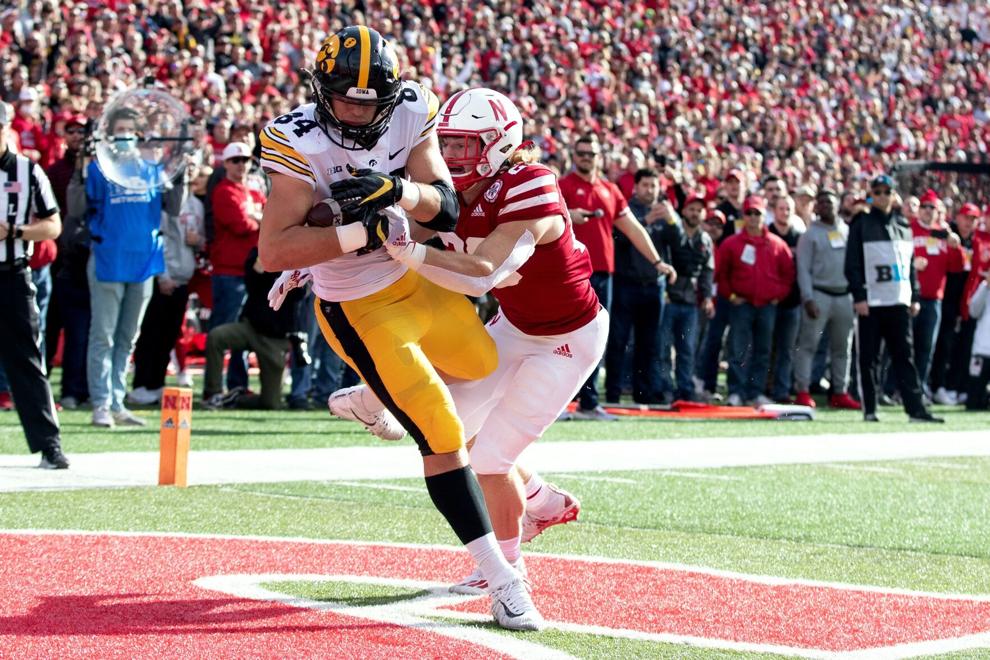 1990 Oklahoma 45, Nebraska 10: Remembered to some degree for Mickey Joseph's nasty leg gash, but Joseph wasn't delivering NU to a win that day. The Huskers had seven turnovers and looked helpless against Cale Gundy's big arm. A defensive transformation — to a 4-3, to more speed — began in earnest after the 90 season. OU was an accelerant.
2002 Colorado 28, Nebraska 13: A hole card game where Nebraska fans were reminded: Yep, NU's not what it used to be. The Buffaloes dominated the second half on the ground.
2004 Colorado 26, Nebraska 20: A loss that cemented Nebraska's absence from bowl season for the first time since 1968. NU trailed 26-7 going into the fourth quarter and ran for all of 67 yards. Another streak lost.
2013 Iowa 38, Nebraska 17: Bo Pelini clutched a cap in his hand, closed his eyes, and swung, his hat strap missing an official by mere inches in the second half of an ugly loss to the Hawkeyes. Pelini dared athletic director Shawn Eichorst to fire him after the game. Eichorst didn't have the political capital with regents to do it. One year later, he didn't ask.
2015 Iowa 28, Nebraska 20: One year after NU Athletic Director Shawn Eichorst dissed the Hawkeyes in a press conference, Iowa had answered with a perfect 12-0 regular season capped by a win over the Huskers. NU moved the ball up and down the field but committed costly turnovers — including an interception returned roughly a few feet for a touchdown — that sunk the operation. Iowa hasn't lost a game in this rivalry since 2014. The Hawkeyes flexed some muscles that day in 2015.
2021 Iowa 28, Nebraska 21: The Huskers dominated this game for three quarters before total collapse brought on by the worst special teams anyone ever beheld in Memorial Stadium. The game served as a reminder that coach Scott Frost was more of an offensive coordinator than a program manager.
---
BLOODBATHS
---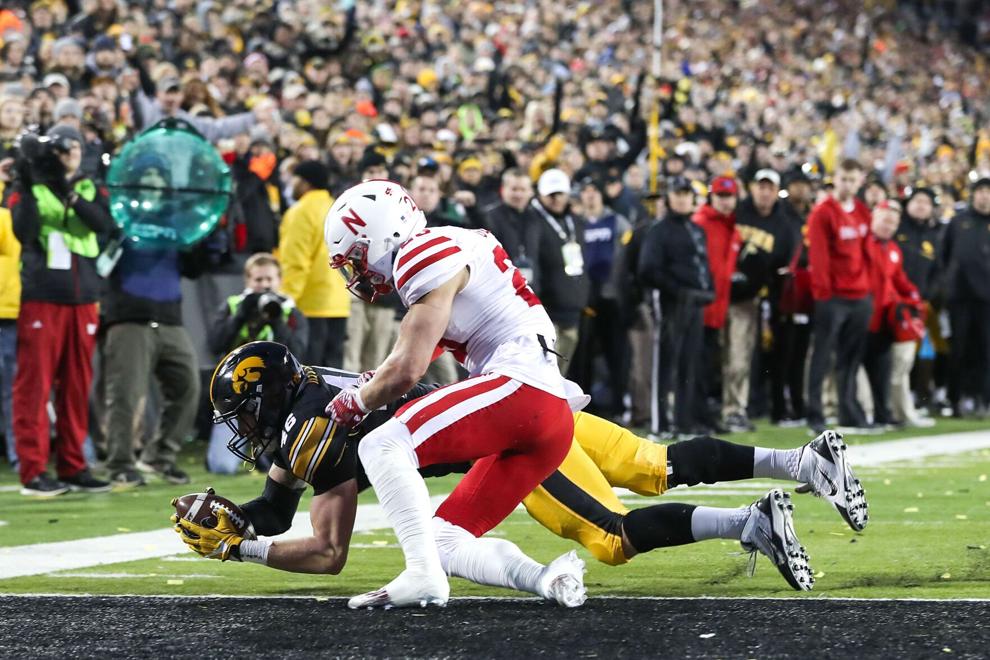 1996 Nebraska 17, Colorado 12: It almost hurts to watch, such was the hitting and violence between two top ten teams battling for the Big 12 North crown. The Huskers prevailed thanks to clutch fourth-quarter stops of CU's offense. A game of men and the hate between them. NU wasn't the same in the Big 12 title game.
2011 Nebraska 20, Iowa 7: Back when the Huskers knew how to butter their own bread, they held the ball nearly 38 minutes and gave the ball to Rex Burkhead a school-record 38 times. Burkhead would have carried it 50, but a guy named Ameer Abdullah got 12 carries.
2016 Iowa 40, Nebraska 10: The famous "bloodbath" comment from defensive coordinator Mark Banker — who absolutely knew what he was doing when he said Iowa's practices must resemble one based on the way the Hawkeyes whipped the Huskers, who didn't have a healthy quarterback. Special teams coordinator Bruce Read got fired the next day after his punter booted the ball in the stands. Banker would get the 45 days later.
---
END OF AN ERA
---
1992, 1993, 1994 and 1995 against Oklahoma: The Huskers won these games 33-9, 21-7, 13-3 and 37-0 and while the 1993 game was a dogfight that sent NU to the Orange Bowl, the Huskers were the better team — by some margin — in all four of these games, while OU was a dysfunctional mess. It contributed to OU choosing to bow out of its annual game with Nebraska when the Big 12 started in 1996. That decision always left the Huskers a little chilly on the Big 12, and they finally voted to leave in summer 2010. Starting in 1996, the annual Black Friday game became Colorado.
---
LEFTOVERS
---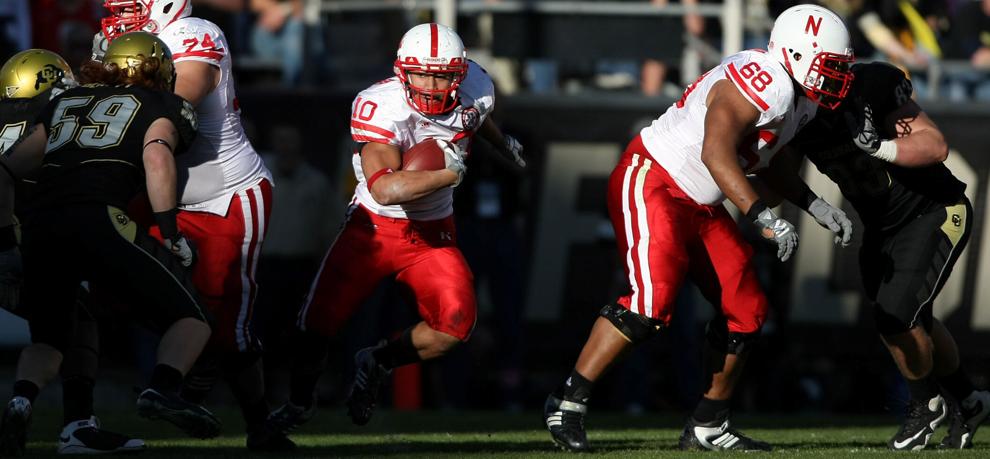 1998 Nebraska 16, Colorado 14: Forgettable defensive struggle that NU won with a Kris Brown field goal halfway through the fourth quarter. It gets lost between the 1996, 1997, 1999 and 2000 CU games.
2006 Nebraska 37, Colorado 14: The Huskers clinched the Big 12 North title as Joe Ganz hit Barry Turner for a 29-yard touchdown on a fake field goal.
2009 Nebraska 28, Colorado 20: Back when they knew how to score on special teams and defense, the Huskers got one touchdown from each unit in a game whose score was closer than it seemed thanks to CU hitting a 56-yard Hail Mary at the gun.
2010 Nebraska 45, Colorado 17: The Huskers plowed out an easy win over CU, which had fired coach Dan Hawkins, who sat in the press box watching his son, Cody, play against the Huskers. The final NU-CU Black Friday game was forgettable.
2012 Nebraska 13, Iowa 7: The Huskers didn't have to win to clinch the Legends Division, but a victory did just that, as Bo Pelini's "win out" dare, set after a bruising at Ohio State, came to fruition. On a bitterly cold day, NU's defense showed out, but lost defensive tackle Baker Steinkuhler to a knee injury. His absence was felt a week later in a 70-31 Big Ten title game loss to Wisconsin.
2020 Iowa 26, Nebraska 20: A COVID-year game best known for Scott Frost's accusation that Iowa's sideline was clapping in a way to distract Husker center Cam Jurgens. Kirk Ferentz openly wondered if football had become golf or tennis. "What the hell are we talking about?"