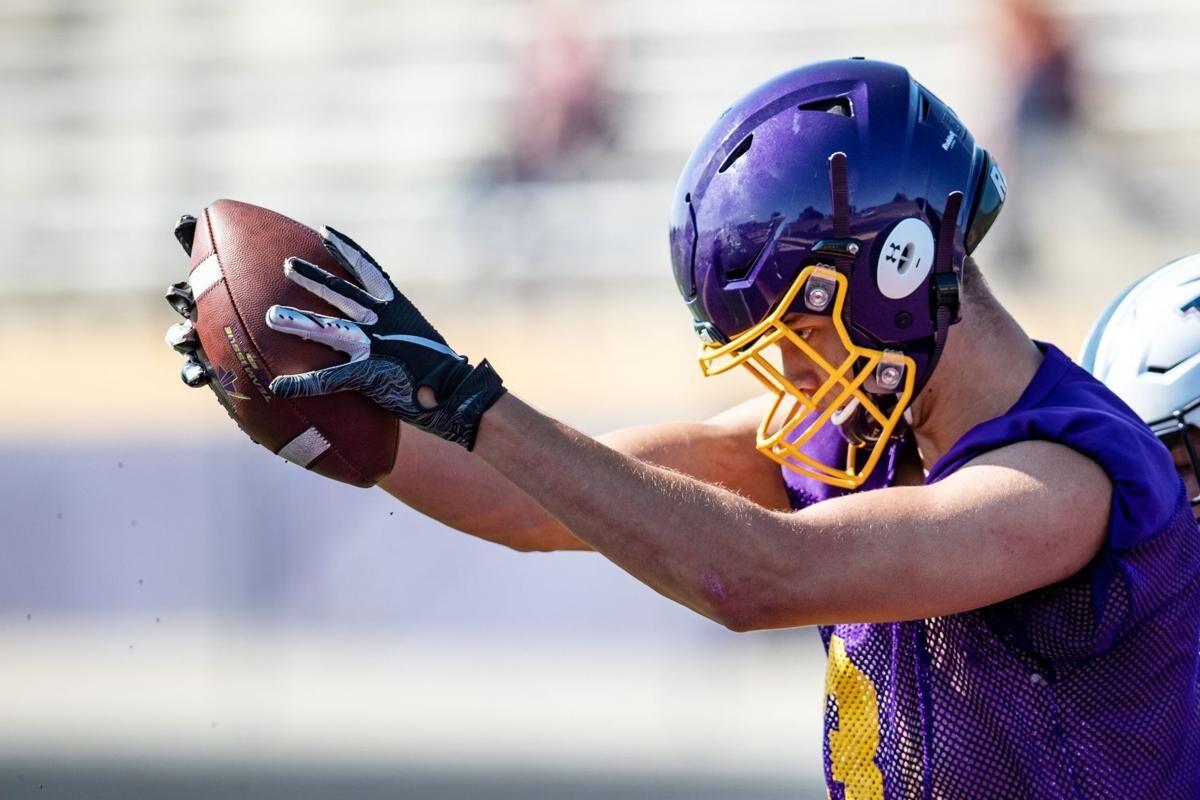 NU coach Scott Frost knew several weeks ago. Helms, one of the top 2022 prospects in the state, called Frost and told him that he was cutting the Huskers from his long list of suitors. Not because of Frost, or Nebraska's offense, or its relative lack of success over the last four years, or even its deep tight end room.
Helms' decision, he said Monday night, was solely rooted in wanting to get out of the state.
"I'm kind of burned out on Nebraska, to be honest," Helms said. "I lived here a long time, and it's about wanting to get out and see something different in the world."
It continues a trend of local elite athletes — Keagan Johnson, Avante Dickerson, Chucky Hepburn and Hunter Sallis among them — who have turned down local opportunities to play major college sports elsewhere. Omaha Burke linebacker Devon Jackson and Omaha Central offensive lineman Deshawn Woods both left Nebraska out of their top groups, as well. Now Helms, who spent the weekend at Arizona State taking in the Sun Devils' spring game, is looking to play outside the state's borders.
Helms said he struggled with the decision to leave Nebraska off now or basically do so later when he started scheduling official visits. Ultimately, he did it now.
Frost, Helms said, took it well.
"He congratulated me and told me if there's anything he can do, to let him know," Helms said. Tight ends coach Sean Beckton wrote Helms a letter conveying the same sentiment.
It was part of a hectic several months for the 6-foot-5 222-pounder. He fields an average of seven calls per day, he said, and does an hourlong Zoom call per night with a different school. He's visited, in person, ASU, Miami, Florida State, Michigan, Michigan State and Iowa, among others, with Iowa State coming up this weekend. The Sooners, Sun Devils and Cyclones, Helms said, have recruited him the hardest thus far.
Oklahoma, Helms said, sees him as a player who can go all over the field and stretch a defense vertically, and that's the one school Helms said he's certain to officially visit in June. Arizona State hasn't used its tight ends very much in recent years, but a new offensive coordinator — Zak Hill, previously at Boise State — has shown a willingness to use one more often. ASU is sending Helms daily practice clips of tight end routes as a visual.
"They're going to have to prove they're committed to using tight ends," Helms said.
Nebraska has more recently embraced using them more often, and signed three of them — Thomas Fidone, AJ Rollins and James Carnie — in the 2021 class. Helms conceded that the depth of NU's tight end room affected his decision "a little bit" but not much.
He figured that he would get quite a bit of grief Monday evening when he left Nebraska off his top 10. But it didn't happen.
"It was better than I expected, actually," Helms said. "Nebraska fans were pretty respectful of my decision."
Signee Spotlights: Get to know the players in Nebraska football's 2021 recruiting class
The "Signee Spotlight" provides all the information you need on the newest batch of Huskers, including rankings, evaluations and a look at how they landed at Nebraska.