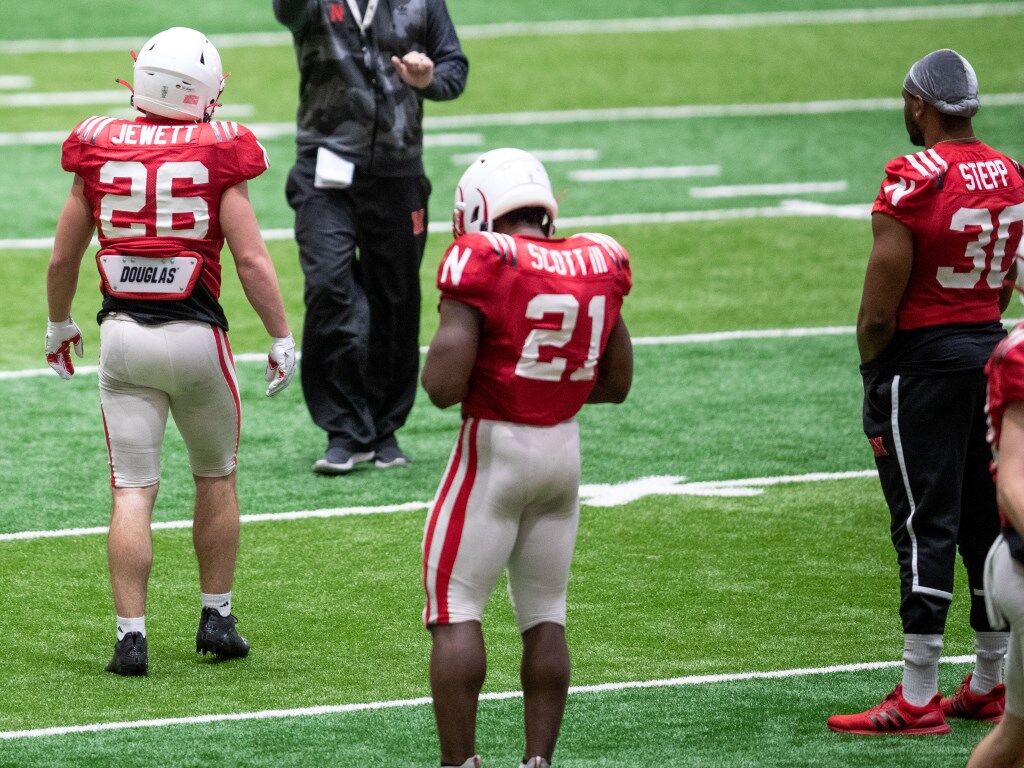 LINCOLN — At least six Huskers will miss the rest of spring camp with injuries, coach Scott Frost said Wednesday.
The list includes Southern California transfer running back Markese Stepp, starting defensive end Ben Stille and freshman defensive back Marques Buford. Frost also named long snappers Cade Mueller and Camden Witucki, and walk-on receiver Broc Douglass. Mueller, a sophomore from Gretna, handled long snapping for punts last season.
"All had to have a surgery and are going to miss the rest of spring," Frost said. "But we expect them back."
Frost didn't specify Stepp's injury but said it was something that existed before his arrival in Lincoln. Neither Stepp nor Nebraska had been aware of it.
"I think it's in his best interest to get it fixed to give him the best chance to be at his best," Frost said.
The running back position continues to be ravaged by injuries as it has been the past two years.
True freshman Gabe Ervin and second-year freshman Marvin Scott were the only two backs practicing Wednesday. The other scholarship rushers — Rahmir Johnson, Ronald Thompkins and Sevion Morrison — have been battling various health issues. NU's top two backs from last season, Dedrick Mills and Wan'Dale Robinson, are no longer with the team.
"The guys that are getting reps have an advantage," Frost said. "They're going to have a lot better chance. I love what I'm seeing from the guys that are out there. Missing a couple others because of bumps and bruises … plenty of reps to be had. I love how the guys that are out there are taking advantage of it."
Frost was also the latest to praise the early results from Ervin, an early enrollee from Georgia, saying he has "an approach like a pro" and "acts like a grown-up" while encouraging and competing with his teammates.
The setbacks at long snapper leave junior Brig Banks and sophomore Cameron Pieper as the top options this spring. Pieper, a Lincoln Southwest grad, snapped for field goals and extra points in 2020.
Stille had surgery before the spring began, Frost said. With experienced seniors like Stille spread throughout the defense, he said the need for spring reps for veterans isn't as high as with younger players. Buford — a touted postgraduate addition in the 2021 class — will miss those chances at hands-on improvement within NU's relatively deep secondary.
Frost said everyone else who is missing practice is dealing with "normal spring-ball bumps and bruises." Inside linebackers coach Barrett Ruud said projected starting linebacker Will Honas would be a "limited rep guy" this spring as he recovers from offseason groin surgery. Among other Huskers not in pads for practice Wednesday were receiver Omar Manning, outside linebacker JoJo Domann and defensive lineman Tate Wildeman.
Other quick hits from NU's fifth spring workout:
» Inside linebacker Will Honas is recovering from offseason groin surgery and will be a "limited rep guy" this spring, position coach Barrett Ruud said. Another inside 'backer, Nick Henrich, is working to stay healthy and take those extra snaps, Ruud said.
» Defensive lineman Ty Robinson said Nash Hutmacher and Ru'Quan Buckley are among the younger defensive linemen to watch this spring and beyond. Others are Marquis Black and Mosai Newsom.
» D-lineman Casey Rogers said stacking experience this spring is critical for younger linemen while the older ones are seeking to further establish themselves. "I love Ty (Robinson) to death," Rogers said. "But I want all his reps."
» Senior safety Marquel Dismuke said he expects to play on special teams again as he has throughout his career. The mindset of that special teams group is also different — "It should change," he said.
» The defensive line worked on pass-rush situations much of Wednesday.​
---